"Not Pictured" (season 2, episode 22; originally aired 5/9/2006
And so we come to the end. I gotta hand it to Veronica Mars season two, it took a bunch of different plot threads and managed to weave them all together in a reasonably satisfying fashion. All those clues? They were actually relevant clues. Some of those weird things that didn't quite fit at the time? They fit now.
If anything, the plot fit together a little bit too well. It retrospect, it shows a meticulously planned season, but when I consider it in terms of quality, the weaknesses are apparent. Most of my favorite episodes are either standalones, like "Ain't No Magic Mountain High Enough," or the episodes which introduced the questions instead of giving the answers, like "Normal Is The Watchword" and "I Am God." This is a problem with shows built around mysteries: The questions are more interesting than the answers.
In this case, however, the answers were still very interesting. The big reveal (and this goes without saying, but hey, here it is anyway: SPOILER ALERT): The bus killer is Cassidy "Beaver" Casablancas, who blew up the bus to hide the secret that he was one of the boys sexually abused by Woody Goodman. Veronica discovers this as Mac and Beaver are preparing for a romantic evening, and in attempting to contact Mac, Veronica sets herself up for a confrontation on the hotel rooftop. Outgunned by Beaver, she manages to get Logan's attention and they disarm Cassidy, who jumps off the roof.
G/O Media may get a commission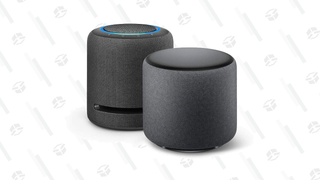 25% off - Prime Exclusive
Echo Studio + Echo Sub Bundle
I found a few things notable about the climax. First of all, as twists go, this was a good one. Even though Woody being exposed and fleeing at the end of the previous episode indicated that the most obvious pick for the overall villain was unlikely to have been the man who actually pressed the button, it was still plausible. But it also left the door open for someone on the outskirts of the story to take that villain role, which was done effectively in action by Cassidy. Kyle Gallner makes the transition from goofy, kind of pathetic little brother to insane mastermind quite well—the circles under his eyes, specifically, which seemed to indicate anxiety before suddenly indicated darkness and insanity when seen in new light.
There is a question, though, of how Veronica instantly knew it was Cassidy when she saw his name. It's hard for me to judge just how much of a leap this was, though, as it's impossible to discuss this without discussing how spoiled I was. It wasn't quite like the first season, where I had a hunch and then got confirmation, but rather that I happened to see one comment saying that there was a retcon in "A Trip To The Dentist." The most obvious explanation was that Cassidy was lying about the rape, which stuck with me, so I've consistently distrusted him. Likewise, a few weeks ago, I caught a bit of a comment saying that the whole season was about a pedophilia cover-up, which implicated Woody pretty directly, making the bulk of the season's revelations fall into place—especially once Cassidy had trouble performing with Mac.
So, given what I knew, I could make that connection. And given what Veronica knew—that she had chlamydia, that Woody had had chlamydia, maybe it was a decent connection to make. But it did seem a little fast, and without my teensy half-spoilers? I suspect I'd have whiplash, which would only be a fitting reaction to such an eventful season.
At any rate, it's very difficult for me to discuss whether the bus crash story as a whole works out. I think it does, but those half-spoilers prepared me for the final resolution. With that in mind, I can be impressed with the elegant construction of the overarching mystery, even as I came to realize that I didn't care all that much about the overarching mystery—and the two are not unrelated, I think. The big mystery's dominance over the plot meant that most of its permutations had already been explored and discarded or left for discussion. It was a puzzle to be solved, more than a revelation to be experienced.
From my discussions of the episode since I watched it, the retcon of the rape seems to be the most controversial aspect of "Not Pictured." On a narrative level, I was fine with it. If the character involved in the retcon is untrustworthy, and if there's a gap to be filled, it can work. In "A Trip To The Dentist," we only had Cassidy's somewhat dubious insistence that he didn't do anything wrong. (Likewise, in the controversial reveal in Angel's fourth season, I have no problem in ignoring it because Skip is unreliable.)
However, while I might be comfortable with the reveal of Cassidy as a rapist on the narrative level, it's still a big problem in an emotional sense. In general, rape is a difficult subject, and to see it used as a plot device creates problems on its own. Specifically, Veronica's rape, and her interpretation of what happened as well as her discovery of the facts behind the story comprised the emotional core of the first season of the show. It was the symbol of Veronica's expulsion from the comfortable world of the 09ers, and it was tied directly to the discovery of why Duncan broke up with her. So not only is the change in the story difficult for the audience because of our emotional connection with the story, it's also difficult for Veronica because of her emotional connection to the story.
That's not all that happened in the episode, though. We have three other major events, two of which provide cliffhangers leading into the third season. First, Weevil, so successful in getting himself to graduation, finds himself arrested moments before walking across the stage. He's been pointed out by kids who saw him capture Thumper, and now seems to be in hot legal water. In the middle of graduation, Weevil is embarrassingly arrested and escorted out. Nobody stops it from happening. Barely anyone, save his grandmother, even seems to notice. It's a sign of how many bridges Weevil has burned, even if they were all understandable, sometimes admirable, at the time.
The second major cliffhanger involves Aaron Echolls and Kendall Casablancas. Once free, Aaron is available to partake in the fruits of freedom, some of which Kendall is happy to provide him. He also gets to have unguarded conversations with some of his enemies, like Logan and—in one of the episode's best scenes—Veronica. He is a wild card, a man we know is dangerous suddenly rereleased into the world the characters inhabit. That wildness is cut short with a bullet to the brain-pan by Clarence Wiedman, apparently under orders from the shockingly ruthless Duncan Kane. Kendall, despite being with Aaron moments before the murder, escapes unscathed, and appears on Keith's doorstep with something powerful enough to make him ignore his planned vacation with Veronica.
Both Aaron and Kendall's stories have shocking twists, but still disappoint to some extent. Aaron Echolls as a free man was far more interesting than Aaron Echolls as a dead man, although there may be some fruit to be found in the idea that Veronica and Keith can never be proven right. Unless, of course, that's the evidence that Kendall is bringing to Keith Mars, which would be enough to get Keith to skip his vacation, yes, but it's also yet another change in loyalties for Kendall, a character who has become merely a plot device, despite the best efforts of Charisma Carpenter. Likewise, the box that she presents to stop Keith from going on the vacation seems to be a mechanism for getting at a cliffhanger, more than any natural progression of the exhausting, exhausted plot. It's not quite so naked as the "Who is at the door?" ending of the first season, but still seems largely unnecessary.
Finally, there's a slight couples reunion. Logan and Veronica are back together, at least for now, after Logan helps Veronica escape from Beaver and they give in to their epic tale. Wallace also hunts down Jackie, under the impression that she's in Paris. Veronica discovers her first, waitressing with her mother in a dive in New York City. I wish I had more to say about this, but the whole storyline, for the past few episodes, has smacked of "Get Jackie off this show, she's not working!" I don't know if the revelations—that she wasn't a rich girl; that she had a kid in NYC— actually help or hurt her character or Wallace's. I just can't bring myself to care. Perhaps on a rewatch, it may add flavor to her character from earlier in the season, but I suspect it'll just make her snobbishness seem even worse. I didn't hate Jackie initially, although I didn't embrace her, but now I see why she was so disliked.
"Not Pictured" acts as an effective capstone for a chaotic season. Sure, it doesn't entirely work, but overall, it gets the job done with emotion and flair. That it's a bit of a mess is entirely fitting for one of the most twist, most plot-driven seasons of network television of recent years (only supernatural shows, like Angel's fourth season or The Vampire Diaries' second season can surpass it, in my opinion).
When I started reviewing Veronica Mars, most of the conventional wisdom had it that the first season was near-perfect television, after which it went into a sharp decline. Yet there were some people who defended the second season as being worthwhile, if not better. I'm happy that I found myself agreeing with the latter group. While I think that the thematic consistency of the first season makes it stronger than this one, the two are certainly comparable. As much fun as I've had with those two, however, my expectations for the third season are low enough that I don't think I'm going to be shocked. We'll see in a few weeks.
Stray observations:
Loved the flashback at the start of the episode. It was a nice way to see how things could have been "normal" but also a good way to see Lilly, Lianne, and Duncan in Neptune's context again.
Woody uses "Mr. Underhill" as his fake name, which was the one Gandalf advised Frodo to use when fleeing the Nazgul in The Fellowship Of The Ring.
"Don't keep all your passwords taped on the bottom of your stapler."
"And pepper spray. For if we run into that Trump character."
The Kane Scholarship is never mentioned in this episode, and its conclusion never made clear. Veronica bailing on her test in the penultimate episode certainly implied that she'd removed herself from the running, but you'd think this would be important enough to be made explicit.
Ironically, Clarence Wiedman, who was presented as a major villain in the first season, didn't make an appearance in that finale, yet here he is in this one.
We'll be taking a one-week break, but season three reviews will start up again on February 17. I'll be doing two episodes per week the entire way through.