The production credits on Wavves' fourth album are misleading, to say the least. The only thing remotely hip-hop about Afraid Of Heights is a song called "Cop," which, in the longstanding tradition of N.W.A and Ice-T, is about offing some officers of the law. But producer John Hill (whose credits include M.I.A., Santigold, Nas, and the Wu-Tang Clan) wraps "Cop" in a springy, cheery melody that's pushed along by sunny-day whistling. And the weed-loving L.A. indie-pop duo is way too chill to strike any sort of self-righteous hip-hop poses.
Still, Afraid Of Heights sounds bigger and more ambitious than anything Nathan Williams' former backyard solo project has ever recorded. The big-name producer and studio certainly help; so does the three-year break between Afraid Of Heights and 2010's breakthrough King Of The Beach. But unlike Wavves' previous records (including two simply titled Wavves), Afraid Of Heights doesn't sound like it's filled with first-take toss-offs. The lo-fi garage surf stomp feels worn in this time, like Williams and partner Stephen Pope actually stepped away from the bong long enough to give the mixes a second listen.
It starts with a killer one-two hit: "Sail To The Sun" and "Demon To Lean On" roll out crashing surf-punk and a guitar-powered midtempo love song, respectively, finding solid footing among the jagged edges that would have tripped Wavves in the past. There's definitely more confidence in the songs, but there's also a sense that Williams has grown up in the three years since King Of The Beach. Plus, "Demon To Lean On" would make a great Nirvana B-side if Williams were a more passionate singer.
Wavves doesn't necessarily stray outside of its comfort zone on Afraid Of Heights. The best songs—the distortion-packed handclap-punk of "Mystic," the cello-enhanced "Dog," the hang-10 surf-pop of "Paranoid"—keep close to what they know. Everything just sounds fuller and more cleanly produced than the ragtag recordings that made King Of The Beach an indie hit. Hill brings out the artist in Williams, who no longer seems satisfied with just good enough.
The relative sameness becomes a bit stifling over 13 songs and 45 minutes, kind of like with Weezer records, an obvious influence. But least Williams is starting to find inspiration outside of his living room.
G/O Media may get a commission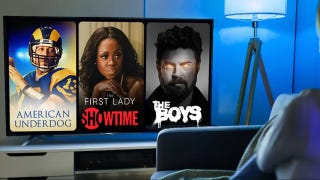 UNDER $1
99¢ Prime Video Channels