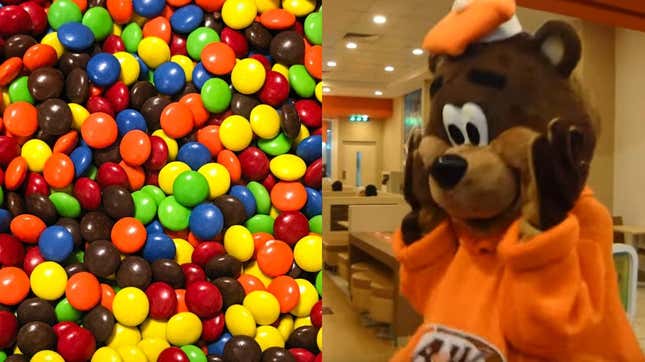 M&M's recently announced that it will be euthanizing its sexy, anthropomorphic candy mascots as part of a soul-wearying ad campaign that has incensed Fox News and, presumably, a handful of illustrators with hyperactive Deviant Art accounts. (Here's an example that you don't actually need to click on.) As always, other brands have picked up the scent of a successfully aggravating marketing plan and hopped on board with their own contributions—like a jokey post from A&W regarding their half-naked bear mascot, Rooty.

Despite the fact that the sodamonger's tweet is clearly a parody, evident from the announcement's layout down to the wording of the statement itself, that hasn't stopped Fox News from bemoaning this latest instance of cancel culture run amok.

Aaron Rupar tweeted a clip from Fox Business yesterday that saw a panel of the network's leading minds commenting on Rooty receiving a pair of jeans due to the fact that, as the original post reads, "a mascot's lack of pants can be polarizing."

"First it was M&M's," a host says before continuing, sadly, "Now it's root beer."
The apparent mascot design change is summarized further and the camera zooms out to mutters of "That's ridiculous," a shouted "Quit your cryin'!" and, finally, an explanation: "It's the woke police ... cancel culture has gone ridiculous."
"Is this a gag?" one anchor asks just before the segment ends.
A YouTube clip shows an earlier, similarly earnest discussion from the same show. The host explains the story and adds, "Okay, look, I don't mind that Rooty The Root Bear's got a pair of pants, but the reason he got one is because apparently it was ... what's the word here? It was 'polarizing?'"
"He's a cartoon! Who is he polarizing?" another host asks with incredible sincerity.
"We're at a point in society where bears gotta have pants or somebody's getting triggered?" the first host says.

"I guess," the second responds, probably not having thought about her own network's M&M's coverage or A&W tweeting "Is now a good time to mention this is a joke?" below its initial post.

When M&M's was faced with Fox's criticism of its revised mascot designs, having courted the knuckleheaded controversy it wanted, the company claimed it will be replacing them with Maya Rudolph (as part of what's definitely going to be a Super Bowl commercial reveal). Now that A&W's received the same treatment, there's only one proper move to ensure it stays in the spotlight a while longer: Announce that Rooty The Great Root Bear's design is going to change once again so that he not only no longer wears jeans, but also hangs cartoon dong in all official depictions going forward.

[via Boing Boing]

Send Great Job, Internet tips to gji@theonion.com