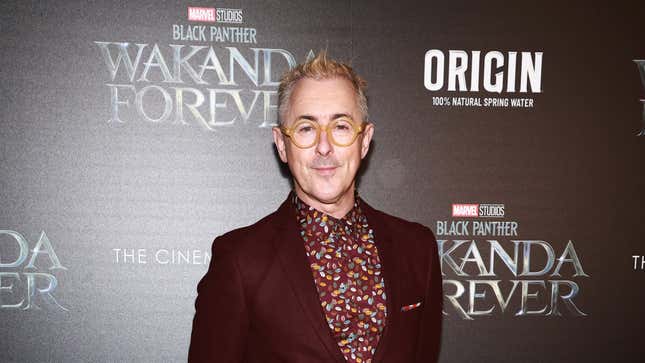 It's Alan Cumming's 58th birthday today, an event that the actor—and current Peacock game show host, as it happens—decided to celebrate, not by getting something, but by giving back. Specifically, Cumming rang in 58 by giving back his OBE (Officer Of The British Empire), one of the most prestigious royal awards in British society, citing as his reasons "the toxicity of empire."
(Quick note for those of us with American brains: The OBE is not the same thing as a knighthood, although they're related as parts of The Most Excellent Order Of The British Empire; knighthood is two "ranks" up from the award that Cumming got.)
Cumming laid out his decision on his Instagram, including why he decided to accept the OBE in the first place, back in 2009, as part of Queen Elizabeth II's birthday honors list. At the time, Cumming explains, his award was granted, not just for his work as a performer, but "for activism for equal rights for the gay and lesbian community"; in his acceptance at the time, he stated that, "The fight for equality for the LGBT community in the US is something I am very passionate about, and I see this honour as encouragement to go on fighting for what I believe is right and for what I take for granted as a UK citizen."
Now, though, he feels like that particular fight is in much better shape, and, in the wake of Elizabeth II's death, Cumming writes that:
The ensuing conversations about the role of monarchy and especially the way the British Empire profited at the expense (and death) of indigenous peoples across the world really opened my eyes. Also, thankfully, times and laws in the US have changed, and the great good the award brought to the LGBTQ+ cause back in 2009 is now less potent than the misgivings I have being associated with the toxicity of empire (OBE stands for Officer of the British Empire).

So I returned my award, explained my reasons and reiterated my great gratitude for being given it in the first place. I'm now back to being plain old Alan Cumming again.
[via CNN]