Former child actor Alexander Polinsky, who co-starred on '80s sitcom Charles In Charge, has accused show star Scott Baio of assault and sexual harassment that took place during the filming of the series. Deadline reports Polinsky made the charges during a press conference today held in the offices of Lisa Bloom, the lawyer representing fellow Charles In Charge cast member Nicole Eggert, who last month accused Baio of molesting her from the ages of 14-17 during her time on the show.

Polinsky claims that he was subjected to an ongoing pattern of abuse and bullying which began after Polinsky walked backstage one day and saw Eggert, then 14, sitting in Baio's lap. Thinking they were joking around, Polinsky—12 at the time—says he jumped into Baio's lap, at which point the actor shoved him off and called him a "faggot." From there, the taunts and bullying allegedly became routine, with Baio calling him homophobic slurs, throwing a cup of hot tea in his face, and pulling his pants down in front of the crew. Bloom says the homophobic name-calling and pants incident constituted sexual harassment. Polinsky also says Baio once exposed his genitals while mocking him.
"He said I'd never be loved by a woman because I was so effeminate," Polinsky claims, adding the abuse brought on depression. "I'd laugh along while choking back tears." He says adults working on the show knew about the behavior but did nothing for fear of losing their jobs. Polinsky added that Baio reached out to him a decade ago to invite him to a party and apologize for his previous behavior, but Polinsky rebuffed him because he was "not ready" to hear an apology yet.
Polinsky stressed he is not seeking financial compensation or some sort of revenge, but simply that he wants a public apology from Baio and to "be a small part of change in the world," calling attention to the need for increased safety for children in acting, athletics, and modeling. Baio is expected to hold a press conference later today to address the claims.
UPDATE, 5:45 p.m.: Through a representative, Baio has denied all of Polinsky's allegations, as well as those leveled by Nicole Eggert. In a press conference, Baio's spokesperson and attorney accused Polinsky of making inconsistent statements, questioned his and Eggert's motives, and called their campaign a "media witch hunt." They also read a statement from Baio, who was not present at the press conference, which says: "For reasons I don't understand, I am the target of false claims that threaten everything that is important in my life. I am hurt and I am angry, but mostly, I am stunned that anybody can be so cruel to attack not just me, but my family."
G/O Media may get a commission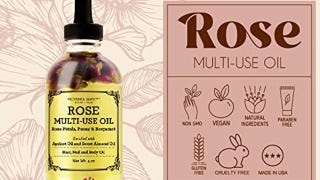 Provence Beauty Rose Multi-Use Oil