Before the 2013 release of Twin Peaks' debut album Sunken, three of its four members dropped out of their first semester of college to return home to Chicago and reform the band. Having amassed a sizable local following with their raucous live shows and doing some flirting with national press coverage, the youngsters' decision, while risk-filled, had ample upside. Following successful stints at SXSW, a U.S. tour with like-minded, Second City rock bros The Orwells, and the positive critical praise garnered by its ramshackle first LP, the group's commitment appeared to pay off. Now, with its sophomore effort Wild Onion, a nostalgia-imbued, 16-song collection of blitzing garage-rock and sunny power-pop, Twin Peaks can finally claim to have resoundingly earned the hype.
While Sunken was a promising eight tracks of lo-fi jangle and bluesy swagger, it felt more like an EP with its sub-20 minute runtime and basement recorded messiness. Wild Onion, however, doubles both its length and offerings, while considerably upgrading the songwriting and production values. The crisp recording quality gives the songs nuance, allowing the scuzzy punk of lead single "Flavor," the spaced-out psychedelia of "Strange World," and the romantic, stoned sway of "Sweet Thing" to breathe rather than be stifled by lo-fi haze. Still, in spite of the more careful arrangements, the songs are performed with same unhinged exuberance that prompted the band's original buzz.
Much of Wild Onion's positives come from the developing, three-pronged songwriting attack of guitarists Cadien Lake James and Clay Frankel, along with bassist Jack Dolan. Rather than overstuff the album with disparate ideas, the trio competes with each other without taking away from its cohesiveness. Frankel is arguably the most versatile frontman, jumping from Iggy Pop-style screeches on raging opener "I Found A New Way," to Lou Reed's talk-singing delivery on highlight "Making Breakfast" (a song that sounds like a not-so-distant cousin of "Sweet Jane"), to channeling Mick Jagger's howls on "Good Lovin'." James helms the other standouts, like the hook-laden propulsive rockers "Strawberry Smoothie" and "No Way Out."
No longer teenagers, Twin Peaks still have a lot of growing up to do even though Wild Onion marks a noticeable maturation. On Dolan's songs, the Beach Boys-referencing "Sloop Jay D," he sings of an ex-girlfriend saying, "Don't be a fucking pussy, that's what she told me." While on the chugging "Fade Away," he summarizes the snottier side of the group with "life for me is drinking beer and smoking on weed." With that eye-rolling use of regressive language and the occasional dabbling into hard-partying cliches aside, Wild Onion is a remarkably varied and solid sophomore LP. Though Twin Peaks are positioned next to local garage-rockers The Orwells, the Smith Westerns, and countless other bands with vanilla influences like The Beatles and The Rolling Stones, the 20-year-olds have more than enough chops to rise above the rest.

G/O Media may get a commission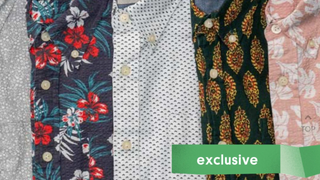 Grab three styles!
JACHS NY Summer Pack