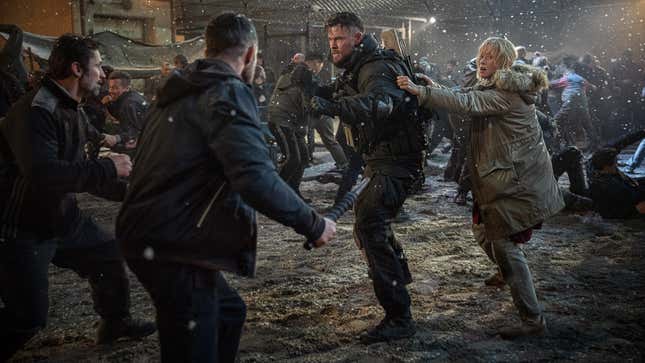 Mortality has been weighing heavily on the post-Endgame career of one Chris Hemsworth, who recently simulated his own death from old age on his Disney+ series Limitless. Now he's clawing his way back from the jaws of death in Extraction 2, premiering on Netflix on June 16. It's Hemsworth's latest team-up with the Russo Brothers—because if there's one thing Joe and Anthony Russo are going to do, it's put an Avenger in their action movie. And if there's one thing Chris Hemsworth is going to do, it's kick some ass.
John Hughes says the director called his Ferris Bueller performance "boring"
Netflix previewed the new trailer by broadcasting the message "TYLER RAKE LIVES" all over the world, an advertisement most effective if you know who Tyler Rake is. (Hint: It's the name of Hemsworth's character in the Extraction movies.) "After barely surviving the events of the first movie, Rake is back as the Australian black ops mercenary, tasked with another deadly mission: rescuing the battered family of a ruthless Georgian gangster from the prison where they are being held," reads a synopsis for the sequel.
"Barely surviving" is putting it lightly. Technically, Rake didn't survive; he was "clinically dead nine months ago," according to the trailer. Nevertheless, he fought his way back, apparently to do more extractions. Our female narrator questions why, but the answer is clear: this man was born to throw punches, and he won't be stopped by any opponent, explosion, or fire catching upon his person.
Still, though it's a buzzkill move to point out that our action heroes couldn't possibly survive the number of head injuries they tend to incur, Tyler Rake is not doing too well in this trailer. He's broken, bleeding, and a little unsteady on his feet. But he's perfectly capable of tearing his way through a vicious prison riot, thank you very much, and one can reasonably expect a fair amount more death-defying in this installment.
Extraction 2 also stars Golshifteh Farahani, Tornike Gogrichiani, Adam Bessa, Daniel Bernhardt, Tinatin Dalakishvili, and Olga Kurylenko. Sam Hargrave directs from a script by Joe Russo, who is also onboard as a producer alongside brother Anthony. Let the extractions begin!