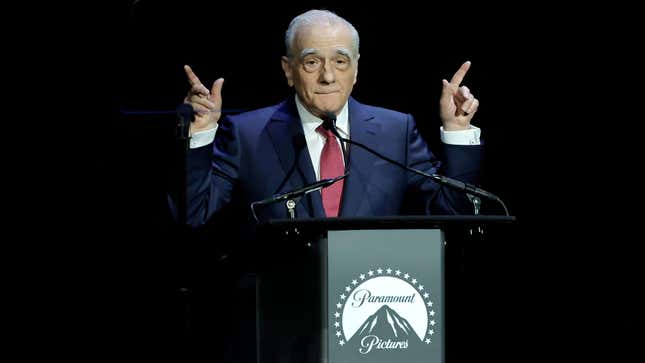 Martin Scorsese was on hand to put the "cinema" in CinemaCon in Las Vegas on Thursday, joining Paramount's presentation to share first-look footage from Killers Of The Flower Moon, premiering October 6, 2023, after which it will stream on Apple TV+. The drama is Scorsese's sixth movie with Leonardo DiCaprio and his 10th with longtime collaborator Robert DeNiro, but the first to include both stars.

"This is a big screen movie and that's what we made," Scorsese said on the CinemaCon stage, where The A.V. Club's Matthew Schimkowitz was in attendance. The filmmaker shared the first footage of the movie, thanking the entire Osage Nation who "welcomed us to Oklahoma and worked closely and tirelessly with us" on the three-and-a-half-hour movie.
Based on the trailer, which finally animates that singluar still we've been stuck with for the last 500 years, the movie is grand in scope, with the same propulsive Scorsese energy from Wolf Of Wall Street. Killers Of The Flower Moon recreates turn of the century Oklahoma and blends the oily politics of the period with a murder mystery that led to the formation of the F.B.I. Frankly, it's just nice to see something other than DiCaprio and Lily Gladstone doing something other than staring straight at the ceiling.

The audience also got a look at the Bob Marley biopic, Bob Marley: One Love, produced by Ziggy Marley and directed by Reynaldo Marcus Green and expected to be released on January 12, 2024. The film, starring Kingsley Ben-Adir and Lashana Lynch, recently wrapped production, according to Marley, "so here's a little taste of the heart, soul and craftsman," he said to the crowd. Similar to Scorsese's acknowledgment, Marley thanked "the people of Jamaica who were critical [to] this movie."
Unfortunately for anyone tired of biopics, this trailer opens with that classic Dewey Cox cliché where Marley has to think about his entire life before he takes the stage. So it doesn't seem like Paramount's reinventing the wheel with this one—but at least the soundtrack will rock.