Here's what's up in the world of TV for Wednesday, November 25. All times are Eastern.
Top pick
Code Black (CBS, 10 p.m.): Code Black may only be in its first season, but it clearly knows that November sweeps are a way of life. Some might even say a "circle of life," even if that doesn't make any sense. Unless you know the episode synopsis, that is. Code Black is going all in on the Lion King musical with tonight's episode, "The Son Rises." Hit it!
Please, look at how insane this episode synopsis this is: "When the lead actor of the musical The Lion King tour arrives at Angels Memorial with a throat infection, Leanne gives him a diagnosis that puts both his career and life in jeopardy. Also, the doctors and the cast of The Lion King help a 17-year-old boy deal with the difficult decision of taking his father off life support…Alton Fitzgerald White, who has played the role of 'Mufasa' in The Lion King more than 4,000 times, guest stars as Lawrence." We guarantee that no medical drama has ever mentioned The Lion King this much in dialogue, let alone in any of its synopses. Code Black just might be a trailblazer, and hopefully this ends with the cast of Hamilton showing up on an NCIS.

Also noted
Survivor (CBS, 8 p.m.): While so many other Wednesday night shows are taking the night off, Survivor is going the other way: with two back-to-back episodes. "Castaways' spirits are drowning in a relentless rain storm, but a fun challenge reward offers a few players a glimpse into the Cambodian culture. Also, the 'voting block' strategy used this season continues to keep Castaways on their toes." Coincidentally, Carrie Raisler sees two Survivor episodes in a row as a fun challenge designed to keep her on her toes.
G/O Media may get a commission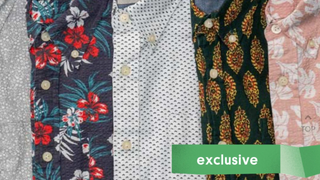 Grab three styles!
JACHS NY Summer Pack
Regular coverage
Casual (Hulu, midnight)
The Man In The High Castle (Amazon)
Kingdom (DirecTV, 9 p.m.)
Empire (Fox, 9 p.m.)
Star Wars Rebels (Disney XD, 9:30 p.m.)
Elsewhere in TV Club
Pass the cranberry sauce! / We're having mashed potatoes! / Ooh, the turkey looks great!
Ahem. Sorry. We couldn't help it. It's this Thanksgiving mood that we're in right now. But hey, we used said mood for good: to create an Inventory on 25 shows to binge-watch this weekend! And the thing is, you have to watch all 25 shows. Now that's what we call stuffing.
Where were we? Ah, yes:
What else is on?
Lego Scooby-Doo! Knight Time Terror (Cartoon Network, 6 p.m.): You had us at Lego and kept us with Scooby-Doo! "The gang visit a haunted house that has just opened to solve its ghostly mystery and find a treasure left by the house's founder." Pretty standard Scooby-Doo stuff, but again: Lego.
Teen Titans Go! (Cartoon Network, 6:30 p.m.): In "Two Parter: Part One," "the gang visit the Hall of Justice." Then, in "Two Parter: Part Two," "the Titans try to save the Justice League from supervillain Darkseid." We're not going to lie: We're pretty excited about this two parter called "Two Parter." Teen Titans Go! has been a roll lately. (We still have "The Night Begins To Shine" stuck in our heads.)
Inside The Actors Studio (Bravo, 8 p.m.): Another round of LudaLipton (that's what he likes to be called) and his celebrity friends! Let's do this. Tonight, Bryan Cranston is the guest of honor, which begs the question: What do you think Bryan Cranston's favorite curse word is?
Rosewood (Fox, 8 p.m.): Rosewood's idea of November sweeps is Taye Diggs (woo!) and the plot of a second season Castle episode (not as much "woo!"): "Amidst the glitz and glamour of Miami Fashion Week, there's a plot to kill one of the city's hottest new designers, who turns to Rosewood for help. As the case takes Rosewood and Villa from the catwalk to the perp walk, Rosewood learns of his shared past with the victim." Then we guess Villa decides to date Taye Diggs, because she's lucky enough to live in the magical world that is Rosewood. "Meanwhile, Pippy and TMI find their romance on the skids when Pippy discovers TMI has kept an important secret from her." We swear we didn't make any of that sentence up. Now if it were Trippy and FML on the other hand…
The Making Of The Wiz Live! (NBC, 8 p.m.): "From casting to costume design, "The Making of The Wiz Live!" is an all-access pass to The Land of Oz." Watch this if you just can't wait to see The Wiz Live! and you want to know how the sausage is peacocked.
Saturday Night Live Thanksgiving (NBC, 9 p.m.): You know the drill: Most of the same Thanksgiving SNL sketches as last year and an Adam Sandler song somewhere in the middle.
Cutthroat Kitchen (Food Network, 9 p.m.): "Burrito The Line." No.
Property Brothers At Home On The Ranch (HGTV, 9 p.m.): "Jonathan and Drew Scott return to their Western roots when they take on the challenge of renovating a close family friend's working ranch in the foothills of the Rockies. With just 10 weeks to overhaul an original log home, a guest cabin, the patio and stables, the brothers quickly get to work on their first project." This synopsis is like a friend who answers "sup?" with a five-minute long speech about what, in fact, is "sup."
Nova (PBS, 9 p.m.): Nova's going "Inside Einstein's Mind," y'all. Get hyped! "Retrace Einstein's thought experiments to discover how he reshaped our understanding of gravity." Oh. We thought there was going to be, like, a Magic School Bus adventure into Albert Einstein's brain. Our bad.
Charlie Sheen: Bad Boy On The Edge (A&E, 10 p.m.): This is exactly what you think it is, but in case you want to read the synopsis: "A profile of Charlie Sheen focuses solely on his edgy lifestyle and brushes with the law over the past 30 years."
Jay Leno's Garage (CNBC, 10 p.m.): Keanu Reeves has a motorcycle studio, and Jay Leno is taking us all to see it! Jay Leno is a pretty swell guy.
Going Deep With David Rees (Esquire Network, 10 p.m.): Want to know "How To Get Punched"? David Rees will show you. He's helpful like that. He also clearly has a sense of humor if this video description is any indication: "David Rees asked Bernard Hopkins to hit him. Bernard Hopkins obliged."
Christmas Through The Decades (History Channel, 10 p.m.): Since it's the day before Thanksgiving, it's officially Christmas season; so the History Channel is going to explore how that entire concept has changed over the years. First up, the '60s: "A recollection of Christmastime during the turbulent 1960s includes a look at the JFK assassination, the Vietnam War, a live Christmas Eve broadcast from Apollo 8 astronauts, and the Charlie Brown holiday special." Sorry, turkeys—Charlie Brown and Viet-goddamn-nam take priority.
Coach Charming (TLC, 10 / 10:30 p.m.): We went from thinking Coach Charming would make a pretty fun early 2000s romantic comedy to finding it extremely creepy really fast, didn't we? Hey, it's not our fault the season finale is titled "Come At Me, Panther!"
Late Night Joy (TLC, 11 p.m.): "Theresa Caputo Channels A Good Time." Yep, we're never going to look into what this show is actually about. TLC is a weird channel.
Once Upon A Holiday (Hallmark Channel, 8 p.m.): Hallmark's Countdown To Christmas continues with the premiere of Once Upon A Holiday: "When an actual, honest-to-goodness royal princess runs off from her official obligations and duties for a couple of days to see how the other half lives, she winds up falling for a good Samaritan who is unaware of her real identity. And it happens right around Christmas. Will the guy still feel the same way once he learns the truth? And if this works out, won't that make him a prince? We're guessing yes." The last sentence is what really sells it.
Sports, sports, all type of sports
College Basketball: Gonzaga at Washington (ESPN2, 12 p.m.)
College Basketball: Charlotte at Syracuse (ESPN2, 2:30 p.m.)
UEFA Champions League Soccer: Shakhtar Donetsk vs. Real Madrid (FSN, 2:30 p.m.)
College Basketball: Maui Invitational (ESPN2, 5 p.m. / ESPN2, 7:30 p.m. / ESPN, 10 p.m.)
College Basketball: Cancun Challenge (CBS Sports, 6 p.m. / 8:30 p.m.)
College Basketball: Yale at Duke (ESPNU, 7 p.m.)
NBA Basketball: Knicks at Magic (FSN, 7 p.m.)
NHL Hockey: Flyers at Islanders (NBC Sports, 7:30 p.m.)
Premier Boxing Champions on ESPN: Lara-Zaveck (super welterweights) (ESPN, 8 p.m.)
College Basketball: MGM Grand Main Event (ESPN2, 9:30 p.m.)
NHL Hockey: Blackhawks at Sharks (NBC Sports, 10 p.m.)
WWE NXT (WWE Network, 8 p.m.)
Impact Wrestling (Destination America, 9 p.m.)
The Ultimate Fighter (FS1, 10 p.m.)
Ring Of Honor (Destination America, 11 p.m.)
In case you missed it
The Grinder: Was pretty streets ahead last night. Is that a thing? (You would get that if you'd seen last night's episode of The Grinder and then read Molly Eichel's review of said episode.)