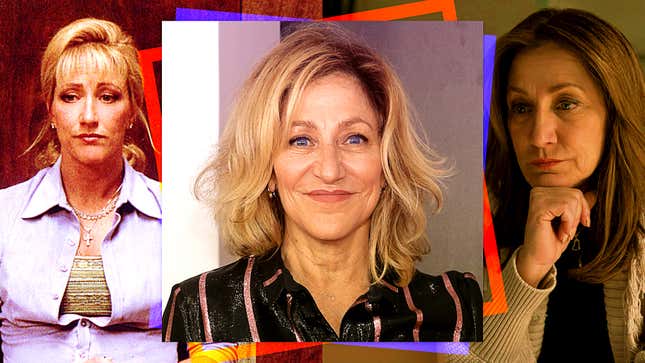 She's played Carmela Soprano, Nurse Jackie, and Hilary Rodham Clinton, among other characters, but Edie Falco may be facing one of her most daunting roles yet: Pete Davidson's mother.
Dwayne Johnson reveals how he transformed into Black Adam
The TV icon, who has taken home a cool four Emmy Awards and two Golden Globes across 25 nominations, stars alongside the Saturday Night Live alum in Bupkis, a heightened retelling of Davidson's own life that mixes elements of the real—the loss of his firefighter father in the 9/11 tragedy, living in his mother's Staten Island basement amid comedy superstardom—with the absolutely surreal. (There's a cameo from Simon Rex that's particularly batshit.)

On paper, the half-hour sitcom—which will drop all eight episodes on Peacock on May 4—may seem like an odd fit for one of the most revered dramatic performers on our screens. (Falco was the first actress to receive the Television Critics Association Award for Individual Achievement in Drama.) But with all of those drama bonafides, it's easy to forget that Edie Falco is fucking funny, whether in memorable guest stints on 30 Rock and Will & Grace, in the deadpan darkness of Nurse Jackie, or in her most famous role of them all, as the Sopranos matriarch with a sense of humor as sharp as the diamond crucifix around her neck.

The A.V. Club spoke to Falco about exploring her previously untapped improv skills for Bupkis, what it was like to meet fellow New York legend Joe Pesci, which Oscar winner she would choose to play her own mother, and her feelings about The Sopranos ahead of its 25th anniversary.

---
The A.V. Club: Pete Davidson has famously mined his life for inspiration before with The King Of Staten Island. What was his pitch that made you want to sign on for Bupkis? Were you a fan of his previously?

Edie Falco: I certainly knew who he was but I didn't know enough about him to make that assessment. But I think it was partially his enthusiasm about the project—you know, he's got that puppy-like sort of energy of like, "We're gonna make this thing and it's gonna be amazing!" I used to be more like that than I am now, and I think there was something about that you want to be around.
AVC: You and Pete have, um, let's say an explosive opening scene together.

EF: [Laughs] No, you didn't!
AVC: I did! How easy was it to develop that connection and camaraderie with him, especially given that you're playing mother and son?

EF: It was actually very easy. I am the mother of a son, not quite Pete's age. But it is an outrageous relationship in general​​, mothers and sons—"boys who are not kids but are not men" kind of thing. I felt it was very easy with Pete because it wasn't so far out of my wheelhouse.
AVC: You've had a great past year​​​​, being in one of the highest-grossing movies of all time. But what was more surreal for you: having to act with pre-CGI Na'vi in Avatar: Way Of The Water or having Joe Pesci play your father?

EF: It's like apples and oranges, as you can imagine. Avatar has a lot of CGI and computer stuff, so I did a lot of my acting with tennis balls and iPads on a big stand so you're looking at the face of someone up here. I had more of an experience with Avatar seeing it than when I was actually shooting it. But working with Joe Pesci, what can you say about that? Coming from an Italian-American family, he was sort of revered, all of the Scorsese movies and all his work over the years. It was a very big deal.
AVC: You had to have met him prior to Bupkis though, no?

EF: Nope, never.
AVC: What was the first day on set like with him?

EF: We went to L.A. to meet with him before he signed on and that was the first time I met him, and I had to really kind of like, [go] "Alright, chill out, take a deep breath, you can get through this." And now, much like I've discovered with many other people, he's just a person. A lovely person and sweet and all that, but it's hard to get the icon status out of your field of vision.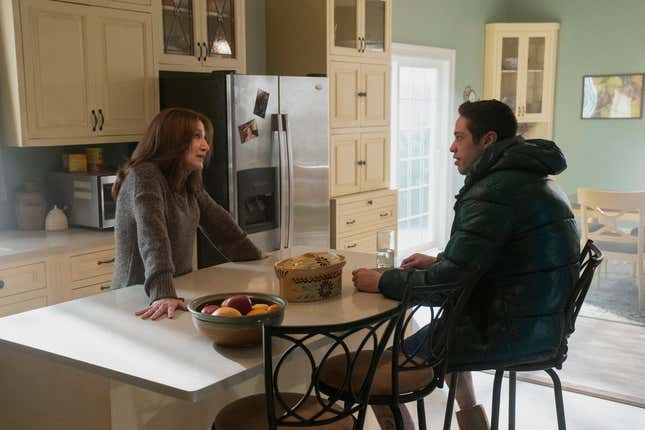 AVC: And speaking of TV dream parents, you also have Jane Curtin playing your mother.

EF: Oh my gosh! That was a fun phone call to make to a lot of my family members. We come from a long line of fans of hers.
AVC: There's so much SNL pedigree in Bupkis, and the cast is comedically stacked, from Brad Garrett to Charlie Day to Kenan Thompson. Were you improvising a lot while filming or was the bulk of the role on paper already?

EF: Well, I didn't realize we were going to be improvising as much as we ended up improvising. At first, I was like, "Wait, that's not on the page; what is he saying?" and then I thought, "Oh my god, this is how we do this." And I was totally into it.
AVC: Was that a new muscle for you to flex? Obviously you've been doing comedy for a while.

EF: Less than you might think. I've worked with a lot of writers where they worked really hard on this thing and they don't want you to just go in like, "Well this is what I would say," you know what I mean? And these guys were so not precious about the writing. I would see Pete go off-script and then another actor, and I realized, "Oh, I guess it's okay to maybe try something that I think is funny." People would yell out suggestions from the directors' chairs and we'd try that, and I loved it. I don't ever really get to do that, so it's really fun.
AVC: So we'll be seeing more improv from Edie Falco in the future?

EF: If they let me! Depends on who the director is.
AVC: You've played real people onscreen before, most recently Hillary Clinton in Impeachment: American Crime Story. But is playing the real-life mother of the person you're acting opposite even more nerve-wracking than usual? 

EF: It's a conversation that I had with Pete early on, that I wasn't going to try to imitate his real mom. It was clear that he was open to me doing whatever I felt like, which gave me all kinds of freedom. I didn't want to try to imitate his mom; that didn't seem necessary or interesting. I thought it might be more fun to just throw something else out there at him that he's not completely comfortable with or aware of, keeping us all kind of on our toes.
AVC: There's a fun scene in Bupkis where Pete's mom yells at a hostess, "Marissa Tomei played me in a movie!"

EF: That was a line that someone threw at me last minute. I was like,"'Ooh, that's good!"
AVC: So good. If there was a series or movie based on your own life, who would you want to play you and your mother?

EF: Shirley MacLaine would play my mother because, in fact, she looks exactly like her. And who would play me, oh my goodness? Marin Ireland. She's a theater actress primarily, but she's also done a ton of TV. I'm a huge fan of hers. She's really quirky and so unexpected and interesting, so I would love it if she did it.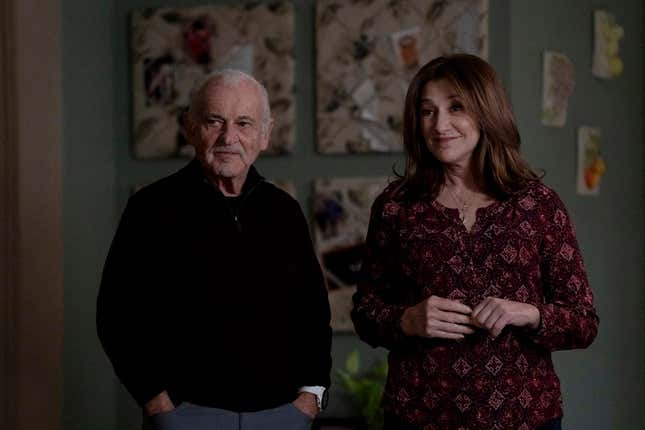 AVC: Pete is famously from Staten Island, and the show is set there. As a native New Yorker, did Bupkis change the way you feel about the borough?

EF: Staten Island is like the mystery borough to me. I don't know a ton about it; I didn't have much to base it on. But there were some beautiful areas, and the people we met were nice and sweet. It was not shocking to discover that it was not that different from Brooklyn or Queens. It certainly has a reputation that precedes it, unfortunately, but it did not seem like an accurate one.
AVC: Let's take things to Jersey: We're coming up on the 25th anniversary of the premiere of The Sopranos in January. A quarter of a century later, it's still widely considered the greatest TV show of all time. What are your thoughts on the lasting legacy of the show and why it's still resonating with so many people?

EF: Jeez Louise. You know what I feel more than anything is gratitude, that somehow I fell into this vortex with this show. I started out as just another actress struggling in New York City and somehow I fell into a pile of gold that was this show, just insofar as how it's been received and the effect it appears to have had on people. I just feel tremendous gratitude that things have aligned as they did to make me a part of this thing.
AVC: You reprised your role of Carmela Soprano in The Many Saints Of Newark, though those scenes were cut from the final edit. How was it being back in that body, in that accent? 

EF: It was unbelievable. I had to put on Carmela's hair and nails and jewelry and all that, and it was like no time had passed at all. And it was being directed by [Alan Taylor], one of the directors that we used a lot on The Sopranos, and David Chase was on the set. It was crazy surreal.
AVC: You've done big TV shows, you've done blockbuster films like Avatar, and then you've done smaller, low-budget indies like the beautiful Outside In. Do you have to change up your approach based on the scope of a project? 

EF: Nothing changes. Other than the financial aspect of it, I tend to prefer these low-budget things. I just did another one over this past summer. I think we shot the whole thing in three weeks and I was carrying equipment down hills. We're all making a movie, all of us, so you do whatever needs to be done. And there's something about nobody being in it for the money. They have a different part of their person that's motivated to do this work, and it just feels different. I love it, always have.