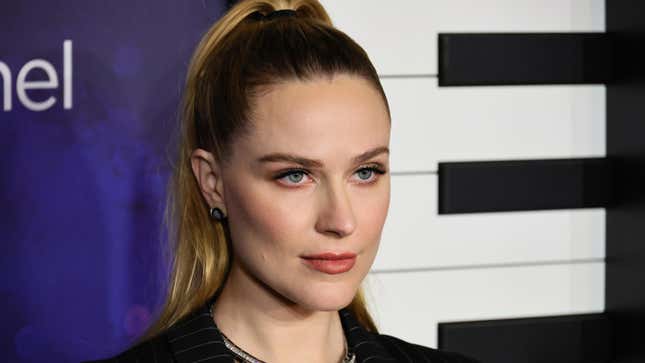 Evan Rachel Wood is not taking recent allegations that she "manipulated" model Ashley Morgan Smithline into making a false accusation against Marilyn Manson lightly.
This past Friday, Smithline filed a declaration alleging that Wood and fellow accuser Ilma Gore coerced her into making an abuse claim against Marilyn Manson (real name Brian Warner) and that she "succumbed to [that] pressure." (You can read Smithline's full declaration here.) Smithline's suit was dismissed in January.
Now, Wood has filed a declaration of her own claiming that it was Smithline who first initiated contact the previous year. In the filing, which was obtained by Rolling Stone, Wood provides screenshots of Instagram comments, private DMs, text messages, and voicemails dating back to 2019 that would seem to negate Smithline's allegations.
Wood referred to a comment Smithline had made on one of the actor's Instagram posts that referenced an alleged incident where Warner abused Wood while "making her watch a particular scene from Rules of Attraction."
"When he had me captive in the stupid ballet studio, I cringed hearing him brag about replaying that scene from rules of attraction to you," Smithline's comment read. "I thought no one would ever talk about this."
Wood also included a DM she received from Smithline after the model went public with her story, which read: "I can't breathe. I have no reason to make this up," to which Wood replied, "Don't let anybody get to you. Just sit in your truth." Smithline also communicated with Wood about the abuse she had suffered in the wake of her accusation from Warner's fans: "[I]t take a special kind of person to threaten rape and abuse victims with rape and abuse... It's been relentless," she wrote.
The filing also includes voicemails that Smithline left for a friend in June 2022 suggesting that Smithline's claim of manipulation against Wood is actually her being manipulated by Warner's legal team. "Don't repeat this to anyone. I swear to God, don't say this to anyone… but I did get a private message on my cellular telephone from Marilyn Manson's lawyer saying, 'I was wondering if we could just talk,'" Smithline said in the voicemail. "The only reason he'd be calling me… is that he thinks I'm the weak link and he might want to settle with me to turn on the other girls and say that it was all a ruse."
The filing also alleges that the reason Smithline was never deposed in the case by Warner's legal team is "obvious": "Plaintiff understood that if Defendants had the opportunity to question Smithline, the actual truth would come out: Defendants never pressured or manipulated Smithline."
When asked for comment by Rolling Stone, Smithline responded: "Evan's full of shit. That's my comment... She's saying anything she can to discredit me." Neither Wood nor her legal team immediately responded to Rolling Stone's requests for comment.