As House Party begins, co-protagonist Kevin (Jacob Latimore) tells us "There's some crazy, beautiful, weird-ass shit about to go down." When we meet his co-lead, Tosin Cole's Damon (pronounced duh-MON), another character declares "It smell like ass and onions in here!" Both offer reviewers irresistibly easy comparisons, but this attempted franchise reboot doesn't fully resemble either remark. Certainly, it works best when indulging its weird-ass side, but like onions, some scenes really could have used additional preparation to be more palatable.

In the gradually increasing pantheon of LeBron James-produced remakes of movies he liked as a kid, House Party is a definite improvement over Space Jam: A New Legacy, probably because it actually has good source material to work from. The feature directorial debut of Reginald Hudlin, based on his award-winning student film, was originally intended as a vehicle for Will Smith and DJ Jazzy Jeff, but arguably fared better with the lesser known Kid n' Play, whose chemistry was similar. A bit of a surprise hit in 1992, it spawned a theatrical trilogy and two direct-to-video sequels. For those concerned with continuity, this is not a legacy sequel, with the original movie existing as a movie within it.
A reboot was surely inevitable, though it curiously misses the most important ingredient: two leads who are already friends and have that natural chemistry together. Latimore and Cole aren't just from very different places—the former best known for his singing, and the latter best known for Doctor Who. But their characters don't even feel like they should be friends. Latimore's Kevin is a single dad scrambling to make a life independent of his parents; Cole's Damon is an irresponsible party promoter who steals and scams. Longtime pals like Kid n' Play can make that odd-couple dynamic work, while these two, minus that familiarity, just seem like they should leave each other well enough alone.

Also working against the reboot is a significant change in premise. Instead of high schoolers sneaking around behind their parents' backs to party and have (safe) sex—something most moviegoers of that age and above can relate to—our protagonists are party promoters looking to make a life-saving amount of cash. As a celebrity entrepreneur and all-time great athlete, James can probably relate. The rest of us? Maybe not as much. The part where they're also about to be fired from their day jobs as house cleaners brings things a bit more down to Earth, with the high concept coming in when they realize they're at the house of LeBron himself, and can make money by holding a party there that same night, using his email contact list and some quick viral marketing.
To its credit, and this isn't damning with faint praise, the new House Party is frequently very funny. (The R-rated language and creative insults are a great asset, even if they might restrict the potential teen audience.) What it has in humor, though, it lacks in pace. Co-writers and Atlanta alumni Jamal Olori and Stephen Glover ought to be just right for the job, but the story drags, a lot. At a certain point, the viewer may wonder why the party hasn't started yet; once it finally does, we join it already in progress. It also lacks any real sense of jeopardy: a villainous trio called Young Threats feels relatively lightweight, and doesn't even share many scenes with Kevin and Damon. The ghost of Tiny Lister would wipe his shoes with them.
G/O Media may get a commission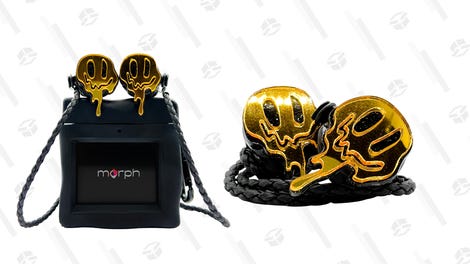 morph audio
Morph Earphones
The big exception to the pacing issue is a wonderfully bizarre side plot centered on Kid Cudi who, playing himself (sort of), becomes a sort of Neil Patrick Harris to Kevin and Damon's Harold and Kumar. His appearance is too good to spoil but it suggests, together with last year's criminally underseen Entergalactic, that Cudi has cinematic talents we've slept on for far too long. Plenty of other celebrity cameos litter the movie—director Calmatic (Lil Nas X's "Old Town Road" video) seemingly used LeBron's email list the same way Kevin and Damon did onscreen—but most are weirdly worshipful, suggesting that all these famous people are superior, better human beings. Only Cudi happily torches all preconceptions, and runs away with the movie for his effort. James mildly mocks his own insecurities, but easily balances that out with the sheer number of characters who call him the greatest.
The new House Party can't really offer an equivalent to the late, great Robin Harris as the angry dad; Eddie Murphy or Dave Chappelle would probably ask for too much; and Bernie Mac, who'd be perfect, is sadly deceased. Bill Bellamy, who gets the thankless shoes to step into, makes the most of it with a throwaway joke about being a self-made man because of what he stole in the 1992 L.A. riots, but it's probably for the best that the character is minimized to avoid unfair comparisons.
Latimore and Cole are okay leads, with Cole impressing all the more once you realize he's not doing his natural accent. They just lack that shorthand quality that lifelong friends should have. The best actors can fake it; the most charming actors have it for real. These two are somewhere in the middle, much like most of the movie. With all its languid stretches between gags, House Party feels like it had a script designed for expert improvisers as the leads, and didn't get them. When it goes high concept in the third act and finally calls for actual story, it excels, but not, perhaps, for long enough.
(House Party opens in theaters nationwide on January 13)