After playing a handful of shows back in 2007, Ann Arbor punks Fuckin' A! (or "F'n A!" for cleaner mouths, and the band's posters and merch) took a three-year break before reforming in 2010. This Friday, the trio of guitarist-vocalist/main songwriter Wire Von Doom, bassist-vocalist Sharon Cookies, and drummer Tony Chupacabra will celebrate the release of their first full-length record, For All Intents And Purposes, with a show at Vault Of Midnight Ultralounge this Friday, Oct. 7. The vinyl LP, out on Ann Arbor's ARBCo Records collective, is a bratty slab of pop-flavored punk rock filled with spite for meatheads, binge-drinkers, visiting crust punks, and a host of other college-town types to spare.
Von Doom talked with The A.V. Club about the band's inspirations, the bummer of politics in punk, and his band's positively vulgar moniker.
The A.V. Club: How did you all meet and start playing, and what makes you a good fit to make music together?
Wire Von Doom: Sharon and I are sister and brother, and Tony is my best friend from high school. We get along pretty well, I'd say. Because of our long relationships, we work well as a band. It's very cohesive.
AVC: What made you want to get the band back together after three years of being broken up? What's different playing together this time around?
G/O Media may get a commission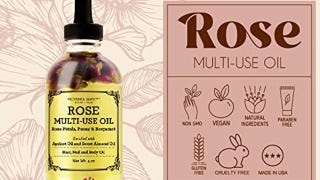 Provence Beauty Rose Multi-Use Oil
WVD: In 2007 we played about six or seven shows before Sharon quit to focus on a theater/burlesque troop (Tickled Fancy Burlesque). We tried fruitlessly to recruit a new bass player, and we were on hiatus until 2010, when Jef Porkins from ARBCo records put out a compilation 7-inch that had a song of ours on it. We got back together as a one-off to promote the record and just kept going. This time around we're all getting more into playing and taking it a little more serious. Also, our sound got slightly poppier, which probably made it a little more enjoyable, for band and fans.
AVC: How does writing work in the band? What general elements are needed to make a good Fuckin' A song?
WVD: Most of the music and words are written by myself, with occasional collaboration from Sharon or Tony. Although Sharon has now written a few of her own that will probably be on our next album. Generally, the lyrics come first, and I write the songs around them. I don't specifically aim to make it punk rock, just whatever sounds good, and it just turns out that way. Lately we've been putting a lot more melody into our songs and sing-along choruses, implementing a lot more backing vocals, etc. The Ramones is my favorite band, and we get a lot of influence from that.
AVC: Who did the recording, and what was that process like?
WVD: Recording took about three days, altogether. Jef [Porkins] from ARBCo did the recording in our rehearsal space. It was a lot of fun. It's almost entirely live with very few overdubs, to make it as close to a live show as possible.
AVC: Obviously there's some major punk-rock history in this region, but what makes Ann Arbor a good place to make punk rock today?
WVD: Personally, I moved to Ann Arbor because of an offer to be in the [now defunct] band Versificators. Ann Arbor is a very nurturing place to be any kind of an artist, and you can usually always find someone to jam with. When we started out there were a lot of houses that were having shows and all kinds of bands. Lately it's been kind of a drag, with no punk houses and very few fun bands playing around, with the exception of the ARBCo co-op bands.
AVC: How does playing in Fuckin' A! differ from Versificators?
WVD: It's a lot different in many ways. I played drums in Versificators, and it was more of a faster, hardcore-style punk band, sort of political in the lyrics department too, sometimes. Fuckin' A! is all about personal experience and fun lyrics. It's more of an original-recipe punk band, more rock 'n' roll. We tend to focus on melody and stay away from the big political can of worms that makes a lot of punk rock kind of boring, in my opinion, anyway.
AVC: I understand the money to have the record pressed came from a co-op model of pooling expenses with other ARBCo bands. Do you think you would have been able to afford making a record otherwise, and do you think this is a sustainable way to do business?
WVD: I can say that we don't really make a lot of money playing shows, so there's not really any way we would have been able to put out our own record so soon. A self-produced CD, sure, but never vinyl. This co-op is a great thing for all bands involved, and it's building a good community between all the artists. I think that it's really working out better than any of us ever expected, and that it's a great thing to be involved with.
AVC: You often shorten the name to F'n A! Is it ever difficult promoting a band with a name that is likely to offend some people? Or in the age of Fucked Up, Fuck Buttons, etc., is that not really an issue?
WVD: We started shortening the name to F'n A!, because we've had trouble putting up fliers in businesses and stuff in the past, and a lot of show promoters change the name on fliers to however they want to censor it, and, frankly, it looked stupid. Lots of "&*(##**%" kind of stuff. It really worked out best for us to decide to do it ourselves in a way that we liked. It works out great on our T-shirts too, so you can wear one to work.
AVC: Is the name related at all to The Thermals' record of the same name, or is that coincidence?
WVD: Any similarity to anything else is just a coincidence. We took our band name because it's a positive type of thing for people to say, like, "Hell yeah! That band was great. Fuckin' A!"