From my inbox:


KATY PERRY'S NEWEST ROLE: LIMITED-EDITION HIGH-FASHION COLLECTIBLE DOLL
LIFE IMITATES ART!


Noted proponent of Girls-Gone-Wild-esque show-lesbianism, Katy Perry, is getting her own doll. Fine. But which part of that is life and which part is art? Having an action figure made in your own likeness now qualifies as life? Being Katy Perry is art? This press release creates more questions than it answers.


Capitol Records pop/rock phenom KATY PERRY takes one more dive into pop culture iconography with a doll created in her likeness. The Katy Perry doll is currently available for pre-order through Integrity Toys' website at http://www.integritytoys.com/katyperry.php.
Perry collaborated with fashion designer Jason Wu in the creation of the 12 inch-tall doll, which will be sold worldwide in a limited edition retailing for $49.99 from Integrity Toys.


Fifty dollars may seem like a lot to spend on a one hit wonder action figure, but it's positively soaked through with pop culture iconography–just like Katy Perry! The real question is, does this doll come with its own casual homophobia and excruciating, frog-in-her-throat vocals, like the real Katy Perry?


This miniaturized version of Katy will be immediately recognizable as a signature fashion look, with her belted gold mini dress with accordion-pleated skirt, inspired by the wildly popular and 5 times MTV VMA nominated "I Kissed A Girl" video clip.


"I Kissed A Girl" was nominated for 5 VMAs? Even though MTV only shows about eight music videos a year, that's still quite an accomplishment. But they're right about the doll being "immediately recognizable as a signature fashion look." It's like Forever 21 vomited all over Wonder Woman: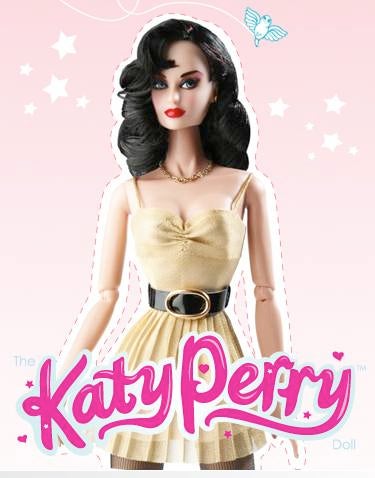 I realize that action figures are hardly accurate likenesses, but that doesn't look anything like Katy Perry. Lynda Carter, maybe. The Black Dahlia, possibly. But not Katy Perry. A Bratz doll wearing a tiny belt would be a far more fitting representation.


The transformation of Perry into a doll is a fitting gesture to her earliest fans who saw her guest-starring with several dolls from Integrity's Fashion Royalty® line in the ironic and hilarious video "Ur So Gay," and streamed it over 1.3 million times, laughing all the way.


Wait a minute, Katy Perry was being ironic in "Ur So Gay"? Oh, I get it. So her whole career and music and style is purposefully disingenuous? It all makes a lot more sense now.