In the new issue of Interview, Lindsay Lohan was dressed up like Elizabeth Taylor and interviewed at the Mercer Hotel.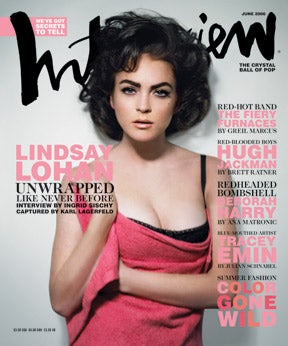 (This might have happened in a different order.) Anyway, want to read the most obnoxious opening to an interview ever? Here you go:
INGRID SISCHY: Let's sit over here on the couch. We're so lucky that I ran into Marc Jacobs as he was checking out and he kindly offered the use of his room.

LINDSAY LOHAN: Which is kind of monumental and "amowzing." Not amazing––amowzing.
That is the first "question." It only gets worse.
IS: So, does each room in the hotel come with a memory for you at this point? Do the rooms have ghosts?

LL: Yes, they do. Sometimes it's hard to stay in certain hotel rooms because so much goes on when you're staying in one place for a certain amount of time. [picks up a bottle of water] I'll take Marc's old water.

IS: And I'll take a Coke from the minibar. Remind me to settle with the hotel when we leave so it doesn't end up on sweet Marc's bill…
To recap, here's what we've learned so far: Lindsay Lohan and Ingrid Sischy are, like, really, really good friends with Marc Jacobs. When you stay in one place for a long time, things happen to you. Hotels have minibars. Did you know that they're friends with Marc Jacobs? He's sooo amowzing. Let's see what happens later. Could it possibly get more obnoxious? Oh, it can:
LL: [talking quietly into tape recorder] Ingrid is in trouble. Her phone just rang during an interview. Let's see who it is.

IS: [answering phone] Hello?…Miuccia! Hi, how are you?…I'm really good!

LL: [into tape recorder] It's Miuccia Prada.

IS: Miuccia, hold on, I want you to say hi to someone.

LL: [talking into Sischy's cell phone] Hi, it's Lindsay Lohan. Do you know, my first bag, like the cool bag to have when I was in high school, was the black Prada backpack? [To Ingrid] I think we lost her….Yeah, we lost her.
Uh, yeah, you pretty much lost everyone there. Why don't you two just write down a list of every famous fashion designer you're good friends with, and read it into the tape recorder? I think it might be more a little more subtle.