You'd be forgiven for thinking that when you flipped on Monday Night Raw tonight, that we were a few weeks away from a PPV. You'd be forgiven for thinking that WWE was maybe starting to think about its next steps, about how it should start to ignite some feuds and see what sparks. Unfortunately, we're not weeks away from a PPV, and tonight's episode is the go-home Raw before the TLC PPV. I can't say that this week's Raw is any worse than last week's, but boy does it try hard to lower the bar as far as possible. As we head into Sunday's PPV, I feel nothing but apathy, and occasionally downright hatred. Raw is in a dire state right now, and tonight's episode is a pretty good representation of everything that's currently wrong with the product.
There's no clearer example of WWE's recent and long-term failures than the segment and match that opens tonight's Raw. To briefly recap: the League of Nations opens the show and talk about how awesome they are, and the crowd doesn't care. The Wyatts come out and interrupt them, and the crowd cares a little more. The Dudleys come out with Tommy Dreamer and Rhyno, followed then by Ambrose, Reigns, and the Usos, and the crowd is somewhat excited because "hey, look, wrestlers!" Then, because everyone is gathered in the same spot, a Fatal Fourway elimination tag match happens, where Roman ends up pinning Sheamus and the Wyatts are eliminated by Tommy Dreamer.
Look, I guess the match serves its purpose, which is to get the crowd going right away, but it's an undeniably empty reaction. The crowd is cheering because some of their favorite stars are doing their favorite moves, but that's not sustainable, nor is it good storytelling. It's just a whole lot of nothing, and that's because WWE has done very little to build up these midcard guys and now they're stuck trying to carry Raw on their own. Just about everyone in this match is talented, but there's no reason to care about any of them. WWE hasn't spent any time building characters, backstories, or feuds, so the mess of bodies in the middle of the ring is just that; bodies, removed from any sense of character or story motivation.
Consider what that opening segment and match is trying to do. It's working to build the feud between Roman Reigns and Sheamus for the WWE World Heavyweight Championship. Not only has WWE failed to make that feud interesting in the slightest, but the heavy focus on those two has hindered every other feud happening at the same time. WWE's narrow focus got them into this mess, and yet they continue to do the same thing week in and week out, despite that mess growing bigger with every single Raw. We're only a few days away from a match between Dean Ambrose and Kevin Owens for the Intercontinental Championship. That's something I should be excited about! That's something I should feel things for. But WWE stubbornly refuses to build anything outside of the Heavyweight title picture, meaning that the extent of the build to Ambrose-Owens is Ambrose throwing popcorn and soda into Owens' face. Sigh.
G/O Media may get a commission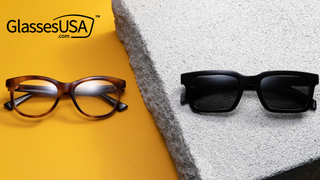 60% off frames
GlassesUSA.com Back to School Sales
That complete focus on the Heavyweight title scene, and the lack of attention paid to midcard talent, is the central theme of tonight's Raw. Consider for a second that, as of now, WWE has perhaps the deepest, most talented roster it's ever had. Sure, it hurts to have Cena, Orton, Rollins, and Cesaro (among others) out, but there are still plenty of guys in the system that can work at a mid-to-upper card level. And yet, tonight's Raw sees Tommy Dreamer, Braun Strowman, and Rusev wrestle twice. And yet, tonight's Raw, which spends 90 minutes on its first two matches, gives five minutes to Sasha Banks and Naomi vs. Alicia Fox and Brie Bella. WWE has the time and the talent to fill a three hour show with a variety of segment and Superstars, so why am I watching an ECW oldie wrestle a green Wyatt family member 90 minutes after they already wrestled each other in a Fatal Fourway tag match? Why not give that time to something different? Let Neville get in the ring with Heath Slater and have a fun eight minutes. Let Becky Lynch have a match. Give Bo Dallas a segment, let Darren Young have a singles match, and give Stardust more than a transition match with Jack Swagger that contains no entrances and comes on after a commercial in the middle of the match.
I honestly don't even know what to say anymore. If anyone left this go-home show excited for TLC, I'd be amazed. Don't get me wrong, there was some good stuff if you looked close enough. New Day and Team B.A.D. finally came together for a handful of GIF worthy moments; the Miz continued to be an underappreciated genius; and Dolph Ziggler and Kevin Owens went hard for twenty minutes. What does it all mean though? WWE has conditioned its audience to not care about any of these guys, these Superstars who have been upper-midcard talent, and have been jerked around from month to month. Now that they've be thrust into the main event, due to a couple of injuries, such horrendous, haphazard booking and character work has left Raw and WWE is a dire situation.
Stray observations
Results: Reigns, Ambrose, and the Usos defeated The League of Nations, Team ECW, and the Wyatts; Kevin Owens defeated Dolph Ziggler; Sasha Banks and Naomi defeated Brie Bella and Alicia Fox; The Lucha Dragons defeated New Day; Ryback vs. Rusev ended in a double countout; Jack Swagger defeated Stardust; Braun Strowman defeated Tommy Dreamer.
Hey, WWE: your end-of-night brawl means a lot less when the challenger pinned the champion to kick off the show.
I never want to hear "tater tots" again.
You know the best way to boost ratings? Have Sheamus cut a recap promo at the top of the show.
Titus and Stardust promos are always reliable though.
"I want my music!" Kevin Owens is the best.

I have no idea what the heel-face alignments are in the Divas division.
Miz promises to take Neville from "elf on the shelf to the next Daniel Bryan."
New Day's suggestion for the name of Kanye and Kim's baby: Booty West.
So is that it for MexAmerica? I really hope so.