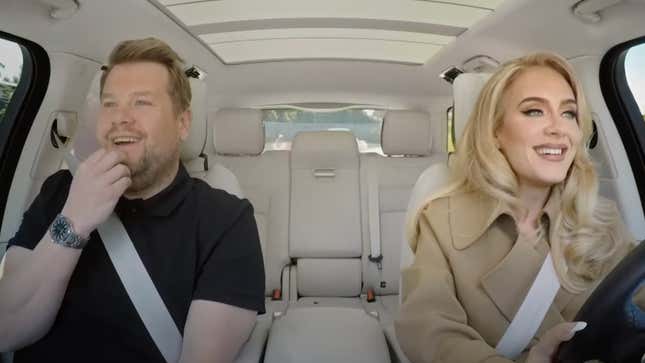 After eight years, James Corden is bidding The Late Late Show adieu for good this week, and with it, the popular "Carpool Karaoke" segment. Although a rumored finale-honoring One Direction reunion doesn't appear to be coming to fruition, the series proved it still has a few star-studded tricks up its sleeve. Exhibit A: Adele made a surprise appearance on Corden's final "Carpool Karaoke." Giving never-ending face and belting out her classics, Adele gave Corden a lovely and unusually personal send-off that featured the duo gasping for breath after Barbra Streisand's "Don't Rain On My Parade."
Top 3 moments from James Corden's final "Late Late Show"
For the final ride, Adele surprises Corden—who had been under the impression he'd be filming with Diddy—by picking him up at his Los Angeles home to drive him to work. Corden sheepishly hops in Adele's whip, consistently acknowledging that she's not exactly the most careful driver—a situation that carpool karaoke certainly doesn't alleviate. As Adele tells Corden at the top of the clip, she always sings with her eyes closed.
As they sing their hearts out to a few selections from Adele's repertoire, including "Rolling In The Deep," "Love Is A Game," and "Hometown Glory," Corden looks back at his own highlight reel: visits from Mariah Carey, Stevie Wonder, and his first vehicular duet with Adele all the way back in 2016. To this day, that last clip remains one of the most-watched clips from any talk show ever, with 260 million views and counting.
In between songs and stories, the mood in the car leaned somber, as Adele reflected candidly—and often tearfully—on the ways Corden and his wife Julia Carey supported Adele and her son Angelo in times of need, even sharing that the first verse of "I Drink Wine" was inspired by a conversation between her and Corden.
As Corden explained later to Variety, his relationship with Adele goes above and beyond that of a host and his occasional guest. "The fact that she came and did that for me. The fact that it was her idea to say, 'well, why don't I drive him to work?' It's really special," Corden shared. "Because what you're actually watching is two friends who moved to Los Angeles, I think a week apart. And one of them is going home and one of them is staying. That's hugely emotional. It just so happens that one of them is the biggest singer in the world."
The final episode of The Late Late Show with James Corden, which is set to feature Will Ferrell and Harry Styles, airs this Thursday on CBS.