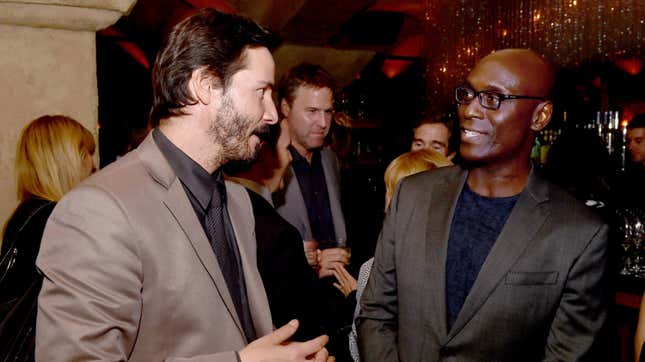 While the Los Angeles premiere of John Wick: Chapter 4 celebrated the fourth installment in the action franchise, much of the night was spent honoring one missing cast member: The late Lance Reddick. Just days before the premiere event, the actor died at the age of 60.
Keanu wonders if "John Wick" has gone too far
Fellow John Wick co-stars such as Keanu Reeves, as well as the film's director Chad Stahelski offered eulogies on the red carpet for the recently deceased actor.
"Lance is a people person, a special artist, a gentleman of grace and dignity," Reeves told Variety at last night's event. "It's just really something special, every time he stepped on set, to watch the passion he had for his work. It's really easy to work with him."
"It's not just one memory. It's not just one day. It's a collective. I had Lance in my life almost 10 years," Stahelski said of Reddick. "Although that was done over the course of four films, we've worked together on other things. I just got to be happy and be proud of the fact that I got to spend so much time with him. We're going to miss him."
Reddick made his debut in 2014's John Wick as The Continental hotel manager Charon, with recurring appearances in each sequel. At the premiere, John Wick: Chapter 4 star Hiroyuki Sanada reflected on Reddick's lasting impression.
"His role was considered one of my favorite characters," Sanada said. "I could see him at the beginning of this month during the junket. I knew he was a great actor, but I recognized how he was a kind person and a great human being. So I was shocked. I still can't believe it. Hopefully, people can enjoy his performance in this movie and never forget him."
Franchise creator Derek Kolstad also spoke of the late actor, shedding tears on the red carpet.
"One of the greatest things about Lance is we became friends after the first film. It'd been about a decade," Kolstad said. "He's a great actor, but he's a better man. He's a kind man, a gentleman. He just wore his heart on his sleeve."
The news of Reddick's death broke on Friday, just prior to John Wick: Chapter 4's premiere in Toronto.
"I just want to say something about a great man and a great artist, a good friend, that was part of our family. Lance Reddick passed away today," Stahelski told the crowd ahead of the screening, per Variety. "So you guys get to meet him up on the screen. He's a great part of the family and hopefully you enjoy the performance."
Stahelski and Reeves later shared John Wick: Chapter 4 will be dedicated to Reddick, writing, "We are deeply saddened and heartbroken at the loss of our beloved friend and colleague Lance Reddick. He was the consummate professional and a joy to work with. Our love and prayers are with his wife Stephanie, his children, family and friends… We will miss him dearly."