Ministry's AmeriKKKant is cathartically enjoyable but ultimately uninspiring; while Young Fathers' Cocoa Sugar is another solid dispatch from their distinct, post-genre space; and Of Montreal turns in its spaciest, most sonically interesting set of songs yet with White Is Relic/Irrealis Mood. These, plus Erasure, George FitzGerald, and Between The Buried And Me in this week's notable new releases.
And in case you missed it, read our review of David Byrne's American Utopia, also released this week, right here.

---
[Ninja Tune]
Grade: B+
The music of Edinburgh trio Young Fathers crackles with a lo-fi energy that's hard to pinpoint. Their Mercury-winning debut came out on the art-rap label Anticon, a classification that sort of worked; 2015's White Men Are Black Men Too worked bigger pop hooks into the mix, evoking Kanye West, Tune-Yards, and TV On The Radio in equal measure. The new Cocoa Sugar is a worthy progression, a tight stretch of otherworldly melodies, ramshackle percussion, and buzzing clouds of woozy ambient sound. The beats here feel a little more subterranean than on other records, riding toward their climaxes on tracks like "Tremolo" and "Border Girl" with an almost dub-reggae sense of propulsion (or is it disco?), and the sunbursts of melodies that peek through on "Lord" or "In My View" sound more indebted to gospel than arena rock. Ultimately, though, this is another dispatch from the post-genre space Young Fathers have claimed for their own, blasting out triumphant, sincere, and deeply humanistic sound collages that beg for you to join them there.
RIYL: Art rap. Art rock. Art Garfunkel, maybe?
Start here: The band's at their best when the rough beats get frantic and tumble over each other, as they do on "Toy," which is just begging to play over some downward-spiral film montage. [Clayton Purdom]
G/O Media may get a commission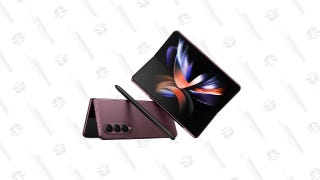 Save Up to $300
Galaxy Z Fold4
---
[Polyvinyl]
Grade: B
Hamstrung by blippity-blooping indie electro-pop idioms in recent years, Of Montreal's Kevin Barnes seems creatively refreshed as he delivers one of his spaciest, most sonically interesting sets of songs on White Is Relic/Irrealis Mood. The album (nominally a concept record about the "the death of whiteness") has six long tracks that stretch over 42 minutes, and within them are evocative stretches of ominous early synth pop, noodling synth funk, and dreamy dance music in the vein of A.R. Kane. Barnes' voice and coy, over-accentuated phrasing remain the band's love-it-or-leave-it factor, though his vocal approximations of alternative R&B (e.g., the second half of "Plateau Phase/No Careerism No Corruption") mix well with the usual Bowie notes in the album's soundscape. The lyrics are another matter. Barnes, the sole constant member of the band, is at his best when he's going for either the surreal (as on Of Montreal's early, quirky bedroom-pop concept albums) or the diaristic, but a social critic he isn't. Lines like "Soft music drains the oxygen from besieged Bushwick streets / A white flight in reverse on the crest of a vaporwave" sound even more tortured than they read.
RIYL: Of Montreal, but have spent the last few albums wishing Barnes would either find a melody or stop writing songs that sound alike. Or if "A Love From Outer Space" is your jam, and you don't mind hearing it mashed up with someone's summary of an essay they just read in The Atlantic.
Start here: "Writing The Circles/Orgone Tropics," the album's most gorgeously textured track, is an intermittently danceable mix of new age sounds with a pitch-shifted vocal from Barnes. [Ignatiy Vishnevetsky]
---
[Mute]
Grade: B-
If the hope of artists is to inspire future generations, then Andy Bell and Vince Clarke have been treated to a dose of near-immediate gratification. The synth-pop stalwarts have collaborated with Echo Collective, lending the Brussels-based ensemble the 10 tracks off their 2017 release, World Be Gone, to do with what it will. The result is World Beyond, which replaces Clarke's already stripped-down (for Erasure) music with post-classical arrangements, but retains the urgency of Bell's vocals. Echo Collective's sensibilities are a perfect fit for Bell and Clarke's baroque pop, but they're also what undercut the album's success. World Beyond works better as an homage than an inspired reimagining of the politically charged album, which is flattering for Bell and Clarke, but ultimately keeps this release from feeling like a vital contribution. World Be Gone's "love not hate" message still rings through, but isn't amplified by the collaboration.

RIYL: The deconstructed, slowed-down pop covers littering movie soundtracks, but with more musicianship.
Start here: "Still It's Not Over" is the most compelling of the World Be Gone tracks, and remains the standout even after swapping Clarke's electronic instrumentation for Neil Leiter's viola and Thomas Engelen's cello. [Danette Chavez]
---
[Nuclear Blast]
Grade: C
Last year saw everybody from rappers to pop punks to whispery folk singers releasing records pegged as "a response to Trump," a wave of occasionally dubious protest music that clearly galled Ministry's Al Jourgensen into action. After all, no one rails against the sundry new world orders like industrial metal's godfather/agelessly pissed-off teen, and hence we have Ministry's first new album in five years. Both AmeriKKKant's title and its crying Statue Of Liberty cover art hint at the discourse within; Jourgensen is an informed, righteously motivated guy, but he still writes lyrics like he's spray-painting them on a leather jacket. Here he takes on post-election despair ("Twilight Zone"), "fucking insane Christian hypocrisy" ("We're Tired Of It"), and endless violence ("Wargasm") over a roiling stew of thrash guitars, blast beats, and chopped-and-screwed Trump speeches—and while Trump arguably doesn't merit nuance, all that blunt anger starts to feel a bit flaccid around the unconvincing would-be anthem "Antifa." ("We're not snowflakes / We're the Antifaaaa!" Jourgensen doth protest too much.) AmeriKKKant is cathartically enjoyable, but it ultimately feels as inspiring—and effective—as tweeting Trump-Putin memes at Fox News.
RIYL: Tweeting Trump-Putin memes at Fox News. Smashing bottles in school parking lots. Punching Nazis (or, at least, talking about it). Other Ministry albums.
Start here: For all its heavy-handed digs at the "angry man, septic-tank orange" (and other free-verse protest poetry), the eight-minute "Victims Of A Clown" is at least sonically inventive, abetted by some impressive old-school scratching from former N.W.A. member Arabian Prince. [Sean O'Neal]
---
[Double Six/Domino]
Grade: B-
George FitzGerald has a name better suited to a coffeehouse singer-songwriter than an electronic producer, though his sound—an organically warm, starry-eyed take on synthetic pop—shares a similar intimacy. His sophomore album, All That Must Be, builds on the emotive melodies of 2015's Fading Love, a record haunted by the specter of a breakup that, judging by this follow-up, still looms large. There's a tangible longing in single "Roll Back"—in which guest vocalist Lil Silva asks plaintively, "Is it cold when you're dreaming?" over an appropriately frozen bed of muted, shivering synths—and it's bookended, equally abstractly, in Tracey Thorn's hopeful insistence that "broken bones heal easily" over the kinda sappy "Half-Light." FitzGerald still has a lovely, tastefully restrained sense of production, but—with the exception of hypnotic single "Burns," the slightly acid house-inflected "Siren Calls," and whimsically light closer"Passing Trains"—the instrumental pieces mostly blur together, a trance haze of gentle synth-piano melodies at uniformly unhurried tempos. It's agreeably pleasant stuff, yet ultimately as modest and forgettable as the name might suggest.
RIYL: Bonobo. Lusine. Nosaj Thing. The less experimental moments of Holy Other or Clark. Quietly brooding on the subway.
Start here: "Burns" is the paragon of the album's sound, with its spliced-and-diced, digital-human vocals over a simple, percolating beat and arpeggiated synth waves. [Sean O'Neal]
---
Between The Buried And Me, Automata I
[Sumerian]
Grade: C+
Quantity and quality are intimately related in the science-fiction opera house of Between The Buried And Me, where the best songs—like the sublimely ridiculous and ridiculously sublime "Ants Of The Sky" —offer the most song. Releasing a double concept album sounds like the logical next step for a metal band that's always tossed in everything and the kitchen sink. But in its own exhaustingly bombastic away, the first half of Automata (part two arrives in June) is almost too straightforward, offering plenty of what we've heard before from these Raleigh space cadets: the folkish plucking and mad noodling, the burps of intergalactic synth, the way a song like "House Organ" closes the safe distance separating Pink Floyd from Cannibal Corpse. Crooned and barked in cryptic fragments, the album's Rush-worthy narrative concerns projecting dreams like movies, but the songs themselves lack the what's-next unpredictability of a wandering subconscious—a quality all over 2007's crazy-quilt classic Colors. Maybe Automata II will knock BTBAM back off the rails, where the band belongs.
RIYL: Kurt Vonnegut. 2112, the album. 2112, the eventual year.
Start here: The closing "Blot" is the longest and hence the best of the album's six tracks—a soaring epic, equally split between melodic sci-fi excess and churning death-metal technicality, that hopefully offers a preview of what to expect from Automata's other half. [A.A. Dowd]
---
Purchasing via Amazon helps support The A.V. Club.