Here's what's up in the world of TV for Sunday, August 14. All times are Eastern.
Top picks
2016 Summer Olympics (NBC, 7 p.m.): Our confidence is shattered, What's On Tonight readers. Last week we selected the NFL's Hall of Fame game as our top pick for the week, and that game did not happen due to a field that was "congealing and rubberized." (Words that top the list of words you do not want to hear on results from your doctor, regardless of test conducted.) And if something we designate as the top pick for the night doesn't even air, what do we have left to believe in? Was this somehow our fault? By picking it, did we ensure it didn't happen? And by selecting the Olympics—with live track and field finals that could see Usain Bolt win his third gold medal in his hunt for an unprecedented triple-triple—as tonight's top pick, are we dooming them as well? Will our attention kill what a bay literally full of shit, Russia trying to turn its track and field team into mini Ivan Dragos, and NBC doing its typically inept job at broadcasting the event couldn't?
Talking Dead (AMC, 10 p.m.): And we can find no peace of mind in the other programming tonight, dear readers, for the fact that nothing is on TV in mid-August continues to haunt us, and the programming that is on does not obey the laws of the medium. For example, tonight AMC will air Talking Dead preview special for The Walking Dead season seven, willfully and blissfully ignorant that said season doesn't premiere until October. How can you talk with no new Dead, Talking Dead? Are you not just amiably gabbing into the void?
Geeking Out (AMC, 11 p.m.): Time further ceases to have all meaning in AMC's next offering, which in its short life refuses to commit to any one timeslot. First Geeking Out launched with a Comic-Con special and disappeared for a few weeks; now it's coming back for its series premiere at a "special time," and then next week it'll be moved to a start time of one minute before midnight, where it straddles the dividing line of tonight and tomorrow. If your show blinks in and out of regularity like X-Men's Nightcrawler, can it ever be said to truly exist? Answer that, Kevin Smith and Greg Grunberg! Answer that!
Premieres and finales
Big Time RV (Travel, 9 p.m.): Perhaps faced with such a chaotic world, the only thing left to do is to take to the road, preferably in one of the unreasonably sized RVs featured in the third season of this Travel program. The road stretches out in front of you full of possibilities yet to be unrealized, and anything is tolerable within the comforts of an RV that has vibrating recliners and a multi-tier bar.
G/O Media may get a commission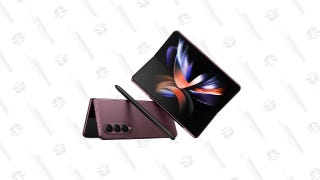 Save Up to $300
Galaxy Z Fold4
Chesapeake Shores (Hallmark, 9 p.m.): How deep goes our ennui this week? So deep that we can't even be asked to be snarky about the latest Hallmark Channel original series that doesn't even have the decency to be The Good Witch. Gwen Ihnat is a little less jaded than we are right now (although she's still getting over the cancellation of Cedar Cove), so she's going to check in on Hallmark's newest picturesque drama. The most energy we can muster before sliding into inactivity once again is to note that it stars Treat Williams, who gives one of cinema's most delightfully campy performances as the microscope-wielding villain of The Phantom.
The Hunt (BBC America, 9 p.m.): The season finale is titled "Living With Predators," which we decry as wishful thinking on the part of BBC America. The predators exist at the top of the food chain, and living with them lasts only so long as it it takes for them to grab us by the neck and snap the thin cord tethering us to mortality. And don't even get us started on living with Predators, between their invisibility and heat vision.

Still The King (CMT, 9:30 p.m.): But maybe there is still hope in the world. We've just learned of the existence of this series, in which Billy Ray Cyrus plays a one-hit-wonder turned Elvis impersonator turned fake minister and Chasing Amy's Joey Lauren Adams plays his one-time one-night-stand. This sounds so ridiculous and terrible it might be our salvation! Wait. This is the season finale and not the premiere? Oh cursed fate, why must you mock us with such cosmic carrots on sticks?
Regular coverage
The Night Of (HBO, 9 p.m.)
Power (Starz, 9 p.m.)
Vice Principals (HBO, 10:30 p.m.)
Streaming pick
Strindberg And Helium (YouTube, strindbergandhelium.com): This concludes your What's On Tonight correspondent's descent into whimsical malaise, which will hopefully soon be relieved once this godforsaken summer programming drought goes away. For those who appreciate this flavor of our commentary, please direct your attention to the exploits of a terminally depressed Swedish playwright and an irrepressibly cheerful pink balloon.