In the third season of Orange Is The New Black, Netflix's beloved women's prison dramedy, an inmate at Litchfield Penitentiary has a revelation. She's in a depressive funk following a personal heartbreak, and she's listening as her friends make plans for a social gathering they plan to attend together after their release. She thinks they're deluding themselves about continuing their prison sisterhood in the outside world, and she likens the transition to the awkward aftermath of a friendly drink with an estranged friend from high school:
The truth is, you're avoiding each other because it only took that one drink for you to realize you don't have anything in common. And all you got was a reminder of the time you spent in this fucking hellhole. We're not a family. We're a Band-Aid, and once you rip it off, all we are to each other is scars.
She's being cynical, but it's also probably true. The women of Litchfield have formed relationships of convenience and necessity. Those bonds are as valid as any other, but without a hardier foundation, they are also acutely vulnerable to change. Orange has become a cultural phenomenon in large part because of how it harnesses the mercurial nature of prison relationships. It has introduced viewers to "Red" (Kate Mulgrew), Daya (Dascha Polanco), and "Crazy Eyes" (Uzo Aduba), the kind of hard-luck women who are unseen on television, and who are certainly not made a focal point. With its character-focused flashbacks and focus on the minutiae of prison life, Orange has done a masterful job of garnering empathy for even the seemingly unknowable Litchfield inmates. But the consequence is an audience inured to the hopelessness and mundanity of incarceration, as well as its powerlessness and unpredictability. In season one, "Yoga" Jones (Constance Shulman) says that survival in Litchfield hinges on the ability to accept that everything is temporary.
By now, the audience is hardened to the uncertainty of life in Litchfield, but the early episodes of season three suggest creator Jenji Kohan doesn't realize that, as if she's expecting viewers who now think of themselves as Litchfield veterans to respond like newbies. Piper (Taylor Schilling), who played the crucial role of audience surrogate in season one, is more superfluous than ever and remains the focus of a tableau in which she's the least interesting character. Alex (Laura Prepon), with whom Piper shares a hot-and-cold love affair, is meant to provide the shot of adrenaline the character needs, but her return to Litchfield lands with a surprisingly soft impact, a potent example of Orange's growing pains. Prepon's departure early in season two was inconceivable when it was first announced, as was the thought of Litchfield without Miss Claudette (Michelle Hurst), who was written out after a car crash left Hurst critically injured. But season two was surprisingly effective even without them. The comings and goings of established characters don't pack the wallop they once did, but if viewers forget how quickly these characters can come and go, Orange is happy to remind them.
G/O Media may get a commission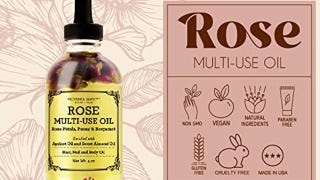 Provence Beauty Rose Multi-Use Oil
Without a prominent new inmate character to shake everything up, as did Vee (Lorraine Toussaint) in season two, there's a sense of malaise in the first few episodes. It's partly a case of cliffhanger hangover: The premiere, "Mother's Day," picks up shortly after the events of the season two finale, with the characters calibrating following Rosa (Barbara Rosenblat) and Vee's escape, Daya's pregnancy scandal, and the administrative upheaval that led to the ouster of crooked overseer Natalie Figueroa (Alysia Reiner). Such hydra-headed cliffhangers are irresistible in the short run, but they take their toll on the early episodes of the following season as the writers reset the chess pieces, and Orange's third season is a classic example. Plot elements from season two linger longer than necessary, and because there doesn't initially appear to be a new storm on the horizon, the first few episodes are sharp and funny, but also rudderless and uncomfortably familiar. And as was the case with Lost, a show to which Orange is frequently compared, the flashback device shows signs of wear-and-tear in season three, requiring the expansion of characters that may work better flat.
But after regaining its balance, Orange finds its momentum by focusing on the business side of incarceration, a storyline that reclaims the show's ability to dramatize the real-world shifts that affect inmates' day-to-day lives. The prison industry is what capitalism looks like just after waking up in the morning, and the encroachment of private interests injects the season with a lurking threat that put Vee's minor machinations to shame. The plot lends the season a big-picture angle it has lacked in the past, which is an important upgrade. With such a broad ensemble, massive plot points that affect everyone carry more weight than stories, however fascinating, about petty squabbles between the inmates. Having too many fascinating characters is a luxurious problem for a television show to have, but Orange occasionally seems overpopulated, assuming the audience doesn't hold all of the characters in equal regard. Orange works better when it's focused on what unites its inmates, not what divides them.
There are exceptions to that rule, namely the introduction of Aussie charmer Stella (Ruby Rose), who appears right on time to drive a wedge between Piper and Alex just as a functional relationship becomes possible. The looming love triangle is the sort of emotional entanglement that will seem trivial when the three of them are released back into society, but Orange manages to make it feel consequential. That's the real magic of Orange, its ability to convince the audience to focus on the moment while the characters do everything in their power not to.