Watch This offers staff recommendations inspired by a new movie coming out that week. This week: Roman Polanski's Venus In Fur, based on a play about a playwright, has us thinking back on other films about the theater.

---
Shakespeare In Love (1998)
Because it scored a surprise upset over Saving Private Ryan to grab a Best Picture Oscar, Shakespeare In Love has developed a reputation as the apotheosis of empty, Harvey Weinstein-produced award-mongering—and, as such, a clear enemy of real, hard-hitting cinema. But Oscar trivia should not obscure the movie's tremendous craft and English-major charm. (Besides, it's Chocolat that truly represents the Weinstein awards machine at its most detestable.) In concocting a heavily referential and entirely fictional story explaining how a young Will Shakespeare (Joseph Fiennes) met his actress muse Viola De Lesseps (Gwyneth Paltrow) while working on the first production of Romeo And Juliet (working title: Romeo And Ethel, The Pirate's Daughter), co-writers Marc Norman and Tom Stoppard go after plenty of silly jokes about Hamlet, sonnets, and theatrical clichés. But these moments have a unified thematic purpose: The film's Shakespeare absorbs phrases and ideas from everything around him, meaning that even the dorkier jokes also attempt, in their fanciful yet sneaky way, to explain the man's impossible genius.
The solipsism of the Bard's lust for someone who lusts over his art is redeemed by Viola's own skill at performing it, which feels true to the collaborative nature of theater. Stoppard and director John Madden understand, too, that these theatrical collaborations can walk a line between absurdity and transcendence. The two throw in reversals, complications, and plenty of big egos, including a very funny Ben Affleck as the gregarious and impatient leader of an acting troupe that graces the production with its presence.
Affleck appears as part of an unofficial Miramax repertory company, along with Weinstein-favored actors like Paltrow, Colin Firth, Judi Dench, and Tom Wilkinson—all creating a sense of theatrical camaraderie. But Shakespeare In Love, while less visceral than something like Saving Private Ryan, is more cinematic than many direct theater adaptations: Madden's camera zips through the English streets with great momentum. His film is paced like a romantic comedy, but its moments of farce and shtick give way to dramatic heft. (To that end, the movie acknowledges the way Romeo And Juliet resembles one of Shakespeare's comedies for many of its pages.) The final scenes between Fiennes and Paltrow offer a touching meditation on how relationships can echo through the ages in the art they inspired.
G/O Media may get a commission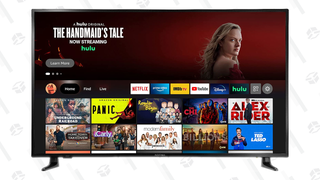 38% Off
Insignia 50" 4K UHD Smart TV
Availability: Shakespeare In Love is available on Blu-ray and DVD, to rent or purchase through the major digital services, and to stream on Netflix.