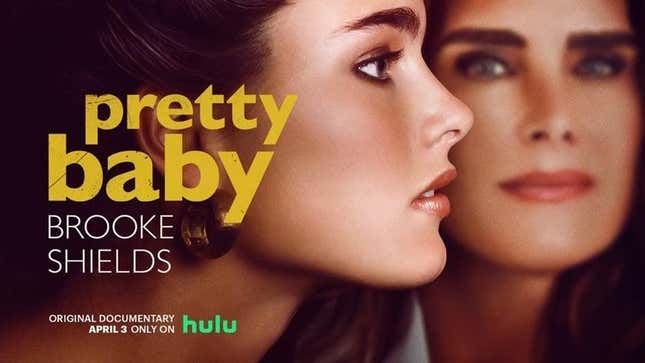 Hollywood is so rife with stories about the exploitation of child stars that it would be difficult to say which case is the most infamous, or which child entertainer-to-adult performer narrative is the most high profile. Nevertheless, Brooke Shields is someone who would come close to the top of the list. Her story, that of a young girl oversexualized by the entertainment industry and forced to grow up in the public eye, is the subject of a new two-part documentary, Brooke Shields: Pretty Baby, premiering April 3 on Hulu.
"The film follows Shields through her extraordinary childhood and complex relationship with her mother and manager, Teri Shields," reads a synopsis for the doc. "Shields' professional career began at only 11 months old, working as a child model before starring in Louis Malle's controversial film Pretty Baby at the age of 12. She became the face of the eighties with Calvin Klein jeans ads, and leading roles in The Blue Lagoon and Endless Love, navigating the unrelenting scrutiny of the press and a culture that wanted to commodify her. After defying stereotypes by going to college, Shields re-enters the entertainment industry as an adult, but it isn't until she begins to trust herself and her instincts that she's able to find her identity and voice."
The Pretty Baby doc first premiered at the Sundance Film Festival. Shields detailed her negative experiences filming a sex scene for Endless Love director Franco Zeffirelli ("Zeffirelli kept grabbing my toe and, like, twisting it so that I had a look of… I guess ecstasy? But it was more angst than anything, because he was hurting me") and, as an adult, being sexually assaulted by an unnamed industry insider (per Deadline).
"I spent my life owing people things, and doing whatever they wanted," Shields reflects over a montage of images from throughout her career that comprises the teaser. "And finally I asked myself, who will I be if I don't allow that anymore?"
Lana Wilson, who directed the Taylor Swift documentary Miss Americana, is the director behind Pretty Baby. It is produced by Matador Content and BedBy8, the production company of Ali Wentworth, George Stephanopoulos, and Alyssa Mastromonaco, for ABC News Studios.