Stephen Furst, an actor whose career spanned from classic comedies like Animal House, to long-running TV series like St. Elsewhere and Babylon 5, has died. According to Deadline, Furst—who served for several years as a spokesperson for the American Diabetes Association—died this week from complications related to the disease.
Furst got his first big break in 1978, when he wrangled a role for himself in the soon-to-be hit comedy National Lampoon's Animal House. (Supposedly, he came to the attention of the film's producers when he was working as a pizza delivery guy, slipping his headshot into every box he dropped off.) Furst played the lovable Delta pledge Flounder in the surprise hit comedy; he ended up reprising the role in the film's short-lived TV adaptation, Delta House, the following year.
Furst continued to work on a steady basis over the next few years, popping up on TV shows like The Jeffersons and Newhart. But he didn't get his next big break until 1983, when he once again took on the role of a sweet, frequently victimized neophyte, this time on St. Elsewhere. As rookie doctor Elliot Axelrod, Furst continued to project semi-oblivious good cheer with practiced ease, even as the show's other characters treated him as the butt of their jokes. Furst stayed on the show for several years, until he was killed off in the show's sixth season.
After briefly starring in a religious-themed ABC sitcom—1989's Have Faith—Furst returned to the life of a journeyman actor. His C.V. from this period includes single-episode stints on Night Court, Chicago Hope, Melrose Place, and multiple appearances as "Fan Boy" on the cult classic kids' show Freakazoid. (Furst's gleefully dorky enthusiasm made him a natural fit for voice acting; he'd later appear on Disney's Jungle Cubs, and in a co-starring role in the animated Toy Story spin-off Buzz Lightyear Of Star Command.)
One of Furst's most beloved roles, though, came in 1994, when he joined the cast of J. Michael Straczynski's Babylon 5, as hapless diplomatic assistant Vir Cotto. Like most of the actor's characters, Vir was good-natured and gentle; unlike his usual roles, though, he ended the day as a winner, out-maneuvering his enemies and eventually being rewarded for his loyalty to his friends with victory in the show's bitter and vicious political struggles.
After Babylon 5, Furst largely stopped acting; instead, he worked as a director and producer, often on TV movies for Syfy. He also stepped up his work as a public health advocate, penning a book, Confessions Of A Couch Potato, and speaking for the ADA and the American Heart Association. He last made headlines last year, speaking out as a member of the Academy Of Motion Picture Arts And Scientists, accusing the group of scapegoating its older members in the wake of the #OscarsSoWhite controversy.
G/O Media may get a commission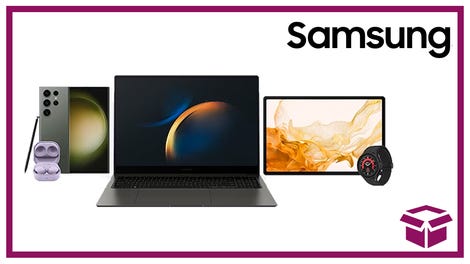 24 hour deals
Discover Samsung - Daily Deal
Furst's sons posted a remembrance for him on Facebook today, writing, "To truly honor him, do not cry for the loss of Stephen Furst. But rather, enjoy memories of all the times he made you snicker, laugh, or even snort to your own embarrassment. He intensely believed that laugher is the best therapy, and he would want us to practice that now." Furst was 62.