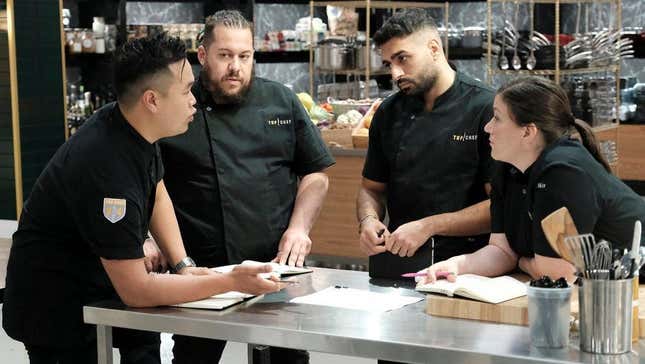 A double elimination looms over the 11th episode of Top Chef: World All-Stars (out May 18), which will simultaneously crank up the burners on the culinary reality competition and reduce our pot of players—previous champions and finalists pulled both from the long-running American franchise as well as its numerous international spinoffs—down to a final four. (With 10 competitors sent packing already, don't the days of Potato Girl and Luciana's statement earrings feel like eons ago?)
The beloved foodie series has gone all out for its landmark 20th season, the first entirely filmed abroad (in London for the bulk and Paris for the big finale), and that sense of pomp can be felt both in the quality of the cooking and in the criticism of the judging. Given the winning talents of the Top Chef kitchen this season, the judges panel (our trusty trio of American chef Tom Colicchio, gourmand glamazon Padma Lakshmi, and food writer Gail Simmons) has admitted to resorting to micro-level nitpicking—bemoaning the chew of too-thick pasta, the crunch of a kernel of overcooked rice, the ick of a prawn's digestive tract—in their efforts to single out a losing dish.

So with the competition at boiling point, who will win the big prize ($250,000 furnished by the Saratoga Brand, a feature in Food and Wine magazine, and an appearance at the annual Food and Wine Classic in Aspen) and walk away with the ultimate title of Top Chef: World All-Star? Here are our power rankings, from least likely to most likely to come out on top.