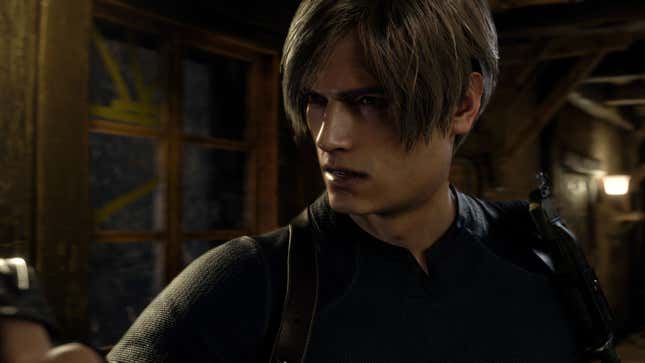 Every Friday, A.V. Club staffers kick off our weekly open thread for the discussion of gaming plans and recent gaming glories, but of course, the real action is down in the comments, where we invite you to answer our eternal question: What Are You Playing This Weekend?
A.V. Club interviews: Judd Apatow and the cast of The Bubble
---
Resident Evil 4 (2023) is out today, inviting players worldwide to step back into the kick-heavy shoes of Leon S. Kennedy as he attempts to save the president's kidnapped daughter from a megalomaniacal cult. You can read our review right here (short version: S'good!), but today we're all about that quality of life stuff. Specifically, we've assembled this quick spoiler-free list of five things we wish we'd known before tackling this slick recreation of Leon's original mission, designed to help make those opening hours a little more smooth.
1. Don't automatically trust those difficulty descriptions
Although the difficulty in Resident Evil 4 is blessedly customizable—including the ability to turn on and off aim assist as needed, a boon when a Zealot is coming at you at speed with a spinning flail in hand—the difficulty settings you choose at the beginning of the game can be a bit deceptive. Specifically, the description of "Hardcore," the highest setting available when you first boot up, says it's for people who've played Resident Evil (2005). But as people who've played that game quite recently, we can definitely report that it should, at bare minimum, say, "Someone who's played Resident Evil (2005) a lot." Hardcore will kill you, and it could kill your enthusiasm for the game, given how much of a tolerance you have for chainsaws to the face. (Again, and again, and again. That opening village fight still isn't screwing around.) Stick to Standard unless you've already mastered the original game—and even then, expect some rude surprises.
2. You can't always trust your memory, either
As far as remakes go, Resident Evil 4 walks a middle line between a complete scrapping of the original game (like, say, the remake of Resident Evil 2), and a perfect recreation of its source material. The end result is that there are lots of advantages that players of the previous game will have as they tear their way across the Spanish countryside…and lots of things that are going to catch them completely off guard. Any major tactics you remember from your first time through the game probably still work—flash grenades remain an invaluable resource, both for crowd control and, uh, pest removal—but don't expect your knowledge of enemy placements or room setups to always work in your favor here.
3. Knife is life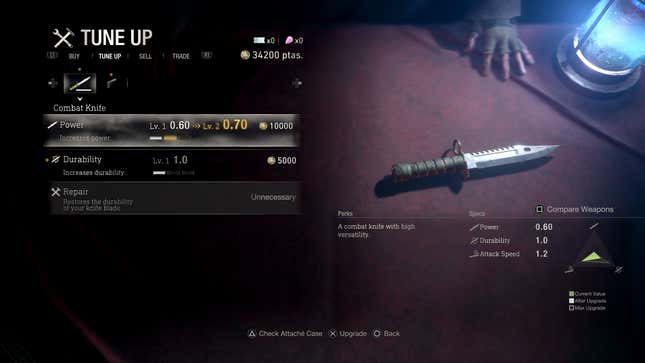 This is a tricky one, because Leon's default combat knife is a vital tool in both versions of RE4, but in nearly opposite ways. In the original, it was an indispensable way to pile extra damage on a downed enemy (ideally, one who'd just caught one of Leon's acrobatic Big Kicks right to the face), saving you bullets via a series of energetic ankle swipes. But knives in the remake now lose durability and break, meaning you have to be much more selective in their use.
On the other hand, their utility has also been massively widened: You can now use the knife to stealth kill any enemy you can sneak up on—even those who'd normally take a dozen pistol hits to the head to down. It's also become Leon's most prominent defensive tool, allowing you to parry almost any melee attack coming your way. (The timing window on parrying is exceedingly generous, too, which you'll be grateful for as enemy attacks get more and more damaging.) Sure, you're burning durability (repairable at the shop, once it opens up), but that just means it's a resource to use, same as your ammo or explosives. And one you shouldn't be afraid to deploy as needed.
4. Don't be afraid to upgrade, even early on
As with the source game, the RE4 remake has an extensive (whattaya) buying and selling system, operated by a crew of heavily cloaked perverts who've set themselves up all over the game's unnamed rural setting. It can be tempting to hoard your cash when you meet these guys, especially when it comes to upgrading a starting gun you know you'll probably be replacing in an hour. But the remake expands on the refund system from the original, giving you back a surprisingly hefty amount of the money you spent on upgrades for your guns when you sell them back to the merchant for an improved model. (No takesie-backsies, though, so be sure you want to swap out that long rifle for its more burst-y assault rifle cousin before you pull the fiscal trigger.) If you're feeling money conscious, you can also tweak these prices through the new "charms" system that lets you apply little bonuses on your attaché case, to ensure you're getting the most bang for your buck. Speaking of...
5. The target shooting minigame does not autosave
Look, this one is on us. But let's just put it in plain writing: If you spend, say, an hour in the remake's revised shooting gallery, desperately blasting skulls to gather gacha coins to buy some of those aforementioned charms, do not immediately assume that that progress will trigger one of the game's generally generous autosave points. Definitely do not walk out of the minigame, head over to the lake, and decide to see if shooting into it in the remake does the same thing it does when you shoot into the lake in the original game. Don't be forced to do that entire shooting gallery again. Don't share our pain. The typewriter's right there, dummy.