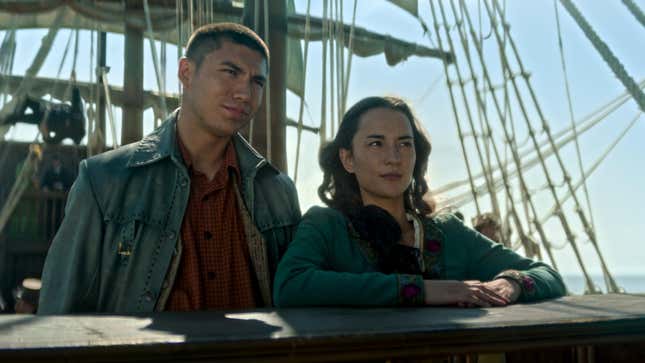 If there is a motto the characters live by in season two of Shadow And Bone—the Netflix fantasy series adapted from Leigh Bardugo's hit YA Grishaverse books—it's something along the lines of, "We each fight for what matters most." The central preoccupation in this round of episodes (out March 16) is working out just what that means. Is the fight with others or with ourselves? How do we decide exactly what matters? How big and long is the fight? And are we talking about the greater good or can we be more selfish?
But first, let's rewind. When we left the Grishaverse at the end of season one, Sun Summoner Alina (Jessie Mei Li) had failed in destroying the shadowy Fold, a dark expanse cutting Ravka in half. She and hunky BFF Mal (Archie Renaux) were leaving Ravka, as were the Crows and Nina (Danielle Galligan), who had succeeded in getting love interest Matthias (Calaghan Skogman) locked up for his own safety. Oh, and General Kirigan/The Darkling (Ben Barnes) was presumed dead—but in fact walked out of the Fold scarred and followed by some gigantic shadow monsters.
Season two picks up shortly afterwards, with Mal and Alina on a boat as the latter has visions of The Darkling. Or maybe they're nightmares. Or maybe, just maybe, there's something deeper going on.
All the characters are maneuvered into place in this season-two premiere. Alina and Mal are in Novyi Zem to start hunting for the Sea Whip, an amplifier that will make Alina's powers stronger. The Crows—Kaz (Freddy Carter), Inej (Amita Suman), and Jesper (Kit Young)—are back in Ketterdam, greeted by news that Kaz's mortal enemy and Peaky Blinders wannabe Pekka Rollins (Dean Lennox Kelly) has taken over his beloved Crow Club. Also in Ketterdam is Nina, looking for a way to free Matthias, who's in Hellgate, an island prison. Meanwhile, The Darkling is licking his wounds, messing with merzost (dark magic), and plotting with his virtually indestructible army of shadow monsters.
G/O Media may get a commission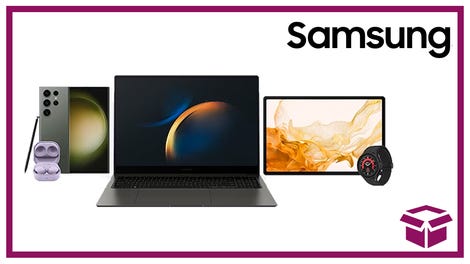 24 hour deals
Discover Samsung - Daily Deal
If it sounds a lot, it's because it is. This season is supersized: more characters, more settings, more plot, more danger, and more fighting—which is partly because it combines the second two books of Bardugo's trilogy (Ruin And Rising and Siege And Storm). Book purists might be unhappy, but the changes are usually for the better. The show dispenses with a lot of filler and clichés from the books and even from its own first season. (Those scenes of young Mal and Alina in a field wore out their welcome fast.)
On the other hand, it means things go at a fast clip, occasionally too fast. Season two expands the world of the show; Mal and Alina skip through Novyi Zem, while the Crows land in Shu Han for a mission. These are crucial stops, but they're too brief, especially because they could add a real richness to a series that, despite its many characters of color, still operates largely in the majority-white world of Ravka. (Even Ketterdam, for all its diversity, still shows us whiteness in charge.)
Our introductions to new characters are also quick, although the acting is generally so good that it's easy to get a handle on everyone. The best additions are the charming Patrick Gibson as Nikolai Lantsov and maybe someone else (if you know, you know), and the adorable Jack Wolfe as Wylan, who must be protected at all costs because no sweeter soul has ever existed in the Grishaverse.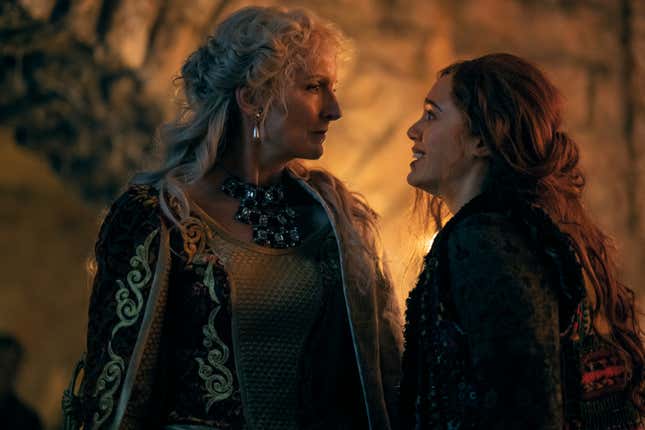 Twins Tamar (Anna Leong Brophy) and Tolya (Lewis Tan) join Alina's team, while The Darkling has sidekicks in Fruszi (Rachel Redford) and scientist Vladim (Shobhit Piasa). These characters mostly feel one-note: Tolya loves literature, Fruszi is goth, Vladim is eager. Only Tamar gets more depth, partly through her budding relationship with Nadia (Joanna McGibbon). It's a vast cast, and the show sometimes struggles to juggle everyone. Matthias, in particular, suffers and he's so absent for such large swaths that it's easy to forget he exists.
So many characters also means divided missions. While Alina is trying to destroy literal darkness, the Crows are on Kaz's revenge mission against Pekka Rollins. The latter is meaningful and compelling, but in comparison to Alina's quest, it feels a little light, and the first few episodes of season two occasionally come off as two separate shows. That's perhaps because the Crows' first-half storyline, plus Matthias' imprisonment, are possibly setting up the Six Of Crows spin-off that we need, want, and deserve. (Showrunner Eric Heisserer famously refused to come on board unless Netflix acquired the rights to Bardugo's duology Six Of Crows in addition to the Shadow And Bone series.)
It's when most of the characters come together for a singular purpose that the show shines, and its middle trio of episodes—"Every Monstrous Thing," "Yuyeh Sesh (Despise Your Heart)," and "Ni Weh Sesh (I Have No Heart)"—do just that. The Crows learn a lesson or two about love—this season has multiple romantic couplings and is definitely hornier than season one—in Shu Han from the captivating Ohval (Tuyen Do) and begin to realize that the vulnerability that comes with loving and truly knowing someone is its own power, as is being true to yourself. Alina and Mal come to understand that their connection runs deeper than they ever imagined, with possibly devastating consequences. And everyone grasps that no one with power likes to let go of it.
If the power dynamics explored in season one were along ethnic divides—shown through the racism Alina was frequently the target of—then season two is more focused on the power of bad men and the struggle of women to triumph in a patriarchal society. Which is as good a time as any to talk about The Darkling. He's much more in the background this time around, initially focused on trying to (again) get Alina to partner up with him so they can rule together and then, when she rejects him, turning to the incel playbook and deciding to destroy everything. Because if he can't have her, goddammit, no one can. Or something like that.
Barnes swishes around in his cape a lot, but, like with the rest of the show, it's when he gets to tap into The Darkling's deeper feelings—in particular, during a scene with the wonderful Zoe Wannamaker as Baghra—that you feel you understand this man, even if his every action is still wrong. It's this understanding and insight—a combination of great writing and excellent acting—that makes this season, despite its missteps, worth watching. For all the powers and heists and fights, at heart Shadow And Bone is about people trying to figure out what matters enough to fight for. And aren't we all trying to do just that?
---
Shadow And Bone season two premieres March 16 on Netflix.