Sharon Van Etten's transformative fifth studio album, Remind Me Tomorrow, kicks off with a lyrical sucker punch: "Sitting at the bar, I told you everything / You said, 'Holy shit. You almost died.'" To emphasize the gravity of the interaction, Van Etten slowly draws out each syllable, as funereal piano chords provide a sparse sonic cushion. This confession leads to a song ("I Told You Everything") that unfolds with increasing dread and tension—a fact that becomes even clearer as it concludes, because she never reveals any additional details about this near-death experience.
Anyone looking for tidy narratives won't find them in Remind Me Tomorrow, as the album isn't concerned with backstories or motivations. Instead, its 10 songs are much more focused on how their protagonists are dealing right now, in the present, with triumphs, traumas, and new beginnings. This approach leads to rich songs with lyrics probing the liminal space where resolution isn't clear—but emotional reactions crackle on the surface like tingling electricity.
For example, the couple discussing mortality in "I Told You Everything" finds both connection and confusion after the admission, and ends the song still processing the news. "No One's Easy To Love" captures the chaos of a breakup by veering sharply between hurtful accusations and murmurs of empathy; "Jupiter 4" is awed and bewildered at having found a true love; and "Stay" is an inner monologue about the balance between letting go and holding on. As usual, Van Etten uses economical language for these observations, so that her songs often take the form of elegant poetry, as seen in the subtle rhyme scheme of the brisk "Comeback Kid": "'Kid came back a real turn around.' / Please believe that I want to stay. / 'Got a job now that my brother found working nights just a mile away.'"
What's even more intriguing about the latter song is its sonic backdrop: One of Van Etten's most focused efforts to date, "Comeback Kid" is a Siouxsie And The Banshees-inspired synth-goth gem with comet-streaked Farfisa keyboard. The direction reflects a creative evolution of sorts for Van Etten, who composed music using keyboards because she needed a break from guitars after scoring the 2016 film Strange Weather. In fact, her guideposts for producer John Congleton included Nick Cave's Skeleton Tree, as well as Suicide and Portishead.
G/O Media may get a commission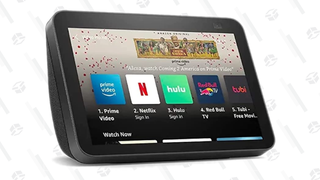 Unsurprisingly, Remind Me Tomorrow ended up dusky and moody, and steeped in vibrant beats and layers of grayscale synths. But while Portishead is an obvious inspiration for the woozy, beat-driven "Memorial Day" and the elastic trip-hop of "You Shadow," the rest of the album luxuriates in depth-filled atmospheres that conjure vibes rather than specific artists. Slow, oscillating keyboards strike an ominous chord on "Jupiter 4," and "Hands" is a master class in all kinds of distortion, which is slathered over Van Etten's vocals, buzzing synths, industrial creaks and clanks, and even duck calls.
But in all this density, Van Etten's attention to detail never wavers. Take "Seventeen," on which an older narrator encounters a teenager whose defiance is both familiar and heartbreaking. Musically, the pulsating rhythmic vibe and sunrise synths conjure Arcade Fire's Funeral. However, the song's underlying impact only emerges with close listening. During one of the later choruses, Van Etten sings the lyric "I know what you're gonna be" with a slight tremble in her voice. That wobble explodes into a full-on forceful wail for the next three lines, as if she is both desperate to convey this wisdom to the teen—and reconcile her own regret over how her life turned out: "I know that you're gonna be! / You'll crumble it up just to see / Afraid that you'll be just like me!!" Yet despite this crack in the armor, Remind Me Tomorrow is a stark reminder that although dwelling on past miseries and indiscretions is easy and often even comfortable, the braver choice is moving forward and facing the future head-on.