Tanked debuts tonight at 9 p.m. Eastern.
The people behind Animal Planet's new show Tanked are betting that even if you're not bowled over by behind-the-scenes footage of flashy fish tanks being built, you'll stick around for the wacky-yet-loveable mix of characters working at the Las Vegas-based Acrylic Tank Manufacturing (ATM for short). It's a safe bet, too, based on the premiere episode, which has the family run company building elaborate fish tanks for two different clients.
First, back to that eccentric family business. Tanked is set up much like Discovery's long-running American Chopper, but has swapped out wild, custom motorcycles for jaw-dropping, one-of-a-kind fish tanks. Two brothers-in-law, Wayde King and Brett Raymer, run the country's largest aquarium manufacturing company and have built a name for themselves building tanks for celebrities, zoos, churches, and —ever since leaving their native New York for Las Vegas — casinos. They've brought along an expectedly ragtag gang, including Brett's dad (and Wayde's father-in-law), who goes by "The General," Wayde's wife (and Brett's sister) Heather, and a visionary marine technician named Robbie Redneck, who is never without his cowboy hat.
In the first episode, we meet this cast of characters and see Wade and Brett tackle their two large projects, all while getting a crash course in how to create these zany aquariums. The first job is for the venerable Las Vegas casino The Tropicana, who want a custom, L-shaped tank to go with their upcoming "Mob Experience" attraction. It's meant to highlight the hard work the casino has put into building the hopeful tourist draw, including getting their hands on cars once belonging to Bugysy Siegel and Lucky Luciano.
Second, a New York City family living in Vegas have asked the two to create a tank that brings a slice of their hometown to their Mediterranean-inspired, desert home. Wayde and Brett decide to try turning a junk yard phone booth into an upright tank, as a reminder of the hustle and bustle of Manhattan's busy streets. Then there's also the small issue of forcing Heather to venture into another client's tank —that happens to be filled with more than 20 small sharks — in order to place several coral inserts that can't be reached by anyone bigger than her five-foot frame.
It's a lot to cram into a first episode and by the end, it feels like a flurry of acrylic tanks being built, stunning fish swimming by, and big, hearty laughs between Wayde and Brett over a lot of expected hiccups in their process. The good-natured ribbing between them is a simple formula that pays off, particularly because of how much their thick, New York accents paint them as the ideal —I know, I'm sorry — fish out of water in sun-drenched Sin City. But just when they start veering into "ba da bing!" New York caricatures, we're able to see them inside their massive, 13,000 square foot facility building and designing tanks like the experts they clearly are.
G/O Media may get a commission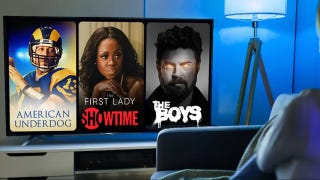 UNDER $1
99¢ Prime Video Channels
Both tanks turn out magically, of course, with moments of panic peppered in for good measure. It turns out delivering an 11,000 gallon L-shaped tank is a lot like the final moment on a baking show when the eight-tier wedding cake has to be gingerly loaded into the car and everyone holds their breath in near-panic.
The real highlight is the entire process of watching the barrel-chested brothers-in-law pick out the actual fish for the new tanks, requiring a trip to Los Angeles to hand-select. Beyond their wide-eyed excitement, the close-ups of truly kaleidoscopic fish fluttering inside hundreds of tanks will cause plenty of viewers to start dreaming of where their own eye-popping, totally personalized fish tank might go.