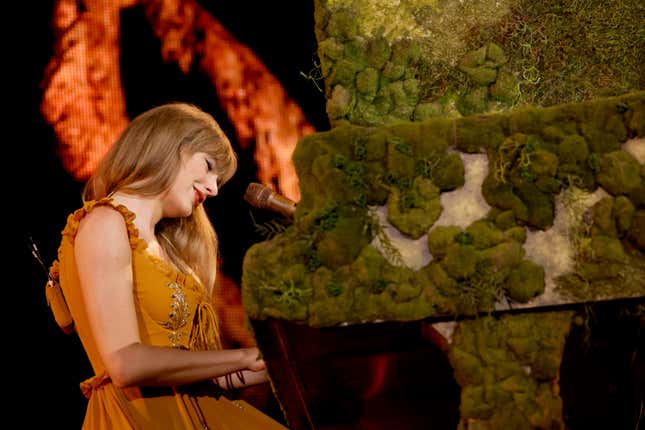 "Get in the car it's august," Taylor Swift posted to her legion of followers on Tuesday morning. The singer has been on a conquest lately, dominating charts, felling streaming records, causing natural disasters, and being named the de facto ruler of every town in which she arrives. Now, on top of being the spiritual owner of the number 13, the age 22, and the concept of an era, she's laid claim to an entire month: August, or as it's now known in Swiftie circles, "salt air season."

The FBI wants Swifties to know snitching is actually cool
It's all due to "august," released in 2020 on the folklore album, a dreamy, nostalgic song that begins by recalling "Salt air, and the rust on your door." It's part of folklore's trio of love triangle songs that pairs with "betty" and "cardigan." As Swift explained it in the Disney+ documentary Folklore: The Long Pond Sessions, "'August' was obviously about the girl that James [the POV character in 'betty'] had this summer with, right? So she seems like she's a bad girl, but really she's not a bad girl."
Swift went on (via Glamour), "She's like really a sensitive person who fell for him and she was trying to seem cool and seem like she didn't care because that's what girls have to do. And she was trying to let him think that she didn't care, but she really did and she thought they had something very real. And then he goes back to Betty."
The track wasn't a single from folklore, but it's continued to pick up momentum in the years since its release. The summer anthem got another boost in June when a new, cinematic version was featured in the trailer for Prime Video's The Summer I Turned Pretty. The trailer sent "august" back up the charts, peaking at its highest on the Hot Rock & Alternative chart since September 2020, according to Billboard. The snippet spread beyond even the Swifties' far reach as TikTokers created a new trend of running dramatically across the beach (or wherever they happened to be) set to the song.
As August approached, a new trend emerged: the simple post "salt air," meant to evoke being on the beach or just a general summer vibe. (Brands like MTV and Grindr are among those getting in on the action.) The phrase can be applied to your seasonal selfies or your pop culture memes, like Kendall from Succession swimming or a still of Dakota Johnson in The Lost Daughter (the last courtesy of Netflix's official account).

Swift has, inevitably, seen a bump up the charts from all those celebrating "salt air season." According to Pop Base, the track jumped 41 spots to sit at #75 on Spotify's USA Top 50 chart with 453,000 streams and 58 spots to #43 on the Global Top 50 with 2.15 million streams. (The song remains at #43 on the global chart as of this writing.) It's still below the other, even older song that has resurfaced during the Eras Tour. "Cruel Summer," another track that wasn't a single back when Lover was released in 2019, has seen such a surge in popularity it's gaining Grammy buzz. We might not be ready to cede the full season to her, but it's clear Swift has staked out yet another cultural niche in August, as evidenced by the plentiful memes below. In the words of Jack Antonoff, "august heads unite"!