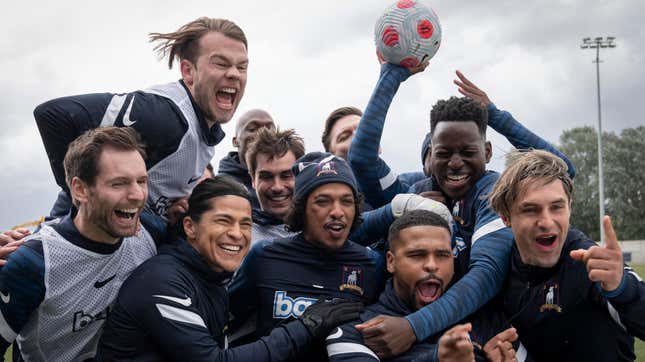 When I first encountered Ted Lasso in 2020, show and character lent themselves to hyperbolic metaphors that stressed just how famished we all were (this was early COVID, remember?) for just some really wholesome content. Ted and the show that encased him could feel like a warm blanket, like a welcome hug. Here was a show that put (sometimes clueless, sometimes cloying) kindness at its core. As it inches toward its final few episodes, though, I'm starting to wonder whether, like a sweet if delectable dessert, Ted Lasso has outstayed its welcome, giving us all cavities in the process.

"Ted Lasso" gets into the (video) game
Because boy does "La Locker Room Aux Folles," the show's latest episode, feel like the show at its most gratingly sweet. Yes, Ted Lasso finally gives us the Very Special Episode (Colin Hughes) it's been teasing all season and while it's all quite lovely (the episode may well have been titled "Love, Colin" given its toothless Love, Simon-esque approach to the material: the footballer can exhale, now!), it is also, um, maybe too wholesome? As in, there's so little drama, so few stakes (Colin actually all but admits it with his 99-percent speech!) that it means there's little here to surprise viewers. Instead, the show gently lectures them.
This is but the ethos Ted Lasso has been built on. Sure, the fan that hurls the "F-word" (the other one) is meant to represent a homophobic world that exists on the outskirts of Richmond but he's so squarely an outlier that it's clear the show has cooked up (like, say, Schitt's Creek before it) a fictional environment that's mostly devoid of real-life violence and discrimination. And so, while Isaac loses his absolute shit on the field after hearing the slur hurled at the team (earning a red card in the process), the consequences of his outburst are basically a textbook example of "how to adequately respond to someone close to you coming out." Sure, Ted fumbles it with a tone-deaf story about a Broncos fan (classic, Ted?) but even that felt like a pat acknowledgment of how to recover from such fumbles—remembering to course-correct and to focus back on how much you care about the person in front of you.
Listen, I don't want to diminish what Ted Lasso accomplishes with this episode. At a time when professional athletes (and footballers, in particular) still struggle with living their lives out and proud, there's a good argument to be made about needing stories like Colin out in the world. And yet, the didacticism of it all felt so, well, flat to me (like the locker room conversations about nudes from last week) that I couldn't help but snicker when we learn suddenly Colin becomes an even better player, praised by team, press, and coaches alike.
It's a shame because Isaac's bottled anger—a mix of disappointment, shame, and frustration at both Colin and himself—is particularly ripe for exploration. And yet, even as Colin successfully comes out to his team (Dani's response sums up how it goes: "You're gay, big whoop!") and has a nice heart to heart with Isaac later that night, it all ends with a mostly neutered back and forth between the two about, what else? Showering with naked guys and straight men's inability to say "I love you" to a fellow gay player (because they don't have to…?) Somehow, the show makes Colin's revelation a nothing event and privileges instead his straight teammate's inane questions—all while having, and here's what made me unconscionable irate, "I am what I am" from La Cage Aux Folles playing in the background as the credits then rolled.
Okay, so when the overture for that musical first played over the opening montage of the team skillfully practicing, I grinned a bit. What a lovely juxtaposition, the campiness of that drag farce being here married with the masc (well, mostly) aesthetic of a soccer comedy. It seemed like a fun little wink, a table-setter of sorts for what proved to be a sensitive (if all too perfectly manicured) coming out episode.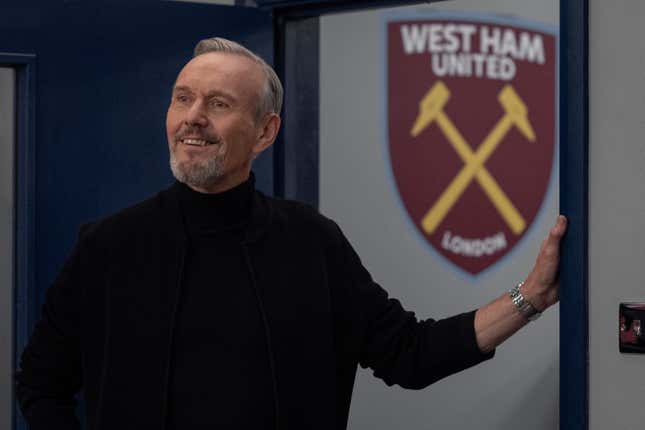 But here's the thing about "I am what I am." Ever since La Cage Aux Folles first arrived on Broadway in 1983 (!), that song has served as an anthem for the most visible (and thus most targeted) of the queer population. It's an affirmation song ("I am what I am, And what I am needs no excuses") but one delivered by a fabulous drag queen whose pride in their identity and their artistry will not be eclipsed by any desire to conform. What is the song telling us as it scores a scene between a gay footballer who loves playing video games with his teammate and has, successfully, passed and avoided any scrutiny for years now? We all heard that moment when Colin says he's not telling anyone else, right? That he's perfectly content with just having told the team? What do he and La Cage's Albin/Zaza have in common? Is this not a flattening of that "I am what I am" mantra, defanging it of any specificity to gender nonconformity (or, if we're being kinder, of just outright queer visibility)?
Men like Colin, who like drinking with the guys and weaponize male-bonding to avoid being caught (remember him at Ola's a few weeks back?), men who struggle to come to terms with their own sexuality and successfully compartmentalize their identities in order to thrive in otherwise aggressively heterosexist spaces, deserve to have their stories be told. But to wrap that story with a nod to one of the most fabulous queer celebrations of fabulousness, of camp, of drag (!) feels like a tone deaf understanding of the message Albin-as-Zaza delivers. And that's being generous.
I mean, the song ends with the line "Life's not worth a damn til you can shout out, 'I am what I am.'" How is that an appropriate song for a story wherein our gay character all but admits he's going to live comfortably in the glass closet Richmond affords him? Okay. Rant (and recap) over.
Stray observations
Meanwhile in Coach Nate, the needless Ted Lasso spinoff that inexplicably plays nestled within the Apple TV+ comedy that first originated that character, we got to see Rupert become even more of a sneering villain than he was before. His tempting of Nate was never going to work (because Nate is good and wholesome! And Rupert is bad!) but good on him for trying and for revealing, in the process, just how black and white the show understands its characters. There's so little room for nuance in the Lassoverse.
"He seems very wealthy" may be the one line Jade has said that suggests there's more to her than being a cardboard cutout of a "girl next door-as-plot device." Time will tell, though.
Jack ghosting Keeley and moving to Argentina for a few months had big "Poochie died on the way back to his home planet" energy. (If that Simpsons reference goes over your head, please Google "Poochie" and thank me later.)
"Heartbent (Not Hearbroken)" would make for a great country song (even if my mind went more in the direction of thinking it'd make a great Kelly Clarkson song—but maybe that's because I'm obsessed with her latest divorce anthems "Me"/"Mine"). As for Ted's improvised country song? No.
Did we think the Ted Lasso writers felt the need to offset Colin's coming out episode by inserting arguably the most leaden discussion ever featured on the show—one all about lead guitarists that led to us encountering a Coach Beard who all but uncharacteristically lost his mind in front of the press? Seriously, can we have one episode where one of our characters isn't needlessly twisted into a version of themselves that feels so inauthentic it could only have been arrived at by needing to land a specific joke?
Why have we never gotten a Rebecca/Roy standoff before? I could watch that kind of interaction any day.
Roy may be a walking caricature of himself at this point, give or take a solid master class in class when pushed to defend his players. (That press conference had the kind of welcome pathos the show can still intermittently excel at.) But I still chuckled at his nicknames for members of the press corps, including "Five O'Clock Shadow Head," "New Trent," and "Goblin King."