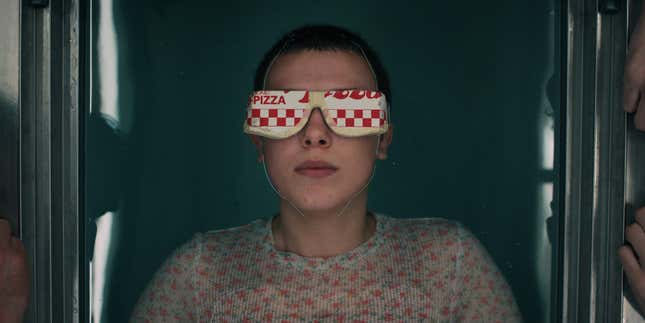 Although they're hard at work spinning up a final set of fictions to bring Netflix's Stranger Things to a close with its upcoming fifth and final season, brothers Matt and Ross Duffer have also found some time to squash some other blatant untruths lately. Specifically, the series showrunners (and their writers) hopped on social media this week to push back against rumors—circulated by both The Daily Mail and The Sun—that series star Millie Bobby Brown had turned down a 7-figure paycheck to reprise the role of teen psychic Eleven in a spin-off movie meant to continue the franchise.
Did Millie Bobby Brown really get engaged?
Per Variety, the Duffers have acknowledged—and have made no efforts to hide—the fact that they're currently looking into spin-offs, hoping to keep the massively successful streaming franchise running after the mothership series ends. But as to the idea that they're developing one focused on Eleven (and thus even had a project that Brown could turn down), the official Twitter account of the series' writers room was blunt: "Yeah there's nothing in this article that is true."
It would, in any case, be kind of bizarre to see Stranger Things spin off in that particular direction: The series is already Eleven's story, on a pretty fundamental level; if there's more the writers need to say about that particular character, they can hopefully get it into the show's fifth season. The Duffers explicitly got into their spin-offs strategy during an interview on the Happy Sad Confused podcast last year, stating that, "It's not following…I've read these rumors that there's gonna be an Eleven spinoff, that there's gonna be a Steve and Dustin spinoff or that it's another number. That's not interesting to me because we've done all that. We've spent I don't know how many hours exploring all of that. So it's very different."
So far, Brown's reps have yet to issue a statement in response to the story. Season 5 of Stranger Things will start filming in June.