The Celebrity Apprentice is a chimerical creature of reality television, a hybrid of the most serious-minded of competition shows and the type of series that throws a bunch of semi-famous people into a hot-tub-equipped house and watches them scrap it out over the ownership of a jar of peanut butter. Watching regular social climbers and aspiring club promoters kowtow to Donald Trump is fun, but watching C-list celebrities try to display business acumen while getting into petty arguments? Now that's entertainment.
This marks the fifth season of the show, and the cast marks a dramatic step down in the level of potential trainwreckdom from the Gary Busey- and Meatloaf-fueled craziness of the last installment. It's a panoply of talking heads you usually see on VH1 "Best of" segments mixed in with Comedy Central Roast fixtures and a dash of nosebleed-section MTV-award audience attendants. You would think that meant that the pressure to be just that much more vicious would mean that the catfights would commence immediately, but everyone came off in the première as relatively sane. On the men's team, which was thankfully named "Unanimous" instead of "Team Backhair" or "The Honey Badgers," we have:
Clay Aiken, hair akimbo, who immediately seems exasperated with most of the proceedings
Adam Carolla, who confuses several contestants by joking that his charity is "white kids without iPads"
Arsenio Hall, who seems to have spent his post-talk show years building up an impressive collection of mildly unflattering hats
Lou Ferrigno, this season's "mostly likely to flip out and lift a car in a tantrum"
Penn Jillette, bringer of awkward facial hair and flaming juggling torches
Dee Snider, arriving with far less metal glam than I had hoped
Paul Teutul, Sr., American Chopper star and runner-up for most intimidating facial hair
George Takei, who I am rooting for hard, though he looks vaguely lost amidst his competitors
Michael Andretti, a last-minute replacement for his racecar-driving son Marco Andretti
The ladies disappeared into the boardroom and arrived with the name "Forte," after determining that their best shared quality is that they all have great hair. (True, the lineup of all those flowing, meticulously conditioned locks could be a TRESemmé commercial.) In the women's corner:
Lisa Lampanelli, often the raunchiest member on the Comedy Central Roast stage, who here sounds and dresses like a stylish kindergarten teacher
Tia Carrere, or, as I will always know her, Cassandra Wong
Debbie Gibson, whose taste in jewelry runs towards Pretty Pretty Princess
Teresa Giudice, wildest of the New Jersey Housewives, who comes off fairly meek and has yet to threaten anyone with ominous visits from her family
Victoria Gotti, whose opening line is "I can make you disappear." Teresa seems terrified of her, and she's weathered about 20 jokes from Trump about union management and body burying.
Dayana Mendoza, Miss Universe 2008 whose main look is "overawed"
Aubrey "I have a tendency to be heavily charming" O'Day of Danity Kane, who looks like a Kewpie doll and seems upset that no one knows just how many Twitter followers she has
Cheryl Tiegs, she of the large eyes and inability to separate cheese slices
Patricia Velásquez, whose seriousness of purpose seems like she's the horse to bet on this season
G/O Media may get a commission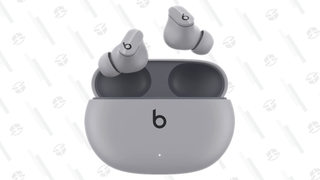 For the inaugural task, his Trumpness asks both teams to raise as much money as they can by selling celebrity sandwiches. It almost seems as if the whole challenge is a focus group Trump threw together to find the best punchline for "How many C-listers does it take to make a grilled cheese?" Paul raises the stakes by promising his team that he can rake in half a million dollars, a number which Clay reacts to by gawping. Both teams settle upon the "carnival" approach to selling their deli goods, which, sure, why not? Unanimous uses the skills of Penn as a carnival barker to lure unsuspecting Times Square travelers into their designated Café Metro, rounding out the display by sending Lou and Paul to display their guns. Paul's management style is fairly aggressive, but there aren't any open conflicts on the team aside from Clay wondering to the camera where Paul's big donors are, and when Paul stares down Ivanka during her routine Trump-reporting visit.
Team Forte decides to take the strategy of every trashy nail salon in all of Manhattan and designates their deli the "Celebrity Club." I guess the red carpet and balloons drew in a fair number of customers, but their approach to treat a Café Metro like a nightclub seemed less exciting than the dudes' fire and muscles combination. Still, Patricia is obviously someone to contend with, and she works her connections hard to bring in big donations. Wave after wave of serious checks came in. Russell Simmons stops by, prompting a wave of confusion when he asks for something vegan and Victoria whips up some cranberry tofu mess. For some reason there's a Wyclef Jean, Aubrey O'Day, and Debbie Gibson jam session, which is ridiculous enough that the producers of next years Grammys might have them all back.
And, oh yeah: In the midst of the sandwich-selling chaos, both teams have to bring a sample of their wares to the Rachael Ray show so that the grand empress of 30-minute meals can determine whose sandwich should win an extra $35,000. You could see Ray struggling to find something good to say about how both of the sandwiches looked like standard deli fare, but nothing to write to Food Network about.
By all indicators, the women's hustle should have beaten the men's carnival approach. Clay seemed to be collecting a lot of small donations, but nothing like the $20,000 check that the women got. But as our motley heroes gathered to determine the whims of the Trump, it turned out that Paul had managed to top the women's efforts by getting a single donation of $305,000 from one of his buddies. Not to mention that Ray, apparently impressed by the packaging of the men's sandwich, bestowed the extra prize money on their team. Tia's face fell, and Patricia's face went from serious to even more serious.
Poor Cheryl. Her teammates one by one pointed her out as the weakest team player, and her watery expression didn't do much for Trump. She arrived at the dread final boardroom session with Patricia and Victoria, who's apparently scary enough that the rest of the women can put up with her being an hour late on task day. Trump barked, Cheryl stammered, Victoria glinted. In the end, Cheryl admitted that she wasn't sure she was comfortable in the Trump environment, and she was fired. But things are starting off suspiciously drama-free for the latest Trump Tower hopefuls. Whither the chair-flipping? Where is the sass? I'm counting on Clay. But otherwise, Lord help us, we may just need to bring NeNe Leakes back.
Stray observations:
I loved that when Paul called George "meek" in the boardroom, Trump brought in some history lessons. Takei 4 President, y'all.
Arsenio Hall: "My friends told me, don't be the first black man to lose to Clay Aiken."
Really, Lou? You don't know where the gun show is? That's… adorable, actually.