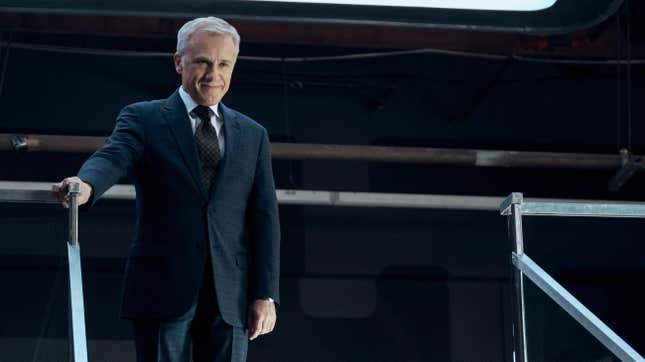 Adapted from the 2015 novel by Bentley Little and with all episodes scripted by Tony Basgallop (Servant), Prime Video's latest series, The Consultant, with its strong look and flat characterization, gives us a glimpse into what it might look like if ChatGPT wrote our buzziest shows and movies. If the future of screenwriting is A.I., and the future of A.I. scripting looks anything like this, then the future of television is fine...but not great.
The A.V. Club's weekly film round up
When the CEO of gaming company CompWare is murdered by a kid on a field trip, the company is left in shambles—until Regus Patoff (Christoph Waltz) swoops in to take over. Hired shortly before the murder, Patoff imposes a stringent set of rules and restrictions on the team, turning employees against each other, stoking the fires of paranoia, and cultivating a culture of humiliation and burnout. He focuses his particular strain of sink, swim, or stab mentorship on coder Craig (Nat Wolff) and executive assistant-turned-"creative liaison" Elaine (Brittany O'Grady).

Patoff's campaign to corrupt Elaine and Craig is the Faustian strand of a show that can feel overstuffed, with plotlines that include beautiful Russian amputees, Craig's doomed engagement to good Catholic Patti (Aimee Carrero), and a jewelry-store raid in which all the robbers are dressed as characters from Craig's game. These threads all come together eventually—or rather, they mostly do. But if this is Prime Video's attempt to capitalize on the success of Apple TV+'s Severance, the final product lacks the concentrated, speculative concept of its precursor. Instead of posing "What if?" The Consultant asks, "What the hell?"

The most compelling presence in the show is the production design; the office is an impressive set-piece comprised of glass, neon, and aggressively vivid screens. The workspace of CompWare is a character, a narrative device, and a motif all rolled into one; characters are hyper-visible through open floorplans and floor-to-ceiling windows, obscured by blinds and locked doors, and hierarchized by the giant staircase that sits dead center. In the back, the shadowy records room, with its filing cabinets and old-timey typewriter, gestures to the human fingerprint (and the human cost) behind the crystalline surfaces of Silicon Valley. The show is best when it keeps the action to this space, and, with Prime Video dropping all eight episodes at once, viewers can binge the series as a four-hour movie and easily imagine it as a kind of filmed stage-play.

The bugs of this program come in on the level of script and story. At times, it feels as though Elaine and Craig are purposely underwritten—called on to flirt, sweat, and panic as needed—to focus all attention on the eponymous consultant. Under Quentin Tarantino's direction (Django Unchained, Inglorious Basterds), Waltz has cornered the market on characters who are rigid yet mercurial, goofy, and repellant. The Consultant is more of the same for Waltz (who is also an executive producer), even if, more accurately, this amounts to Waltz reprising his role from Horrible Bosses 2 with a steely, vaguely supernatural twist. Patoff makes for a chilling figure in a bespoke suit, and Waltz, as ever, is a master of the line delivery. But as an adversary—or anti-hero, you be the judge—he magically generates whatever ability he needs to triumph, and that can make the storytelling stagnate.
Is this one-sidedness intended to elicit sympathy for the powerless protagonists, or does the show simply have no desire to see Patoff defeated? While The Consultant is billed as a "comedic thriller," it's more thriller than comedy, at least until the finale, in which the camp is kicked into high gear. After all, the show asks, "What has Patoff really done to—and for—the employees of CompWare, besides give them omelet bars and PTSD in equal measure?"

The series ends with a Muzak rendering of Frank Sinatra's "My Way" piped over a montage too full of spoilers to detail here; Waltz sings the song over the finale's closing credits, capping the performance with a laugh. It's a confusing moment that either makes The Consultant the bleakest, blackest satire around or a half-earnest homage to predatory capitalism. (Don't hate the player, hate the [video] game!) Or it's neither. Waltz's chuckle suggests that maybe none of it means anything, which feels like a cop-out, as though the show has signed an NDA for its own protection.

Of course, it's not all the show's fault that it is so difficult to tell the story of a corporate baddie without it coming out like notes from a forthcoming Ronan Farrow exposé. Regus Patoff has a special set of skills, but his depravity wouldn't crack the front page of the Times. Terrorizing or terminating employees whose smell is off-putting in some way? Plausible. Firing any remote workers who do not arrive at the office within the hour? Sounds about right. Sexual misconduct in the workplace? C'mon.

For those seeking to laugh a little and cringe a lot, marathon The Consultant in a single, spooky sitting. Viewers looking for a career and not just a day job, though, might look elsewhere.

---
The Consultant premieres February 24 on Prime Video