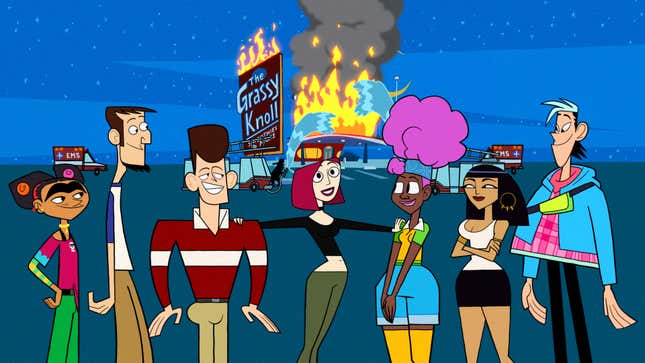 It's 2002 all over again. As the world looks back at the early 2000s with rose-colored glasses, forgetting the one thing we promised never to forget (9/11) and the subsequent wars that followed, HBO Max is getting in on the action. Set to the nervous, adolescent mania of Tom DeLonge's twinkly guitar, Clone High's new teaser trailer welcomes us to our 20-year Clone High reunion.

Russell Crowe is pretty chill about not being in that "Gladiator" sequel
For those unfamiliar, Clone High was an MTV cartoon and among the first significant projects by Phil Lord and Chris Miller, the pair who proved Lego Movies and 21 Jump Streets could be great. The show followed a clique of clones of prominent historical figures as part of a military something or other. Clone High primarily focused on the exploits of Abe Lincoln (voiced by Will Forte), Joan of Arc (Nicole Sullivan), JFK (Chris Miller), Candide Sampson (Christa Miller), George Washington Carver (Donald Faison), and Scudworth (Phil Lord).

The new series also added some new clones, including Harriet Tubman (Ayo Edebiri); Cleopatra (Mitra Jouhari; originally voiced by Christa Miller); Frida Khalo (Vicci Martinez); Confucius (Kelvin Yu); Topher Bus (Neil Casey); Sacagawea (Jana Schmieding); Wesley (Sam Richardson); Ethel Merman (Emily Maya Mills); Michael Bolton (Michael Bolton), Mandy Moore (Mandy Moore), Ian Ziering (Ian Ziering), and Steve Kerr (Steve Kerr).
The show appears to be the same as when we left it—well, minus Gandhi (voiced by Michael McDonald). Not that anyone should be surprised; the character of Gandhi was responsible for the show's initial cancelation. In 2003, nearly 150 Indian parliament members and activists participated in a day-long hunger strike against the show, which they claimed mocked Mahatma Gandhi. In 2014, Lord and Miller told Grantland that the controversy killed any chance of a second season, even though MTV liked the show. Miller said:
We had finished the first season, and I was on vacation in Costa Rica, in the jungle, with no access to phones or Internet. And I finally make my way to a hotel that has a computer station and I see there's hundreds of articles about our show. "Oh wow, this is exciting! [Pause.] Oh no, this can't be good. There's a … hunger strike … in India." [The protesters] had never seen the show 'cause it hadn't aired there, but they'd read on the Internet about it. They were very upset that he wore an earring and ate junk food and went to parties. So 150 politicians and Gandhi's grandson sat in a hunger strike at the MTV India offices, right when the head of Viacom, Tom Freston, was visiting, and he was trapped in the building. And they basically threatened that they'd revoke MTV's broadcasting license in India if they didn't take the show off the air. And then the show went off the air. So I guess not any publicity is good publicity.
The pair attempted to write a second season without Gandhi and devised two versions. One where Gandhi turns out to be Gary Coleman, and another in which "he was gone, and nobody talked about it." It looks like MTV finally came around to the other take.
Clone High returns this spring.