There's no stopping it now: Twin Peaks is coming back. The new season just wrapped filming, but fans will have to wait until 2017 to judge whether David Lynch and Mark Frost's return to their '90s soap-opera parody reaches the heights of the first season or the depths of those last few episodes. We've known for some time that Kyle MacLachlan—and many of his co-stars—would return for the Showtime reboot, and Deadline just released the full list of all 217 cast members.
As we've previously, exhaustively reported, most of your old favorites will be back, including David Duchovny, Sherilyn Fenn, Sheryl Lee, and Miguel Ferrer. There are some intriguing, previously unannounced returning cast members on the list though, like Ray Wise, Harry Dean Stanton, and "log lady" Catherine Coulson, who apparently was able to shoot her scenes before her death.
Previously announced new faces include Lynch veterans Laura Dern and Naomi Watts, along with Jennifer Jason Leigh, Amanda Seyfried, Peter Sarsgaard, and Ashley Judd, who would have been a perfect fit for the show back in '90 as well. Robert Forster is on the list, meaning he probably will replace Michael Ontkean as sheriff of Twin Peaks. Meanwhile, there are some appropriately odd new additions, like Monica Bellucci, Tim Roth, Ernie Hudson, and the weird choice—even by David Lynch standards—of Jim Belushi. Lynch, who seems to enjoy casting musicians, also got Eddie Vedder and Trent Reznor on board.
The new season of Twin Peaks—which might end up being two seasons, all told—will pick up 25 years after the original ABC run. The original series was a pitch-perfect mix of parody, horror, comedy and just overall Lynchian weirdness that somehow played well on network television. Unfortunately, the suits at ABC forced Lynch and Frost to solve Laura Palmer's murder in the second season, removing the central thrust of the show. (It's interesting to note that the same network fifteen years later would champion Lost, a show that prided itself on keeping its audience in the dark.) For better or worse, Lynch was certainly restricted by what network television could do, particularly at that time. So it'll be interesting to see how the move to cable may affect the show.
Twin Peaks comes to Showtime sometime next year, and you can see the full cast list here.
G/O Media may get a commission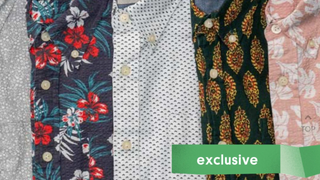 Grab three styles!
JACHS NY Summer Pack