[Warning: This post contains descriptions of abuse against minors.]

Fantastic Adventures is a wildly popular—and now-terminated—YouTube channel with more than 700,000 subscribers and 242 million views. Its content is silly and whimsical, featuring children playing with toys and acting out superhero adventures with a goofy adult companion. Today, however, it's been alleged that the seven Arizona children starring in the videos were abused by their 48-year old adopted mother, Machelle Hackney, the creator of the channel and the children's manager. NBC News reports that Hackney physically abused, pepper-sprayed, and restricted food, water, and restroom access to the children when they forgot their lines or didn't follow directions during filming.
Hackney and her two adult sons were arrested by Maricopa Police on Friday following a wellness check instigated by Hackney's biological daughter, who, per reports, was informed of the allegations by her adopted siblings. One child told police that the children were also forced to take ice baths, during which Hackney would hold their heads underwater. Other reports detail abuse towards the children's genitals. "I either get beat with a hanger or belt, or a brush, or get pepper sprayed from head to toe," said one child. Some of the children claim they haven't been to school in years.
When police arrived for the check, they found one child in an unlocked closet wearing only a pull-up diaper. They also found two cans of pepper spray in Hackney's room. A probable cause statement describes the children as "malnourished, due to their pale complexion, dark rings under their eyes, underweight, and they stated they were thirsty and hungry."
This isn't the first instance of this kind of behavior unfolding on YouTube. In 2017, the parents operating the YouTube channel DaddyOFive lost custody of their children after authorities realized the "prank" videos they posted of their kids were abusive. Meanwhile, YouTube is also dealing with the "soft-core pedophile ring" operating in its comments sections.

Hackney, who goes by her maiden name Hobson, has been charged with seven counts of child abuse, five counts of unlawful imprisonment and two counts of child molestation. Per a police report, she "denied the pepper-spray, denied the ice baths, and stated the only forms of punishment she uses is having to stand in the corner, getting spankings, and being grounded."
G/O Media may get a commission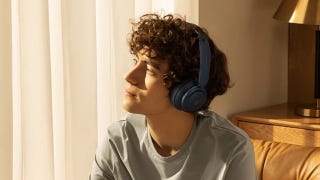 30% off
Soundcore Headphones and Earbuds
A visit to the Fantastic Adventures channel reveals it's been "terminated for violating YouTube's Community Guidelines."