Every day, Watch This offers staff recommendations inspired by a new movie coming out that week. This month: The A.V. Club atones for its sins of omission, recommending the best movies of the year that we didn't review.
Song From The Forest (2015)
There are two main characters in Michael Obert's documentary Song From The Forest, and two stories running in parallel. An accomplished German travel writer, Obert turned to filmmaking for the first time so that he could properly capture the sights and sounds of the Central African rainforest, where ethnomusicologist Louis Sarno has lived among the Bayaka Pygmies off and on since the 1980s. A native of New Jersey—who was best friends with Jim Jarmusch in college—Sarno began to feel exhausted and depressed by his own culture by the time he was in his 20s. Then he heard a radio report about how some tribes communicate through song, and the sound so captivated him that he abandoned his former life semi-permanently, so that he could study the phenomenon further. He eventually married a Bayakan, and set himself up as her tribe's wizened old man, occasionally sharing the wonders his family would ship to him from the United States.
Sarno also fathered a son, Samedi, and promised him when he was a little boy that someday he'd take him on a trip back to his home. That's the movie's second thread: Samedi accompanying his father on what starts as an exciting visit to New York, but becomes sadder and somewhat scarier the longer it drags on. While Sarno lives like a king in the rainforest, his work there actually hasn't generated much income, and his health has suffered from living so far away from modern medicine. There's a strong possibility throughout Song From The Forest that Samedi could end up stranded in a country he doesn't understand, with a sickly guardian who's lost touch with his own roots.
Obert develops the drama in his documentary at a leisurely pace, scrupulously avoiding sensationalizing any aspect. Like Sarno, Song From The Forest is captivated by the natural noises of the wilderness, and the rhythm and harmonies of the Bayaka. And like Samedi, the film finds the big city overwhelming and alien. What ultimately emerges here is a spare, impressionistic sketch of two men—one on the downslope of his life, the other still looking up—who have a hard time feeling comfortable in the world, no matter where they escape to. This is a moody, often beautiful movie about a deep yearning for something that always seems to be calling from afar.
G/O Media may get a commission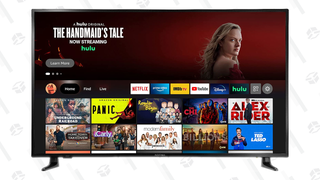 38% Off
Insignia 50" 4K UHD Smart TV
Availability: Song From The Forest is available to rent or purchase digitally through Amazon.