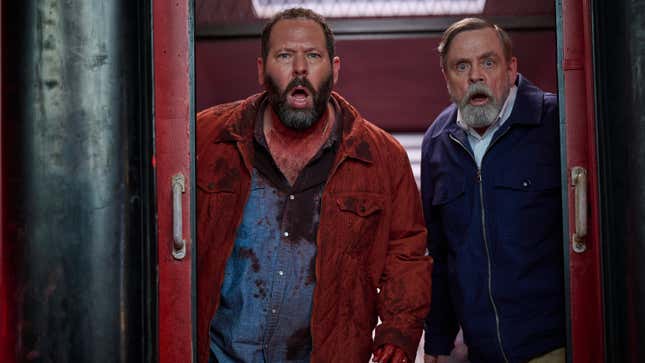 Shirtless, un-PC, and sporting the daddiest of dad bods, Bert Kreischer feels like the natural outcome of a Simpsons episode in which Homer Simpson, while drunk, shirtless, and screaming in public, accidentally becomes a popular stand-up comedian. While in college, Kreischer was the inspiration for the 2002 comedy National Lampoon's Van Wilder, though he looks less like Ryan Reynolds and more like a cross between Home Improvement's Tim and Al. Now playing a version of himself in The Machine, he finds himself in family therapy, where it turns out that a lifetime of comedy based on a party animal persona can be hell on the wife and kids when you live the gimmick.
Film Flashback: The Thing
His problem isn't just that he can't mentally break free of the persona's baggage, but that said baggage is very much not done with him. One of the real Kreischer's popular stories is about the time he was young, wasted, and in Russia, where he accidentally found himself helping mobsters to rob a train. The movie character version finds out, during his daughter's sweet 16 party, that there are people in Russia who still hold a grudge. Irina (Croatian star Iva Babic) has a sudden need to find one of the items stolen two decades ago, so she kidnaps Bert and his hectoring, toxic father Albert II (Mark Hamill), whisking them to Russia to retrace the steps of younger Bert, played in flashback by YouTuber Jimmy Tatro.
The dual central jokes in The Machine are (1) that while Kreischer's unapologetic drunk dad humor comes off as borderline toxic masculinity in the U.S., he's progressive and almost feminist by Russian standards; and (2) his life and background as a quintessential Florida Man make him uniquely suited to the craziness of Russia. As such, he has—at least in the movie—become a pop icon over there; a party legend who can out-drink the locals and crash through walls.
Bear in mind that this is very much movie-Russia, a place where everyone is either an invincible, track-suited criminal with cross tattoos, or a happy peasant living 50 years behind the times. It's not the modern, kleptocrat Russia, self-inflicting wounds on itself in a brutally pointless war of choice. Indeed, despite their shared love of shirtlessness, Kreischer never once mentions Vladimir Putin, presumably because Sony would like to actually play this movie in Russia someday.

Director Peter Atencio has some experience tailoring projects to comedy and star personas, having worked with Key and Peele on Keanu, and gotten Jean-Claude Van Damme some of the best reviews of his career with Jean-Claude Van Johnson. Lightning doesn't quite strike thrice with Kreischer, who's certainly believable as "himself," but never feels quite like a lead. The movie excels when it leans into insane levels of action violence, including a throat ripping and sickle impaling. It's less effective when it relies on Kreischer's comedy; he needs a movie that does for him what 48 Hrs. did for Eddie Murphy, as his reactions to danger are his best moments. The script is credited not to Kreischer, but Cougar Town's Peter Biegel and Ma's Scotty Landes, an interesting combination that doesn't necessarily suggest action.
Hamill, however, is the MVP, continuing to deliver some of his best work as an older man. When he leaves the action for a spell, the energy leaves the movie. As a mean-spirited straight man to Kreischer, he embodies everything you never want to see and hear from your own parents ... at least at first. But even as he must inevitably soften, it's never too much. When he's reunited with a long-lost knife, the movie briefly becomes Stop! Or My Dad Will Stab. Decide for yourself to what degree that's a compliment.
Tatro impresses a fair bit as the young "Machine," gamely recycling obvious pop culture impersonations of Russians who've never heard them and think he's a genius when he's plainly anything but. He's not exactly Ryan Reynolds either, though he has enough of a superheroic physique to maybe be a Deadpool villain someday.
The best thing about The Machine is it's not as awful as it could have been for a movie based on stand-up. Kreischer leans into both the fun and the destructiveness of his persona in a way that's never genuinely obnoxious, though it's almost hilariously irresponsible about alcohol. At the beginning, he's gone completely sober; later, the movie suggests there's a "moderate" way to periodically chug fifths of vodka straight from the bottle while also being a good dad. Like the movie, it may work for some, but isn't something we can actually endorse.
The Machine opens in theaters on May 26