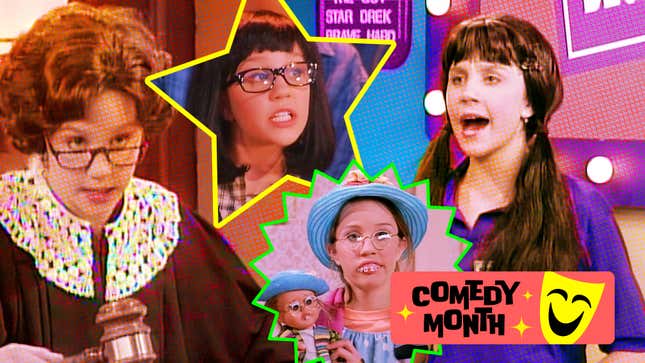 Like many great comedians, one of the early clips of Amanda Bynes performing is a grainy video of a stand-up set. The difference, of course, is that Bynes was 10, performing at a comedy camp at The Laugh Factory in Los Angeles, and a producer from Nickelodeon was in the audience. Soon after Bynes joined the cast of All That in 1996 and, in 1999, she began starring in The Amanda Show. Most comedians toil in clubs for years before landing any supporting part in a TV show; Bynes had a show with her name on it by the time she was 13.
Mick Jagger says The Rolling Stones could give $500 million to charity
The Amanda Show ran for 40 episodes between 1999 and 2002, and Bynes was in almost every sketch. It's clear from the beginning that she's a star. She's completely at home on the stage, contorting her face and body with the skill of an actor three times her age. But what's uniquely "kid" about her is the energy—it's the sense of firing a gun that's mostly aimed, but not laser-focused. But for a show that prioritized structured randomness, that explosive quality is a feature, not a bug.
Bynes was hardly the first star on Nickelodeon, nor was she the first star to land a namesake series; Kenan Thompson and Kel Mitchell had an All That run so successful it spun off a feature film and a series for the two of them. And there were plenty of shows after The Amanda Show that spotlighted a supporting cast member from a previous Dan Schneider-created series. But what's notable about The Amanda Show is it's the only time Schneider and Nickelodeon took a rising solo star and placed her in a sketch show instead of a sitcom.
This may be a product of the era; the 1990s was a strong decade for sketch comedies, with marquee shows like Saturday Night Live, Mad TV, and In Living Color, while The Dana Carvey Show basically employed the same strategy as The Amanda Show—building a sketch show around a star—but for adults. The Amanda Show was different from Nickelodeon's other offerings, if not exactly a risk. It was a star kids already loved performing in a format their parents already loved. And it helped introduce a generation to some truly absurd humor.
The Amanda Show and me 
I never watched All That, and I mostly caught The Amanda Show in summer reruns in the mid-2000s. Even then, with its slightly dated references, it connected with me more than the other offerings on Nickelodeon and the Disney Channel. Being a sketch show instead of a kids' sitcom meant it could be wackier, not beholden to plot lines or character arcs. The Amanda Show could commit to surrealism because it only had to commit to any one idea for three or four minutes at a time. I had never seen SNL at that point and I was still years away from running up my dad's credit card to pay for episodes of Monty Python's Flying Circus on iTunes. When I watched Bynes, I learned for the first time that TV could be actually funny.
Rewatching the first couple of episodes of the series this week, I was surprised to realize that this isn't really how the show started. Most of those sketches take place in a world that is part of a child's daily life: school or home. There were twists, of course—the school nurse would be Bynes made up as a middle-aged Eastern European woman who force-fed children pudding, the suburban families would be half-ape or comprised of wrestlers—but they were situated within the confines of a middle schooler's life. These sketches are hardly the show's best work—a series rarely peaks at the beginning. But there was still a disturbing undercurrent from the start, which I loved. The first scene of the first episode is about deranged, obsessed fan Penelope Taynt (played by Bynes) trying to sneak into a taping of the show. Compared to the Arthur and That So Raven I had been watching, this felt like Scorsese.
Fairly quickly, The Amanda Show moved outside of those explicitly kid confines and found its most famous gags and surreal skits. "Judge Trudy" is a fairly straightforward parody of Judge Judy but with medieval punishments, and it always ends with Judge Trudy shouting, "Bring in the dancing lobsters!" "The Girls Room" was basically a talk show parody, but included the egg-obsessed character Debbie. Crazy Courtney's "Mah-hah!" permeated middle school culture far more than the premise of any of her sketches did. These are all obvious elements of sketch, but for a kid, The Amanda Show was breaking down comedy into digestible blocks. The essentials of misdirection, timing, and, yes, catchphrases are all plainly there. As a pre-teen, it made me want to be part of a world like that.
The Amanda Show's other children
While I was eating up The Amanda Show in my living room, I was watching the other stars of the show also break out on their own, just as Bynes had before them. Drake Bell and Josh Peck left the series to star in the also-eponymous Drake & Josh. Before long, Miranda Cosgrove also spun out into iCarly, which eventually led Jennette McCurdy into Sam & Cat. Starting with All That's beginning in 1994 to Sam & Cat's conclusion in 2014, that's a 20-year span of influence, one that reached most American Millennials and a good chunk of Zoomers.
The influence extended to kids' shows on other networks too. The Amanda Show wasn't just SNL; there was a healthy dose of 30 Rock to it. Between sketches, we'd see backstage spats between Drake and Josh. Amanda was a celebrity in the universe of the show, one who'd interviewed other famous figures in her jacuzzi and was playfully oblivious to her stalker. It's not hard to imagine this at least subconsciously influenced The Disney Channel's Hannah Montana or their more explicitly 30 Rock-for-kids offering, Sonny With A Chance. (Sonny With A Chance later spun its sketch-show-within-a-show, So Random, into its own series. Kids' TV really does have an ouroboros quality.)
Of course, there is the other disturbing outcome of the Schneider programming: the long-whispered-about and recently more detailed allegations of inappropriate behavior that have become louder in recent years. Bynes herself has never publicly commented on Schneider's behavior, and has dealt with personal battles of her own over the past decade. For better or worse, this does color the experience of watching the show now.
But watching any of those 40 episodes now still preserves a moment in time. In those episodes, Bynes is forever an extraordinary comedic talent, bursting with promise. Sure, the jokes aren't as funny to me now as they were when my age was in the single digits. I don't know if I would have been so curious to check out SNL or 30 Rock or In Living Color if I hadn't watched The Amanda Show first, though. In a sea of kids' TV, it made me laugh.