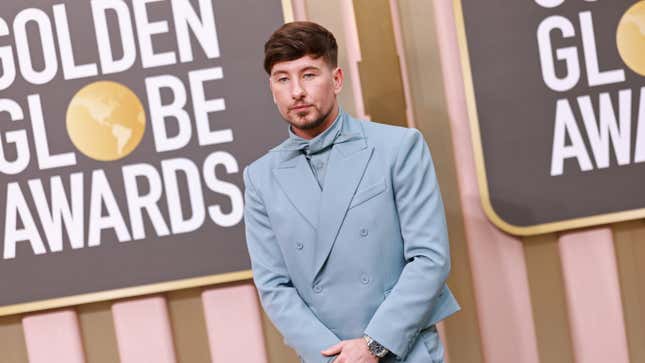 Deadline reports tonight that Banshees Of Inisherin co-star, part-time Joker, and all-around "Get us someone who'll make the entire audience uncomfortable, but in a fun way" guy Barry Keoghan has lined up his next project. Specifically, Keoghan is developing a movie he's apparently been working on for a while: A grounded, realistic film about the life of infamous outlaw Billy The Kid, which Keoghan is developing with his old American Animals director Bart Layton.
If Jesse Armstrong wanted Jeremy Strong to jump in a river, he would have put it in the script
In describing the project, Keoghan—whose recent projects also include Eternals and The Green Knight, and who is doing a pretty great job lately of crossing back and forth over the boundaries between blockbuster fare and more artsy movies—discussed his desire to "humanize" Billy The Kid, who died in 1881 while still in his early 20s (although not before an infamous run of crimes that included multiple murders).
Citing his own personal history—which included the death of his mother at an early age—Keoghan spoke of the parallels he's drawn between his own journey and the life of the outlaw (whose birth name was Henry McCarty):
I wanted to step outside of the legend that was built up by the papers and tackle the pressure he must have felt from those early days. He was running his whole life. I felt related to Billy in the sense of him being a mummy's boy, but obviously, I took a different path, turning my circumstances into something positive rather than rebelling against them. Nevertheless, there's a soul and a vulnerability to Billy that I think it's important to bring, to understand him as a real person rather than the myth that he has become.
Keoghan has been trying to get the movie made for a few years now, but had plans scuttled by the pandemic lockdowns. Now the film, which features a script from Hunter Andrews, has been set up at Element Pictures, RAW, and Film4. And while we obviously can't predict exactly how the movie will turn out, we can say with some confidence that Keoghan will probably do something exceptionally unnerving and then break your heart five seconds later and then oh god, he's got a knife.