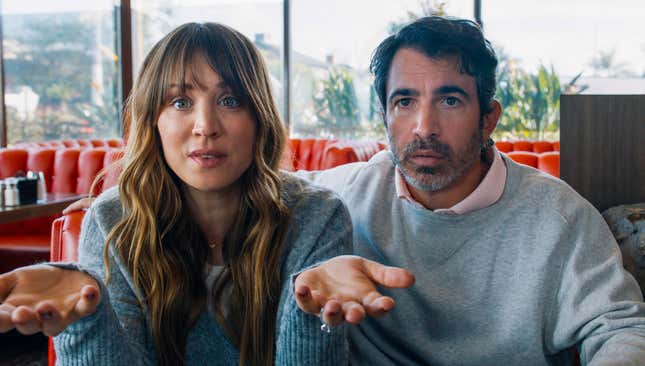 Did you know that America is obsessed with true crime? What a shocker, right? A rapidly growing number of documentaries, podcasts, films, the entire Lifetime channel, and TV shows (getting Candy and Love & Death within months is a scary sign) are a constant reminder that pop culture has zeroed in on this aspect of the zeitgeist in grueling, compelling, and money-making ways. Naturally, things have crystallized to the point of satirizing the culture we've cultivated. Based On A True Story, which premieres June 8 on Peacock, strives to cheekily examine our fascination with evil and the dangers of getting addicted to the genre. It's too bad, then, that the thrills of Craig Rosenberg's comedy series taper off despite a tantalizing start.
Prosecutors drop charges in "Serial" podcast murder case
BOATS (the acronym is what it is) will inevitably be compared to the hugely successful Only Murders In The Building. The new show, like the Hulu comedy, also centers on three people launching a titular podcast because they live in a murderer's proximity. However, their intention isn't to solve the crimes as much as is it to find profit and fame with a twisted gimmick. It's a promising concept to scrutinize the weird glee true-crime fans get from morbid details and the ruthlessness with which content creators benefit from it. A couple of episodes set at a fictional Crime Con in Las Vegas (inspired by an actual annual event) are solid examples.
However, the show struggles to balance being surreal (there are creepy dream sequences and sexual fantasies) and taking itself seriously (there are, um, terrifying murders). It frustratingly lands between sincere and silly, not knowing which way to navigate or what message to send. The eight admittedly breezy half-hour episodes don't allow BOATS to delve too deeply into what feels like a surface-level, broadly generated takedown, and the hints of nuance quickly get buried. But maybe that's not necessarily the worst thing.
Based On A True Story floats by on a clumsy plot: a married couple teaming up with their eccentric plumber for a podcast, as one does. Each hopes to earn something from it, even if their morals are significantly compromised. A few early twists and tense interactions heighten the stakes, but every episode's scheming becomes progressively nonsensical. Still, there's just enough ridiculousness to keep the momentum going. BOATS is not the next great examination of true-crime aficionados or a worthy skewering of them. It turns out that it's just a mildly entertaining show that lets Kaley Cuoco and Chris Messina shine. And sometimes that's all the fun TV escape you need.
Cuoco is pregnant realtor Ava and Messina is former tennis player Nathan Bartlett, who are going through marital and financial woes with a baby on the way. After a serial killer dubbed The Westside Ripper haunts their Los Angeles neighborhood, Ava comes up with the idea to dig into it since she's already unhealthily bedeviled by the true-crime genre. Hosting a podcast about this backyard criminal will spice up her marriage and bring in the dough. What could go wrong, except the dissolution of her ethics?
They loop Matt (Tom Bateman), their plumber and Nathan's darts buddy, into their group because of his passion for the subject matter. Based On A True Story picks up steam when the couple clashes with Matt; he's got a rugged inventiveness to "elevate" the audio format, while Ava is an old-school, self-proclaimed expert. She feverishly listens to other true-crime hits, is part of a book club version of podcasts, and throws casual references to other killers. Oddly, their differing ideas form the crux of the tension instead of the multiple deaths around them, including those of people they know.
The narrative also heavily focuses on whether Ava and Nathan's relationship can survive a barrage of issues—police interference, suspicious friends, potential affairs, and that black hole named Matt. Bateman's one-note performance quickly makes his character grow tiresome. On the plus side, Cuoco and Messina are incredibly charming. (For The Mindy Project fans who care: Messina does get to dance in one episode. That's a big win for us.) Both actors are evidently enjoying their characters' messiness, acing the bleak, humorous delivery of being embroiled in the dark world they stepped into and are losing control of.
But this storytelling choice often overtakes the crucial true-crime podcast angle of the show, fumbling Based On A True Story's exciting prospects as it veers in confusing ways. Unlike OMITB, the audience never gets to hear their podcast content; all we see is the popularity randomly ballooning and crashing depending on what celebrities favor them on Twitter. And in trying to be meta with its commentary, Based On A True Story forgets to evolve the story efficiently.
At least the show fits well into Peacock's canon of thrillers. It's not as brazen as Poker Face, as innovative as Mrs. Davis, or as bizarre as The Resort, but BOATS scratches the itch for an entertaining, if not illogical, TV comedy.
---
Based On A True Story premieres June 8 on Peacock