Permanent Records is an ongoing closer look at the records that matter most.
In late 1996, MTV started airing an overnight video show that illustrated just how mainstream and unimaginative the once-vibrant 120 Minutes had become. Dubbed Amp, the one-hour block featured no artist interviews or VJ banter. Instead, listeners could zone out to videos by futuristic artists such as the Orb, Photek, Underworld, Chemical Brothers, Future Sound Of London, Atari Teenage Riot, Faithless, and Massive Attack. While the show was obviously MTV's attempt to cash in on the late-'90s electronica gold rush, it's easy to forget just how innovative Amp was at the time; pre-YouTube, where else would videos by Plastikman and Josh Wink air alongside clips from Gary Numan and Kraftwerk?
For many in the U.S., the show served as the first glimpse of Daft Punk. Clips for the group's No. 1 Billboard dance singles "Da Funk" and "Around The World"—which are both found on their 1997 full-length debut, Homework—aired several times each. In fact, "Da Funk" made enough of a dent on Amp and 120 Minutes that it was actually nominated for "Breakthrough Video" at the 1997 MTV Video Music Awards. (In an über-'90s twist of fate, they lost to Jamiroquai's "Virtual Insanity.") It's no accident that Daft Punk was embraced by traditionally rock 'n' roll-oriented outlets: For all the hype about the '90s electronica boom and how it would revolutionize music, many aspects of the movement weren't that far removed from more traditional guitar-based compositions. Prodigy's hit "Firestarter" sampled The Breeders' "Cannonball"; Chemical Brothers enlisted Noel Gallagher for several massive singles; and even David Bowie got into the drum 'n' bass groove on 1997's Earthling. The grinding, staticky instrumental "Da Funk" and its distorted, smudged synths sounded like something to which Beavis And Butt-Head might have beatboxed, much like Beavis did with MC 900 Ft. Jesus' "If I Only Had A Brain."
Unsurprisingly, the principal members of Daft Punk—Guy-Manuel De Homem-Christo and Thomas Bangalter—were also rock 'n' roll survivors: In the early '90s, they cut their teeth in a wobbly, noisy indie trio called Darlin' that was heavily indebted to The Jesus And Mary Chain and My Bloody Valentine. That abrasive edge remained strong in the corrugated techno track "Drive"—an early Daft Punk song that the group's first label, Soma Records, unearthed and released a few years ago—while the duo's early, simpler tours were DIY affairs: "It's myself and Guy-Manuel up on stage with our equipment with no DAT or prerecorded sequences—everything is done right there," Bangalter told an interviewer in 1997.
From a musical standpoint, Homework feels like the electronic equivalent to totemic rock records like The Beach Boys' Pet Sounds or The Clash's London Calling: All three records mash together wildly diverse genres and inspirations, then contort them into something new. In Daft Punk's case, the group's debut absorbs and then spits out glitchy disco ("Revolution 909"), spongy funk ("Daftendirekt"), stomping house music (the squiggly "Indo Silver Club"), claptrap techno ("Phoenix"), proto-electroclash (the Peaches-ish "Oh Yeah"), and post-industrial perforations ("Rollin' & Scratchin'"). "Da Funk" and the faucet-dripping synthpop classic "Around The World" feel like accessible anomalies; in many spots, Homework has the obnoxious, confrontational tone of a punk LP. The seven-minute "Burnin'" boasts high-pitched, zippered keyboards that grow more and more irritating as the song progresses, while "Rock'N Roll" has whining keyboards that grate like nails on a chalkboard. "Teachers"—a roll call of musical inspirations that pays homage to early hip-hop's gracious shout-outs—uses a cartoonish, helium-heightened voice that's palatable only in small doses.
Despite moments like this, Homework is the least gimmicky record of Daft Punk's career, one where the group's robotic shtick hadn't yet overtaken its creative process. The members of Daft Punk have never been melodic dissidents, but on this record in particular they took great care to ensure their music wasn't hampered by distance—interpersonal, ironic, technological, or otherwise. Perhaps this stems from the group's deep love for the perpetually vulnerable Beach Boy Brian Wilson, a fact that emerged in an August 1997 Mixmag profile, "Do You Think You Can Hide From Stardom?" "In Brian Wilson's music, you could really feel the beauty—it was very spiritual. Like Bob Marley, too. This was God inside of the music," Bangalter told the interviewer. "Something that we want to do is keep it warm. A lot of electronic music is very cold. Rock has a certain warmth—that is a good thing about it, and soul and funk and disco too. We were not interested in doing really dark music. Our music is not stupid happy house, but it makes people happy."
With this assessment, Bangalter does sell Daft Punk's emotional range somewhat short. For example, Homework's "Alive" is a shivering, cavernous house music rush with all the ominous gravitas of the very best dance floor surges; clearly, when the band wanted to, it could tone down the bliss. And the duo was dryly funny, too—the 51-second "Funk Ad" is merely "Da Funk" played backwards, while the frilly French house interlude "WDPK 83.7 FM" is a spoof of goofy, overstated radio announcers. As these elements demonstrate, the group hadn't yet crystallized its identity as sleek dance-music aesthetes.
In fact, circa Homework, the members were hiding their identities with things such as Freddy Krueger and Beavis And Butt-Head masks, or cheap-looking Halloween disguises. The Mixmag piece features photos of De Homem-Christo and Bangalter looking like typical '90s suburban goofballs: One wore a blue devil mask and a Back To The Future T-shirt; the other sported a plain baby-blue shirt and a red devil disguise. The Spike Jonze-directed video for "Da Funk" also didn't have much to do with digital futurism; instead, it followed a talking dog with a broken leg as he walked (upright) around a bustling city at night. As he ran into old neighbors and shithead kids alike, he toted around a boombox blaring the song, its loping tempo keeping pace with his aimless adventures. Naturally, a Billboard article on the "Da Funk" video boasts a grainy Daft Punk promo photo that only barely obscures their faces.
The reasons behind these masquerades seem prosaic, if not prescient. "People understand that you don't need to be on the covers of magazines with your face to make good music," De Homem-Christo told Mixmag. "Painters or other artists, you don't know them but you know what they are doing." Added Bangalter to the Montreal Mirror in 1997: "We were sick of having our photos taken, and we didn't want to get into the attitude/ego thing with our faces," he said. "To us, the Daft Punk logo should be the star—the concept is to keep us more low-profile than the music itself. The star system is becoming more and more ridiculous in dance [music], you know. People are taking their personal images quite seriously."
G/O Media may get a commission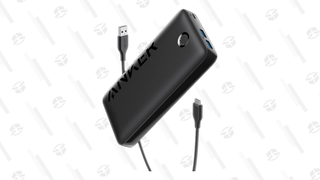 20% Off
Anker 335 Power Bank
The irony in that is that Daft Punk-as-robots eventually became the group's dominant image—something that consumed its identity more than it compressed it. The band certainly did nothing to discourage this. 2001's Discovery was full of disfigured vocodered vocals, soulful funk, and glittery disco, while 2005's Human After All harkened to the group's guitar-centric days; both albums toyed with dystopian visions, the joys of virtual romance, and the virtues of machine-driven strictness. The alien-invasion pyramid schematics and outer-space warrior vibe Daft Punk unveiled during the "Alive 2006/2007" tour only cemented the pair's half-human, half-droid persona.
Yet Homework's influence was immediate and long-lasting—heard in the slice-and-dice nature of Basement Jaxx's records and the enduring crispness of the French house scene (e.g., Cassius, Justice, Phoenix, honorary Frenchman Stuart Price), and later seen in the masks worn by electronic artists such as Deadmau5, The Bloody Beetroots, and SBTRKT. But Daft Punk's goofy disguises and videos also ensured that the group received plenty of above-ground attention at the time for Homework, and wasn't just banished to the dance charts and niche publications. Because of this, the record became one the most prominent electronic music gateways in the '90s, aside from Nine Inch Nails' catalog and The Prodigy's The Fat Of The Land—a record palatable to people who may not had access to raves, underground sounds, or cable TV.