It's been a strange three days for the United States, but nobody's had it as strange as Dippin' Dots, the spherical favorite of amusement parks, zoos, and anyone who's not White House Press Secretary Sean Spicer. While Spicer was busy doling out "alternative facts" and demanding apologies on behalf of his boss, The Ice Cream Of The Future squashed the one-sided beef Spicer started on Twitter five years ago, making nice with the former communications director for the Republican National Committee and inviting the White House press corps to enjoy some free Banana Split, Candy Bar Crunch, or (why the hell not?) vanilla Dippin' Dots at an undisclosed date.
But the flash-frozen confection doesn't need to curry the favor of someone in the spotlight. As a hasty search of the Getty Image archives demonstrates, there are many famous people who'd consider themselves friends of Dippin' Dots. Let's review the photographic evidence, which, unlike the images from President Trump's inauguration, show a great many people enjoying themselves thanks to the benevolence of something round and occasionally orange.
Here, the popular ice-cream treat takes time out from its sponsorship of the 2007 Celebrity Grand Slam Paddle Jam To Benefit St. Jude Children's Research Hospital to greet Jason Alexander. "Hey Jason: Your grocer's freezer called, and they're all out of Caramel Brownie Sundae!" says Dippin' Dots, referencing the classic Seinfeld episode "The Comeback." "Well, the jerk store called," Alexander replies, "And they're all out of Sean Spicer!"
G/O Media may get a commission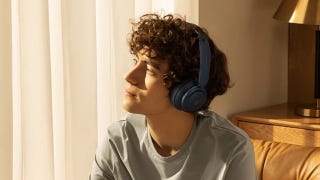 30% off
Soundcore Headphones and Earbuds
Though it seems unlikely that Channing Tatum has consumed anything containing sugar in the past 10 years, he was unafraid to Step Up to Dippin' Dots. Unlike then-Assistant U.S. Trade Representative For Media And Public Affairs Sean Spicer, Tatum didn't make a fool of himself in the process.
Though many people presume that Tatum met his wife, Jenna Dewan Tatum, on the set of Step Up, they were actually introduced to one another by Dippin' Dots. In his three days as White House press secretary and communications director for President Donald Trump, Sean Spicer has only introduced America to his ludicrous, five-year-long campaign against a snack often sold in front of roller coasters.
Earlier in 2007, Dippin' Dots surfaced at the Distinctive Assets Gift Lounge during the 20th Annual Kids' Choice Awards. Here's comedian George Lopez, making his choice of a Dippin' Dots gift certificate. When the Trump administration chose Sean Spicer as its main representative to the press, no one thought to ask, "Has Spicer ever tweeted anything about a novelty dessert that internet smart-asses can twist into a never-ending barrage of jokes?"
Academy Award nominee Angela Bassett has appeared in multiple seasons of American Horror Story. If Sean Spicer wrote an installment of the FX anthology series, it would be called American Horror Story: One Time Nationals Park Ran Out Of Vanilla Dippin' Dots, And It Seemed Like An Appropriate Subject For A Pissy Tweet.
Aaron Carter turned into Shaggy from Scooby-Doo so gradually, we barely noticed. Sean Spicer is a dick.
If Aisha Tyler's Archer character, Lana Kane, were to comment on this Sean Spicer-Dippin' Dots situation, we're betting it'd sound a little something like this: