The entirety of Brand New's career feels like a coup. In 2001, it was impossible to predict that the band known for writing buzzy pop-punk songs and feuding with Taking Back Sunday (which Brand New's Jesse Lacey once played bass for) would become a serious concern. But as the years unfolded and Brand New moved away from the scene that bred it, it built a mystique by pivoting—and rarely, if ever, addressing it. But if Brand New albums have a through-line, it's vocalist-guitarist Jesse Lacey's struggle just to be in it.
On the band's 2001 debut, Your Favorite Weapon, he was already referencing Brand New itself; by the time of Deja Entendu, he was grappling with the band's rise while beginning to embrace his more indie-rock influences. But it's the album that followed, 2006's The Devil And God Are Raging Inside Me, that put Brand New on the trajectory it's followed ever since. Here it finally shed itself of the past, losing nearly all of the power chord-laden instant gratification of Your Favorite Weapon and the radio-ready choruses of Deja. Lacey openly rejected his role as shepherd to the newest generation of the pop-punk and emo scenes, screaming, "I am not your friend / I am just a man who knows how to feel / I am not your friend / I am not your lover / I am not your family." While his peers were making plays for superstardom—and some coming awfully close—Brand New made a sprawling, iconoclastic work of art, one that challenged conventions and attempted to wall off its earlier self.
While Daisy, the band's 2009 follow-up was met with a mixed reception, it furthered its evolution. Not merely aping the cover art for The Jesus Lizard's Goat, the band turned in a series of noise-drenched numbers that drew from that group's aggression and fell somewhere between In Utero and The Lonesome Crowded West. The four-piece quickly started discussing a new album, saying as far back as 2012 that it was in the studio, but nothing materialized. At a time when fans were getting an all-access look at bands' creative process through tweets and Instagram, Brand New kept its mouth shut.
But over those eight years, Brand New quietly tied up loose ends. It cleaned up the demos that were leaked before the release of Devil And God and gave them a formal release. Not only that, after telling fans way back in 2006 to send in $1 for a lyrics sheet, those packages were finally delivered, nine years later, in April of 2015. Brand New was making good on long-kept promises, and on its 2016 tour, it began selling T-shirts bearing a cross paired with the epitaph "Brand New 2000 — 2018." At the end of sets, that logo appeared on stage as the band exited, reminding fans to enjoy it while it lasted.
G/O Media may get a commission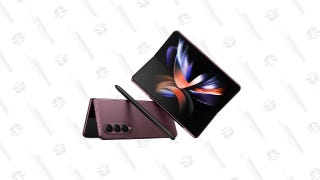 Save Up to $300
Galaxy Z Fold4
Given the aura of impending death, all that talk of a new album started to feel iffy. So when the band announced Science Fiction last week—and then released it just days later—people immediately dug into it with understandable vigor. This is a record that fans were dubious would ever actually get released, especially with a breakup potentially looming on the horizon. It was greeted with the kind of fanfare that's only possible after nearly a decade of false starts and misdirects.
"Lit Me Up" opens with a sample that sees an unnamed, uncredited patient discussing a troubling dream with her therapist, closing off her story with the line, "I think I'm going to be relieved when it's over." Instruments begin to swirl, Lacey's voice soon entering the fray. The sample presages a theme that's touched on throughout Science Fiction, the notion that things are coming to an end, and the relief that comes with it. "I want to put my hands to work until the work's done" sings Lacey, against an ambient backing that recalls the moment Radiohead went electronic. The swells come soft and slow, deliberately churning a path forward.
"Can't Get It Out" sees a return to the sound that made Deja Entendu such an era-defining work all those years ago. Building around the strum of an acoustic guitar, washes of feedback rise, allowing Lacey and guitarist Vincent Accardi the space to open up in a similarly combustive manner to Daisy. Yet even when the band is out-and-out rocking, it's rarely played straight. Throughout "Can't Get It Out," the band uses countless layered effects to build a disquieting mood, reveling in the open space before Accardi comes racing back in with a solo. It's here that drummer Brian Lane shows how essential he is to the band's more daring compositions, as he's capable of using single snare hits to shift the song's direction without making it ever feel unnatural or alien.
Throughout Science Fiction, Brand New makes these big moments feel intimate, with warm, delicate acoustic guitar serving as the basis for a handful of tracks. Where before Lacey would only bust out the acoustic for a record-closing ballad, here it's essential. As "Waste" proves, Science Fiction works in a similar way to Wilco's Yankee Hotel Foxtrot or Modest Mouse's The Moon & Antarctica, as Brand New mixes naturalistic elements against tape samples and any number of guitar effects running throughout. Before, it was easy to see the components in any Brand New song. On Science Fiction, everything coalesces into one expansive piece.
Lyrically, Lacey returns to themes he's touched on throughout his career: Religion, inadequacy, and mental illness can be found on nearly every track, with Lacey opening up about his personal struggles in a more forthcoming manner than ever before and singing about his own difficulty to find peace. He searches for levity by digging into his own identity, questioning just how much he controls the situation he's in, and how much is just him putting on his "brand new face," as he sings in "Same Logic/Teeth."
While Science Fiction most closely mirrors Devil And God—the band's only truly flawless work—it has a few stumbles that keep it from reaching those heights. "137" features some ham-fisted lyrics about nuclear war, while "Same Logic/Teeth," despite featuring one of the record's strongest vocal melodies and arrangements, drops its clunky metaphors up top, with Lacey doing a full-on Isaac Brock impression that verges on parody. But these missteps are minor, never fully derailing a song so much as they slightly puncture the all-consuming aura that Science Fiction works so hard to build.
Science Fiction feels like the culmination of the journey the band began just over a decade ago. Whether or not Brand New is really breaking up in 2018 remains to be seen (maybe they're just pulling an LCD Soundsystem). But ultimately, it's immaterial. Science Fiction works just as well as a eulogy as it does a coronation, as Brand New could potentially have a No. 1 album with it, all by never playing to the cheap seats. Brand New has put in the work, making a record that erases any doubts about whether the final product would live up to eight years of mystery and hype. And it's effectively erased its past by making good on every far-flung expectation placed upon it. Whatever comes next, well, that's for Brand New to decide.
Purchasing Science Fiction via Amazon helps support The A.V. Club.