Since 2007, TV Club has dissected television episode by episode. Beginning this September, The A.V. Club will also step back to take a wider view in our new TV Reviews section. With pre-air reviews of new shows, returning favorites, and noteworthy finales, TV Reviews doesn't replace TV Club—as usual, some shows will get the weekly treatment—but it adds a look at a bigger picture.
In 1983, seven years after their second divorce, Elizabeth Taylor pitched to her ex-husband Richard Burton the idea of doing Noël Coward's Private Lives on Broadway. She would produce and they both would star. He took the job, resulting in a bizarre inside joke of sorts, in which two contentious ex-lovers played contentious ex-lovers and acted out their "private lives" for a live audience every night.
It's the type of thing the couple had done before—most famously in Who's Afraid Of Virginia Woolf?—but BBC's original film Burton And Taylor chooses this production of Private Lives as its centerpiece for a fictional imagining of the couple's relationship. The film does well to keep its lens narrow. As tempting as it might be to translate the towering passion of Burton and Taylor's early years to the screen, it succeeds because it shies away from that to settle on a far more complicated era. Burton And Taylor is more an epilogue than a great love story, a glimpse of a relationship in its final stages. In 1983, Taylor had just turned 50, and Burton was even older. These were not their days of fiery passion, the drama of which had played out in public over the years. Still, the smolder is there: Despite the history between them, Taylor melts whenever she's around Burton, and he can't take his eyes off of her. Their story is one of perpetual romance and tragedy. Even if the film's interpretation of it is pure fantasy, it is captivating in this rendition. As towering as Richard Burton and Elizabeth Taylor are, the movie never lets their personalities take over the primary narrative—that of a relationship that grew to have a life and celebrity of its own.
Helena Bonham Carter—famous for her quirkier roles like Bellatrix Lestrange and Madame Thénardier—and Dominic West—probably still best known to American audiences for his lead role in The Wire—at first seem like odd casting decisions. Bonham Carter hasn't had much of an opportunity to wield her acting chops, and as suave as West is, he seems too young for Burton's seasoned look. But both actors seem to have taken the opportunity to do something different with great relish.
G/O Media may get a commission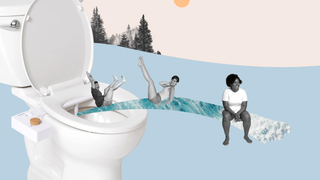 17% off
Tushy 3.0 Warm Water Spa Bidet Attachment
In particular, Bonham Carter absolutely shines as Taylor. Her coloring and her diminutive stature already fit the role, and excellent styling makes Liz Taylor seem alive. But what really brings it home is Bonham Carter's performance, which manages to encompass the range of Elizabeth Taylor without ever feeling contrived or unnatural. She screams, slaps, pops pills, winks at audiences, and kisses her grandchildren with the same, maddening air of fragility mixed with confidence that makes you wonder—is Taylor always this fresh and vulnerable, or is she instead always acting? Bonham Carter becomes Taylor through some alchemy known only to herself, easily dropping into an American accent for the role. (We have seen her excel at the close-encounter, complex-relationship shtick before, in Conversations With Other Women.)
West is a little less affecting as Burton, but it's hard to blame him: Burton himself was always a little less affecting than Taylor. And if Taylor was a mess, at least she was a known quantity to her fans and to the world; Bonham Carter had ample material to work with. Burton is more enigmatic. In Burton And Taylor he's a recovering alcoholic, prone to fits of rage as well as moments of great tenderness, and obsessively quoting King Lear to himself, hoping for the opportunity to one day play the lead. Though we spend more time with him as a character, watching Taylor from afar, going through his shades of emotion as he looks in his dressing-room mirror, we understand him much less.
But the primary character, really, is the love between the two of them, complicated as it is. Despite all of the problems that plagued them—addiction, infidelity, paparazzi, resentment, fury—Burton And Taylor exposes a fount of love, trust, and mutual respect between its two leads. Often the two clash, because they're the only people left who will truly challenge one another. Burton is never as angry as when Taylor refers to herself as a "dumb broad"—"You're not dumb! You know I hate it when you say that!" And she is most furious with him when he is rude to one of her employees. "I was unprofessional, Richard, but you were rude, and that is much worse."
In this unconventional setting—the rehearsals and backstage of a play that is more or less about them—their issues come to the forefront in every possible direction. Onstage, their arguments take on a strange, ironic quality that veers into violence. Backstage, Taylor's attempts to get close to him are stymied by his ambivalence about getting too close to her. As the play continues its run, everything reaches fever pitch, but the movie gives us the ending these two screen giants deserve, a wonderful closing note for a tumultuous relationship. Burton And Taylor is not comprehensive or perfect as a film—the direction in particular is lackluster—but as a character study in both writing and acting it is, as Burton says of Taylor herself, "peerless."