In case Community's solid return, the bonhomie created by its cast's loveable camaraderie and the Internet's rallying support, and the optimistic outlook for the show's fourth-season renewal have you feeling over-saturated with saccharine good feelings, this weekend offered a dash of bitters to go with all that nauseating sweetness. On Saturday, Deadline picked up on a month-old report from Reddit regarding a performance of Dan Harmon's semi-regular Harmontown—part stand-up act, part Q&A/therapy session—in which Harmon shared a fairly ugly, NSFW voicemail message left for him by Chevy Chase, then set about exposing a supposed simmering feud between the showrunner and his eldest, crankiest star. And because we have become, in many ways, a de facto Community news bureau, we sort of have to talk about it.
Sharon Stone made a fraction of what Michael Douglas did for "Basic Instinct"
According to Deadline's investigation, it all started when Chase walked off the set while shooting the upcoming season finale, refusing to finish one of his scenes. Then, at the wrap party, Harmon "got up and gave a 'Fuck you, Chevy' speech in front of Chase and his wife and daughter, and encouraged the crew to join him in saying 'fuck you' to the actor"—an act of revenge that didn't sit well with Chase, who soon exited, then left the above message where he called Harmon an "asshole, alcoholic fat shit" and invited him to "suck my cock." Harmon later shared it with a live audience, whereupon it made its way online. And so here we are.
Taken on its own, none of this seems all that surprising: Harmon and the rest of the cast have regularly joked about the difficulty of working with Chase, with Harmon even recently petitioning Dan Aykroyd to come and steal him from the show. And according to Deadline's report, Chase has stormed off set multiple times and engaged in frequent arguments with Harmon and executive producers Anthony and Joe Russo, suggesting all those jokes have an underlying truth—and really, Chase has had a reputation for being kind of an asshole for years now, so why wouldn't they? In many ways Chase's shitty attitude is part of his comedic aura, and one assumes that anyone working with him treats it like handling a particularly cranky relative whom you love and hate in equal measure, and can't simply euthanize because of morals and stuff.
But adding yet more fuel to the "feud," in a case of unfortunate yet intentional timing, the voicemail leak coincided with the publication of this interview with Chase from The Huffington Post—reportedly conducted a few days before he abandoned the finale shoot—in which he shared all of his most negative feelings about Community. And taken together, it begins to sound like maybe relations with Chase really are reaching a boiling point, because the show is beneath the standard for "innovative" humor that has become synonymous with the star of Cops And Robbersons:
I have creative issues with this show. I always have. With my character, with how far you can take [Joel McHale's] character…just to give him a long speech about the world at the end of every episode is so reminiscent. It's like being relegated to hell and watching "Howdy Doody" for the rest of your life. It's not particularly necessary, but that's the way they do these things. I think it belies the very pretenses that his character, Jeff, has, that he's giving these talks. They're supposed to, in some way, be a little lesson to people who watch sitcoms…to that degree, I can't stand sitcoms.

I'm not really gonna buck you all up a lot and say that this is the one, the one that tells it innovatively. It is what it is. I would like to see it go further. I think, if you know me and my humor over the years, you know that this is certainly not my kind of thing. I probably won't be around that much longer, frankly.
G/O Media may get a commission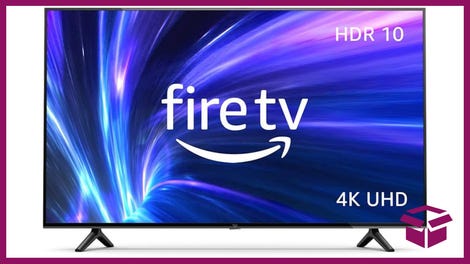 42% Off
Amazon Fire TV 50" 4K Smart TV
Anyway, such threats aside, this is as far as the "feud" has gone, with no official comment yet from Chase, NBC, or Harmon—though Harmon, who maintains an unusually open communication with fans through his Twitter feed (especially if they say something that pisses him off), has chastised several for bringing up the incident and "pretending to know anything about [it]," or making judgmental comments to "strangers about gossip" (gossip that we acknowledge we are perpetuating, but then, that's kind of our thing). And besides the inherent truth in both of those statements, considering the lighthearted ball-busting in which Harmon, Chase, and the rest of the Community gang regularly engage, it's hard to know how much of this, if any, to take seriously. There have even been suggestions that the story is being fueled as an appropriately meta means of generating Charlie Sheen-like publicity, minus the sex and poetry.
Being both natural skeptics and fans of the sort of comedic creativity that arises from people who love to hate each other, we err on the side of this being sort-of true and also not that big a deal, ultimately destined to blow over or even continue to fester into its own running gag. And if it doesn't, and Chase is really serious about leaving, well, at least Pierce's death will probably be funny.