More fitfully funny than it is frightening, The Curse Of La Llorona might be the first film in the Conjuring universe to remain a standalone. In his attempts to adhere to James Wan's style, first-time feature director Michael Chaves fills the 93-minute runtime with enough jump scares and things going bump in the night for a whole franchise. But the overuse of these tactics quickly takes the tension out of the proceedings, which are ostensibly inspired by the stories of a wrathful spirit told throughout Latin American and in parts of the United States. While trying to ensure that Curse Of La Llorona looks and feels like its predecessors, Chaves misses an opportunity to say much of anything through the shrieking figure at the center of his reworked folk tale.
The Curse Of La Llorona takes place in Los Angeles in 1973, a setting that is conveyed by title card rather than the generic production design, though if you pay attention during the first tracking shot through the Garcia home, you can hear Curtis Mayfield's "Superfly." Linda Cardellini stars as Anna Garcia, a social worker who is raising two children, Sam (Jaynee-Lynne Kinchen) and Chris (Roman Christou), alone after the death of her policeman husband (DeLaRosa Rivera). Like so many working parents, Anna is caught between obligations to her family and to her career, and feeling like she's failing at both. She brings her work home with her, which means she relies on TV dinners, but is also singled out at the office for being late whenever she has to drop her kids off at school.
On what is supposed to be a routine check-in, Anna discovers that her longtime client, Patricia (Patricia Velásquez), is keeping her two sons locked in a closet. This sends up a huge red flag for Anna, but Patricia insists she's just trying to protect them from La Llorona, a bogeywoman who has been invoked for centuries by Latin American and Latinx parents to keep unruly children in line. Her origin story varies, but the most widely disseminated version is the one featured in the film: a Mexican woman, once one of the most beautiful in the land, who takes her revenge on her unfaithful husband by drowning their two children. La Llorona is herself a cursed figure, wandering river banks in search of the children she "lost," eager to replace them with any wayward kids she might find.
How exactly that ties in to 1970s Los Angeles and a pair of single mothers is never really made clear by the script from Mikki Daughtry and Tobias Iaconis, who previously teamed up for the beyond treacly Five Feet Apart. Though Curse Of La Llorona draws from the scorned-woman version of the Mexican folk tale—other iterations include viewing the "Weeping Woman" as an omen for the Spanish invaders—its mythology seems more rooted in The Conjuring franchises, in particular 2018's The Nun. The creature design is reminiscent of the demon incarnate in Corin Hardy's film, from the yellow-green eyes and fanged teeth to the silhouette (though the color scheme is slightly different). La Llorona's screeching and the murmuring that comes before the screeching also echo The Nun—so much so that by the 30-minute mark, a feeling of déjà vu is considerably stronger than any sense of dread.
G/O Media may get a commission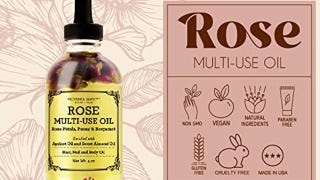 Provence Beauty Rose Multi-Use Oil
That's also right about when the film loses any sense of restraint, flinging characters—including Raymond Cruz as Rafael, a curandero like the ones Warner Bros. had burning sage outside of advanced screenings for the film—around like rag dolls at regular intervals. Eventually, the creaking house sounds and the shrieking are deployed with all the grace of the sound effects during some especially corny radio DJ's set. Chaves indulges in some Sam Raimi-esque zooms that occasionally create a real sense of otherworldliness for his monster, but otherwise shoots the film like he's just following a couple of days in the life of a family, albeit one tormented by an evil spirit. As the remaining hour unfolds, La Llorona becomes more of a drag than a threat; she's the Garcias' obnoxious roommate, the kind who maybe works unconventional hours and has lots of loud sex. That's the premise for a scene from Scary Movie, not a scary movie.

The young cast is charming, if not particularly memorable, and Cruz is clearly having a great time playing a faith-healer with the dry, cool wit of an action hero. Cardellini is compellingly distraught as Anna, a mother who's made looking after others a career, for whom having her parenting skills called into question is as much a crisis as a certain loud, wailing woman. But The Curse Of La Llorona fails to engage with any of its potential themes, or work in source material outside of related film franchises. That negligence, combined with an appearance from Father Perez (Tony Amendola) of Annabelle fame, as well as a couple of Easter eggs, suggests that expanding the Conjuring universe was a bigger priority than exploring a near-mythical figure that's frightened generations of people in the Americas. But even as a springboard to another corner of this creepy universe, The Curse Of La Llorona is hardly worth your time.