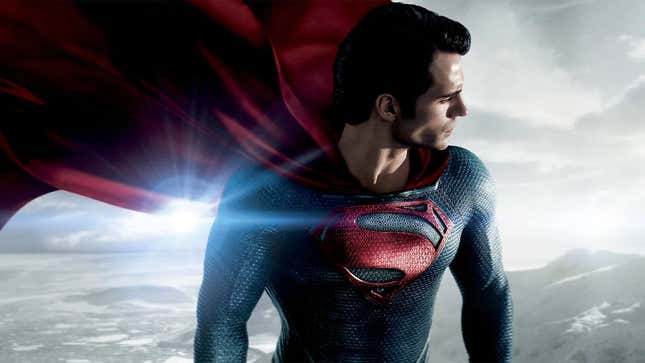 It's been 10 years since Zack Snyder first gave us a taste of his vision for the DC extended universe with the Superman reboot Man Of Steel. The film, which premiered on June 14, 2013, kicked off a connected universe of superheroes that would eventually include more than a dozen projects, including the latest installment, The Flash. This phase of the DCEU is set to wrap up with Aquaman And The Lost Kingdom in December, making way for a new cinematic universe under the guidance of recently appointed DC Studios heads James Gunn and Peter Safran.
We could've had Brendan Fraser as Superman
Looking back on Man Of Steel a decade later, how does it hold up in retrospect? What does it reveal about the ultimate direction of the franchise? And how does it relate to the films that came after? We posed these questions to some of our writers here at The A.V. Club and asked them to reflect on their own impressions of the film, and whether or not that's changed with time.

---
William Hughes: A distant, unknowable force

If there are two words that describe everything curdled in the heart of the Snyderverse, then they come straight out of Man Of Steel: "Pa Kent." And that's with no disservice meant to Kevin Costner, who gives an interesting, grizzled portrayal of the worst version of Superman's dad in pretty much all of comic-dom. Superman's upbringing is a fundamental part of the character's heart, the Kent family's treatment of their adopted son one of the key things that makes Superman not just great, but good. Those parental lessons are foundational to the character, most especially a drive to help others that transcends the vengeance or guilt that power other heroes, and which are as simple—and, yeah, as corny—as a dad and mom passing on the idea that helping is the right thing to do.
Snyder's Pa doesn't believe that. He's a coward, who looks at his son's abilities and sees only the ways the world will fear and judge him for having them. And the worst thing about it all is that, in the world he lives in, Jonathan Kent is right: The Snyderverse is a reality in which there's no room for good that exists simply for the sake of it, where buildings collapse in the wake of battling gods, and body counts are always on the rise. In Snyder's hands, Clark is a distant and unknowable force who exists only in tense conversation with a world living in fear of his eventual turn. And why wouldn't he be? After all: He learned it from you, dad.
Jen Lennon: Heavy-handed symbolism
I saw Man Of Steel when it premiered in theaters 10 years ago and the most enduring memory I have of the experience is Superman floating through space in a Christ pose, which is also the moment I completely checked out of the film. Zack Snyder is a formally trained painter, so the heavy-handed symbolism, to some extent, makes sense—with paintings, an artist has just one still image to convey everything they want to say. But when you've got two and a half hours full of dialogue and moving images, the painterly approach doesn't work. In fact, it actively detracts from the film. Man Of Steel tries to skate by on arresting images; Pa Kent's death is certainly striking to watch, but in the context of the film, and of the Superman mythos as a whole, it's cynical and craven, much like the film's overall message.
Matt Schimkowitz: Every choice pushed me away
I would have described myself as Zack Snyder skeptical prior to Man Of Steel. While I didn't love his Watchmen, I did think it was stylish and, for at least the first third, nails its conceit of translating the book to screen. In its sexist way, Sucker Punch warned me to stop bothering, but I was seduced by the Man Of Steel trailer, which remains one of the greats—Snyder's movies cut into great trailers. Maybe this would be good?
Lo and behold, I thought the movie was very bad. From the penis ships of Krypton to the killing of Pa Kent, every choice Snyder made pushed me away. This wasn't Superman. Like seeing Rob Zombie's Halloween and realizing Zombie wanted to make The Texas Chain Saw Massacre, Snyder clearly wanted to make a brooding Batman movie. He did, and that wasn't good either.
But the thing that still stands out to me about Man Of Steel isn't the movie but the audience. I saw Man Of Steel late into its run, with just a few audience members. As I struggled with the film, the literal child down a few seats down had it pegged. "Where's Superman?" they cried throughout the entire last act of the movie. "Where's Superman?" To my mind, a better review of Man Of Steel has never been written.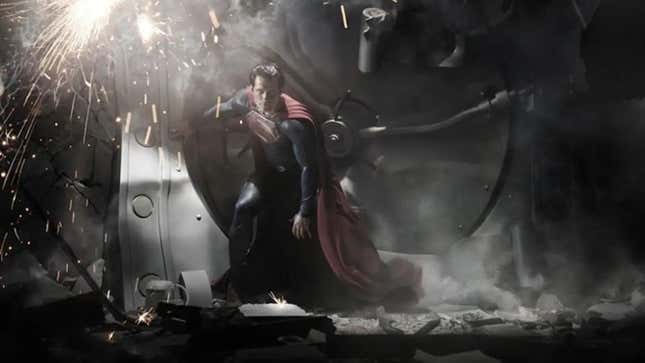 Sam Barsanti: Is it even relevant anymore?

I don't mean this to be as dismissive as it will sound, but my main thought about Man Of Steel is that I … haven't really thought about it in 10 years. It's so quiet and restrained in comparison to what came after in the Snyderverse that I don't know how relevant it even is anymore. It's like one Rice Krispy versus a gigantic marshmallow square with chocolate and candy bits and maybe some Pop Rocks hidden in there to freak you out when you take a bite.
It's an unlikely scenario, because I'm not a Snyder fan, but if I want to see a Superman story where the alien messiah stuff is cranked up so high that it breaks the scale, I'll watch Batman V Superman: Dawn Of Justice. If I want to see one of the most mind-meltingly stupid plot points in movie history, I won't watch Pa Kent letting himself be killed, I'll watch Batman sparing Superman's life because their mothers have the same name. I think what ultimately matters the most about it is that it simply laid the groundwork for bigger and … "better" things.
Cindy White: Flat-out wrong for the character
It's pretty clear from the start that Man Of Steel is more interested in the god myth of Superman than the human side of his story. The film spends the first 20 minutes on Krypton before we even meet Clark as an adult. There are flashbacks to his childhood, but they only serve to illustrate the ways in which he's different, destined for something greater. It more or less keeps his Kryptonian origin story intact (with the bizarre addition that he somehow carries the genetic codes of the entire Kryptonian race inside him?) but drastically changes his human one.
I've always been fond of the secret identity aspect of Superman, so it was kind of a bummer that we didn't get the bespectacled, meek Daily Planet reporter Clark Kent until the very end. Having him reveal his secret to Lois Lane in their first interaction ruins a lot of the tension and comedic beats that made other iterations of Superman actually fun to watch. There's not a lot of fun here. The human characters are practically superfluous to the story, forced to watch, helpless, as warring gods destroy their towns and cities. And the bill for that destruction wouldn't come due until Batman v Superman: Dawn Of Justice, so we're also left to wonder how anyone who claims to be a protector of Earth can be okay with so much collateral damage.
That's a theme that would continue through many of the DC films to follow—an uneasiness with Superman's awesome (in the old-fashioned sense) power and how the human race copes with no longer being the superior life form on our own planet. I can't credit Zack Snyder alone for this. Man Of Steel screenwriter David Goyer, with an assist from Christopher Nolan, also set the franchise on that path. What I do hold Snyder responsible for is toning down Superman in every other way. The desaturated, gritty aesthetic is fine for Batman, but laying that mood over Superman—who is supposed to be a symbol of hope and optimism—feels wrong for the character. That should have been the first sign that the stewards of this era had a very different understanding of the iconic hero than many longtime fans and creators. And indeed, we saw that dissonance play out in the DCEU films that followed.