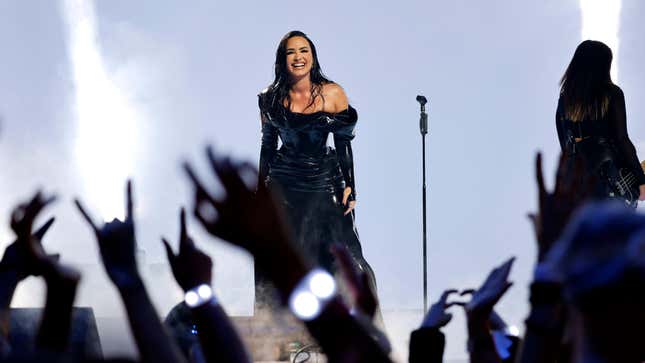 Eight years later, Demi Lovato is proving that she really can keep a secret—even if the rest of the world kind of figured it out already.

Skylar Astin talks So Help Me Todd, and Pitch Perfect
On a recent appearance on Sirius XM's The Howard Stern Show to perform some tracks off Revamped—the former Disney star's rock-ified re-recording of ten of her biggest songs—Lovato confirmed a long-assumed rumor surrounding the subject of her hit track "Cool For The Summer." You know, the person she wanted to kiss and also die for? Yeah, that one.
"I actually released ["Cool For The Summer"] before I came out as bisexual," Lovato said, before revealing that the song was, indeed, written about a woman. The juicier part, though, is that we all probably know who she is. "She's not someone famous, right?" Stern asked, to which Lovato coyly replied "Um, what if she is?" His follow-up question of "Is she?" was answered with a bright "yeah!"
But while fans—and Howard Stern—can speculate all they want, Lovato didn't keep her secret for so long just to give up a name now. "I'm in a relationship now, and I feel like that would be inappropriate," she said, alluding to her current partner, musician Jutes. Plus, she said, the woman in question doesn't even know the song is about her.
Lovato also revealed that her coming out was never that dramatic in the first place. Her stepdad, at least, mostly already knew. "I was like 'I have to tell you something... I like girls too.' And he was like, 'Yeah, listen to 'Cool For The Summer,''" Lovato recalled of their conversation. "I was like, 'Okay, that was really easy.'" Luckily, it sounds like dying for each other was never really in the cards in the first place.
Demi Lovato's Revamped is out now.